Found August 08, 2013 on Lakerholicz.com:
The Lakers have reached out to free agent forward Anthony Tolliver, who has interest in joining the club, according to Chris Tomasson: Free agent Anthony Tolliver told me Lakers have entered mix as possible team for him & he visited Charlotte Monday. Tolliver said the Lakers recently called his agent, Larry Fox, to express interest. He said talks are still preliminary but he would have definite interest if the Lakers turn out to be a serious option. "Obviously, to have a chance to play for a franchise like that, you'd have to think long and hard about that,'' the forward told FOX Sports Florida.  While he waits to learn more about the Lakers' situation, other teams on Tolliver's list are Charlotte, Utah and Chicago. Tolliver said the Bobcats have made a contract offer (for the minimum) and he visited Charlotte last Monday. Tolliver, who is 28-years-old and 6'8″, has shown an ability to shoot the ball from range in the past, with the Lakers likely viewing him as a stretch four, although their possible lack of depth at the small forward could mean they see him as somewhat of a tweener. With the Warriors in 2009-10, he shot 33% from three and averaged 12.3 points while grabbing 7.3 rebounds per game. However, he has struggled to find a place in the league since then. His most recent success came in 2010-11 with the Timberwolves, where he averaged 6.7 points and 4.5 rebounds in 21 minutes per game. H/T Silver Screen and Roll
Original Story:
http://lakerholicz.com/lakers-rumors-...
THE BACKYARD
BEST OF MAXIM
RELATED ARTICLES
TEARS OF JOY
For those of you who are wondering what Kobe Bryant is up to currently, he is overseas in China on a special Nike tour. As you might figure, many Chinese fans of the Lakers legend got a chance to see and possibly meet him in person during stops in . Check out the below interview shown by Fox 11 in Los Angeles as one Chinese fan got so overcome by emotion that he cries after just...
Los Angeles Lakers vice president Jeanie Buss thinks if her father, the late Dr. Jerry Buss, was still with us, he might have been able to change Dwight Howard's decision. "They would've probably had a better relationship if my dad hadn't been sick," Jeanie Buss said in an interview on ESPNLA 710 Thursday morning. "When it came time to try to convince Dwight to stay,...
Jeanie Buss was told the Lakers are better off without Dwight Los Angeles Lakers' Executive VP of Business Operations Jeanie Buss joined Mark and Mychal today on ESPN LA Now, to talk about the events that have taken place since her father Dr. Jerry Buss passed away. Buss spoke about Dwight Howard and his decision to sign with the Houston Rockets, and also said she doesn't think...
Nick Young has already shown us lots of his game and he hasn't even suited for the Lakers yet. All summer long, Young has been participating in different pro-am games and has been  posting his workouts online, and I thank him for that as it gives us some entertainment during these NBA-less days. Anyway, last weekend, Young once again took part in the Drew League, where he faced...
The Lakers and ownerexecutive Jeanie Buss miss the late Jerry Buss in many ways. "The Laker way isn't the same because Dr. Buss isn't here," said Jeanie Buss on Thursday, live on ESPN Los Angeles-AM (710) with Mark Willard and Mychal Thompson. Jerry Buss died in February of complications from cancer. Jeanie Buss said her father might have been the key to keeping...
If there was any doubt that Kobe Bryant was as worshiped, admired and adored in the Far East as he is on this side of the planet, look no further than this video which shows the effect the Los Angeles Lakers superstar's mere presence had on one man in China. Bryant, who is on a […]The post Grown-ass man cries, breaks down after seeing Kobe Bryant in China (video) appeared first...
The Lakers' pursuit of Dwight Howard this offseason was ultimately a failed one, and L.A.'s executive vice president Jeanie Buss thinks she knows why. The Lakers no longer had their best weapon in Buss' father, Dr. Jerry Buss, who died in February.  During an interview with ESPNLA 710 on Thursday, Jeanie Buss said that if her father were still around, he might have been able to...
The good news for Pau Gasol is that its already halfway through August, and the Lakers haven't started shopping him around the league yet (at least not openly).  The bad news for Pau is that the keyword in the previous phrase was "yet."  For a player that is widely consider a top-10 PF at worst, Gasol has consistently faced some of the NBA's worst...
Well before the useless comparisons between Michael Jordan and LeBron James — seriously, they have almost nothing in common aside from being really good at basketball — there were much more valid comparisons of Jordan and Kobe Bryant. Unlike Jordan and James, Jordan and Bryant played the same position, were roughly the same size and had similar playing styles. They also have...
Jeanie Buss must not like her brother too much. She's clearly the rogue Buss family member. First we heard her say that there's a good chance that Phil Jackson could return to the Lakers. Now Fan Nation is reporting that Jeanie is speaking on the Dwight Howard disaster. Jeanie is basically saying that Dwight would have been more inclined to stay with the Lakers had her father...
We're less than two months until the start of training camp which means were roughly a month since Dwight Howard told the Los Angeles Lakers he was leaving them to sign with the Houston Rockets. It was one of the rare times in which the Lakers didn't get their man. It was also the first time since Dr. Jerry Buss passed away that they didn't have one of the most influential...
Los Angeles Lakers executive vice president Jeanie Buss thinks the recruitment process of Dwight Howard would have gone differently, and likely better for the team, had her late father still been around. Dr. Jerry Buss bought the Lakers in 1979 and the team won 10 championships under his leadership. The legendary owner died of kidney [...]
Lakers News

Delivered to your inbox

You'll also receive Yardbarker's daily Top 10, featuring the best sports stories from around the web. Customize your newsletter to get articles on your favorite sports and teams. And the best part? It's free!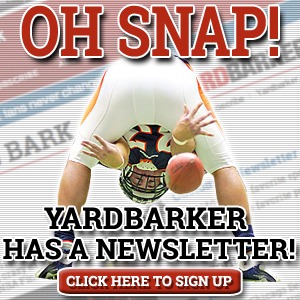 Latest Rumors
Best of Yardbarker

Today's Best Stuff

For Bloggers

Join the Yardbarker Network for more promotion, traffic, and money.

Company Info

Help

What is Yardbarker?

Yardbarker is the largest network of sports blogs and pro athlete blogs on the web. This site is the hub of the Yardbarker Network, where our editors and algorithms curate the best sports content from our network and beyond.