Found January 31, 2013 on Laker Nation:
Photo courtesy of Stephen Dunn, Getty ImagesAaaaaand they're back, ladies and gentleman – that Laker team tripping over each other on their way to the bottom of the Western Conference; the squad whose peaks are as high as their valleys low; the same group who has been together for 46 games, but sometimes play like they just each just walked into the same pick-up game for the first time. They are, in a word, unbelievable.This game was in the bag, and the Lakers had it under their control…until they didn't. They led by as much as 13 points in the third quarter, entered the fourth up by 10 and at one point led by 11. But with still over 10 minutes left in the game, their defense disappeared, the ball movement stopped and the sloppiness ensued. 92-86 – loss number 26.HIGH POINTS: 1st through 3rd Quarter – Despite racking up 14 turnovers through three quarters (last night they committed 15 for the entire game), the Lakers were still shooting at a high percentage (51%), were keeping the Suns at bay (allowed them just 40% from the field), crashing the boards (37-27 advantage) and moving the ball (16 assists on 29 made field goals). Kobe Bryant was approaching another all-around good night with nine points, nine assists and four rebounds. Metta World Peace was making up for a bad night against the Hornets with 15 of his own, as was Pau Gasol with 12 points. All the Lakers had to do was play one more quarter with relatively solid efficiency and effort, but they couldn't even do that. They were one quarter, 12 minutes away from taking this game and they folded.LOW POINTS: Turnovers – The game began very sloppily for the Lakers, and it being the second night of a back-to-back, it was understandable. They racked up 12 turnovers in the first half, but cleaned it up in the third quarter, committing just two. But in the quarter that mattered the most, they gave away six possessions that helped the Suns erase a double-digit lead. Three-Points – The Lakers went just 8-27 from behind the arc tonight. 27 attempts from downtown is way too many when there are post players on the team who are capable of scoring on higher percentage shots. MWP alone attempted 10 threes. 4th Quarter – After outscoring the home team 73-63 through three quarters, the Lakers were outscored in the final 12 minutes 29-13. 29-13! They shot just 4-21 from the field (19%) and after 3 ¾ games of making the ball movement the center of their game plan, they handed out just three assists in tonight's fourth. Every finger will undoubtedly point to Kobe Bryant, who will be accused of playing hero ball in the final 12 minutes, but after his nine assists for the game, no one else had more than three assists of his own. Steve Nash, in his homecoming, had two assists, as did Gasol, who is a day removed from a seven-assist game against New Orleans. Bryant scored six of the Lakers' 13 points in the fourth. Antawn Jamison, who was having another good game (13 points, four rebounds), was taken out of the final quarter in favor of Metta World Peace, who was assigned to try and stop a very hot Michael Beasley. Unfortunately, Beasley went for 10 of his 27 points in the final stretch of the game anyway, aiding the Suns with the win. In such a case, Jamison's scoring might've made more sense. Dwight Howard had to leave the game early in the fourth after re-aggravating his shoulder injury. He went for a rebound and strained it while fighting over a rebound with former Laker, Shannon Brown. Gasol played the center position in his stead. Unfortunately, Howard's defense vs. Gasol's is no close contest and the interior became a free for all for the Suns. They scored 10 points in the paint in the fourth quarter.That Utah win that signaled a turn ahead, the signature victory against the Thunder and the trap game they avoided losing against New Orleans – all seem like distant memories. Of the seven games on this long road trip, this contest against the Suns was noted as a win for many. But as they've done time again this season, the Lakers are back to square one.Box Score The post Lakers Suffer 8th Straight Road Loss in Phoenix appeared first on Laker Nation.
Original Story:
http://lakernation.com/lakers-suffer-...
THE BACKYARD
BEST OF MAXIM
RELATED ARTICLES
As we all know, Kobe Bryant is very active on Twitter.  He has been replying to fans and posting a bunch of pictures of him icing his knees.  Getting a [...]
Image Credit: Noah Graham | Getty ImagesAre the real Los Angeles Lakers finally here? Well, they might just be.Despite a slow start, with losses to Chicago and Memphis, the Lakers finished the week winning two straight games against Utah and Oklahoma City, both in promising fashion.'Shooting guard-turned-point guard' Kobe Bryant led the Lakers to two straight wins over legitimate...
Midway through his 17th season, has Lakers All-Star Kobe Bryant reinvented himself as a point guard? Over the past three games, Bryant has led to the Lakers to a three-game winning streak, dishing 39 assists while averaging just 16.3 points a game. Bryant's new style of play is the key to turning may help his team's dismal 20-25 start to the season. Is this pass-first...
MINNEAPOLIS Ricky Rubio got his wish: Pau Gasol has been reinserted into the Lakers' starting lineup for Friday's game against the Timberwolves, replacing Dwight Howard, who's out with the same right shoulder injury that has troubled him for much of the season.Just 24 hours after the Timberwolves point guard, who considers the Lakers big man a close friend, spoke out...
We all know Kobe Bryant is arguably the most competitive and passionate player the game of basketball has ever seen. To him, success is only measured in championships, and there's no such thing as 2nd best. In the past 2 games, Bryant reminded everyone just how much he puts winning above everything. The Lakers had lost 3 straight games on the road catapulted by a disappointing...
MINNEAPOLIS As Rick Adelman listed off the threats the Lakers will bring to the Target Center on Friday, he omitted one notable name. Kobe Bryant, Steve Nash, Dwight Howard, Ron well, he still calls him Ron, but he knows it's Metta World Peace now. Not a mention of Pau Gasol, the out-of-favor and now relegated to the bench big man who used to be one of the Lakers' most...
Today Rubio was asked if Gasol was being treated fairly. "I don't' think so," Rubio said. "He proved in the league that he is one of the best. He can pass, he can shoot, he can rebound. He can do a lot of things. I think if you use him in the right way, he is a top player in this league. If they don't want him, we are more than welcome to get him." At this Rubio laughed...
LOS ANGELES -- The Lakers won their third in a row, beating the New Orleans Hornets, 111-106. There's no arguing that this a much better Laker team than it was just six days ago, with Kobe Bryant and Steve Nash switching roles and Dwight Howard playing with a renewed enthusiasm. However, it also can't be argued that this team still has quite a ways to go in order to turn...
Photo courtesy of Ezra Shaw, Getty ImagesWell thank goodness for that 29-point lead! Otherwise, who knows how this game would have ended for the Lakers.Coming off a should've-won loss in Phoenix, the Lakers arrived in Minnesota still without a road win in 2013 and without Dwight Howard. Howard, who re-aggravated his shoulder injury against Suns, flew back to Los Angeles to be treated...
NBA News

Delivered to your inbox

You'll also receive Yardbarker's daily Top 10, featuring the best sports stories from around the web. Customize your newsletter to get articles on your favorite sports and teams. And the best part? It's free!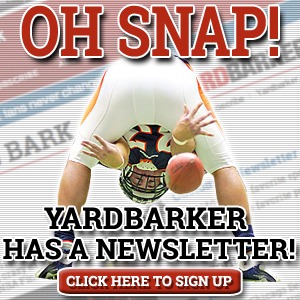 Latest Rumors
Best of Yardbarker

Today's Best Stuff

For Bloggers

Join the Yardbarker Network for more promotion, traffic, and money.

Company Info

Help

What is Yardbarker?

Yardbarker is the largest network of sports blogs and pro athlete blogs on the web. This site is the hub of the Yardbarker Network, where our editors and algorithms curate the best sports content from our network and beyond.