Found October 19, 2012 on Fox Sports Florida:
MIAMI _ The speculation last season was LeBron James would return to Cleveland in 2014. He even added to it by not ruling out the possibility. But James wasn't adding anything Thursday to the latest story about where he could end up if he opts out of his contract in the summer of 2014. ESPN.com quoted unnamed NBA executives as believing the Lakers are gearing up for a run at James if Kobe Bryant has retired by then. There was a reason why James, who bolted the Cavaliers in 2010 for Miami, said nice things about Cleveland when he visited there last February. James, from nearby Akron, Ohio, wants to be liked again in a city that now hates him. As for the latest story, it's no surprise the Lakers would go after James if a Bryant retirement gives them cap room in 2014 and the King is again a free agent. The Lakers always go after the best players, and they often land them. But the story offered nothing from any sources that James has even an iota of interest in the Lakers. And it's far too early to speculate that he might in two years. "You're writing a story that's two years in the making, and this guy has an opportunity to do great things," Heat guard Ray Allen told FOX Sports Florida before a 105-78 preseason win over Detroit at AmericanAirlines Arena. "It's like at that point, what would make the Lakers so enticing? He has an opportunity to build a dynasty here. So that's a funky story." One supposes James could one day get the urge to star in a Hollywood movie at least better than "Shazam," the clunker Shaquille O'Neal was in after bolting to the Lakers as a free agent in 1996. But for now James is much more concerned about winning more titles for the Heat. "I'm here now I'm not worried about that," James said after Thursday's game when asked about the ESPN.com story. "That story, I don't know where it came from. But I understand it came up because of who I am. It's going to happen, but I'm not going to worry about it. I got to continue to make sure I stay focused with these guys and make sure we're ready for any challenge that comes upon us. James faced plenty of questions in his final seasons in Cleveland about where he might end up when he became a free agent in 2010. But it's a totally different situation now. The Cavaliers were unable to win a championship and it was hard for management to obtain top players to put alongside James. But James broke through last season to win his first ring in his second season of being teamed with fellow stars Dwyane Wade and Chris Bosh. "It's not frustrating," James said when asked if it's frustrating that speculation has resurfaced again about his future. "Guys are going to make stories every day. It doesn't matter to me. I'm true to my teammates. I'm here. And this is what it's all about, us daily trying to get better as a team and trying to defend our title. So anyone can write a story. You have ESPN, and then it becomes credible and you do what you want to do." James, who is just the NBA's 13th-highest paid player this season at 17.545 million after he, Wade and Bosh all agreed to take slightly less than the maximum in 2010, can opt out of his contract in 2014 or 2015 before it expires in 2016. It would made sense for James to opt out in 2014 even if he wants to stay with the Heat because he could make more money by signing a true maximum deal. But it's far too early to speculate James could end up with the Lakers. Yes, it could give James a chance to play with Dwight Howard. But it all becomes moot anyway if Bryant, who has indicated he will play two more seasons, decides not to retire in 2014 and the Lakers don't have cap room. "They can leave my teammate alone, man," Wade said of rumors James could bolt to the Lakers in 2014. "I'm going with that. He's going to be here. We're straight. So they can go mess with someone else." Bosh also dismissed the rumors. "We can't really worry about all that stuff," Bosh said. "We're too busy doing special things right here, right now. If people want to write stories about that, that's all good and well. I hope people are entertained." Like it or not, speculation about James' future won't be going away. There is some concern about the health and the age of his top teammate, but Wade, 30, sure looked good Thursday with 21 points in 24 minutes against the Pistons. And there are questions about how committed the Heat will be to keep the Big Three intact after the more punitive NBA luxury tax kicks in next season. Now, the question is simply what will be the next story to surface about where James might land in 2014. You'd think Mark Cuban, whose Dallas Mavericks could then have oodles of cap room, would want to get in on this. Chris Tomasson can be reached at christomasson@hotmail.com or on Twitter @christomasson
Original Story:
http://www.foxsportsflorida.com/10/19...
THE BACKYARD
BEST OF MAXIM
RELATED ARTICLES
NBA Player RankingsThe 2012-13 NBA season is rapidly approaching and I have broken down the best players in the association by division. Check out the NBA player rankings – by division below by clicking on the links and let me know what you think. Atlantic DivisionCentral DivisionSoutheast Division Northwest DivisionPacific DivisionSouthwest Division Related articlesThe Top...
Miami Heat superstar, LeBron James and now world champion is working another dimension to his game. That would be the skyhook as you will see in the video below he was working on that at practice on Tuesday. If James gets this down watch out I have no idea how you will stop him. Follow me on twitter @ScottBasketball  http://twitter.com/#!/ScottBasketballAlso like the Roundballchat...
LeBron James is still a member of the Miami Heat, plain and simple. ESPN.com's Brian Windhorst reported Thursday that there's a belief among many NBA teams' executives that the Lakers are positioning themselves to make a run at James in 2014. James' teammate, Dwyane Wade, doesn't want to hear anything about such rumors, though. "They need...
Al Qaeda Still Not a Fan of LeBron. Shhhh, Top Secret!: In August, it was released that at least one Al Qaeda operative is not a fan of King James. In a letter to the Washington Post, Osama bin Laden's former translator Muhammad Rahim wrote, ""LeBron James is a very bad man. He should apologize to the city of Cleveland."  However, if Guantanamo detainees have more comments...
Now that LeBron James has won a title, there  will be  new issues brought to light to kick his tires over. He's the king of the NBA for the moment and somehow, someway the rumors and speculation will hit a fever pitch that will surpass what he has dealt with before. Please Click Here To Read This Story
The thought of LeBron James in a Lakers uniform has sent the internet into a frenzy over the past 24 hours. On Thursday, Brian Windhorst of ESPN.com reported that a number of NBA executives believe the Lakers have positioned themselves to make a run at LeBron in 2014 should Kobe Bryant retire. To make matters even more interesting, Lakers owner Jim Buss told the Orange County Register...
NEW YORK-- Tired of its games starting late while players go through elaborate handshakes, chest bumps, hugs and other routines, the NBA is putting players on the clock. LeBron James can still do his chalk toss and Kevin Garnett can still skip over to the baseline and pound his chest to pump up the Boston crowd, but they'd better do it on time. Ninety seconds will be put on...
Based upon an idea originally posed by Brian Windhorst at ESPN.com and later by other reputable online outlets such as CNN.com and SI.com, it appears that the Lakers are interested in acquiring Heat SF LeBron James in the summer of 2014, when L.A. will potentially have more than 60 million dollars in salary coming off [...]
Tired of its games starting late while players go through elaborate handshakes, chest bumps, hugs and other routines, the NBA is putting players on the clock. LeBron James can still do his chalk toss and Kevin Garnett can still skip over to the baseline and pound his chest to pump up the Boston crowd, but they'd better do it on time. Ninety seconds will be put on the clock...
During last night's Miami Heat/Detroit Pistons preseason affair, Heat guard Dwyane Wade went beyond the call of duty on this assist.Watch as Wade from his behind throws this pretty pass to LeBron James: 
While We're Waiting serves as the early morning gathering of WFNY-esque information for your viewing pleasure. Have something you think we should see? Send it to our tips email at tips@waitingfornextyear.com. An excellent breakdown of Haden vs AJ Green- "As you would expect in such a long yardage situation, Haden gave Green plenty of cushion — 10 yards at the snap — but...
In Part 3 of their 5-part mini-series leading up to the NBA opening tip-off, Vinny Ginardi, Mike Aurigemma, Michael Cresci, Greg Kaplan and Tom McCarthy get together again to preview the Eastern Conference. To read Part 1 (Off-season winners), click here. To read Part 2 (Off-season losers), click here. Eastern Conference Outlook VG: Barring an injury to LeBron James, there is just...
NBA News

Delivered to your inbox

You'll also receive Yardbarker's daily Top 10, featuring the best sports stories from around the web. Customize your newsletter to get articles on your favorite sports and teams. And the best part? It's free!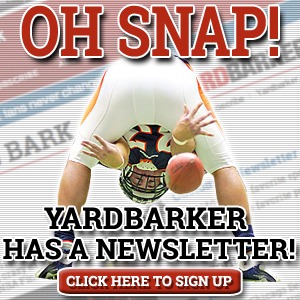 Latest Rumors
The Backyard

Today's Best Stuff

For Bloggers

Join the Yardbarker Network for more promotion, traffic, and money.

Company Info

Help

What is Yardbarker?

Yardbarker is the largest network of sports blogs and pro athlete blogs on the web. This site is the hub of the Yardbarker Network, where our editors and algorithms curate the best sports content from our network and beyond.