Found April 05, 2012 on Fox Sports North:
MINNEAPOLIS For a month, Kevin Love pushed the limits of what one man can do. In March, he became the first player in NBA history to lead the league in points, rebounds and 3-pointers for a single month, his heroics the only thing wedged between the Minnesota Timberwolves and a full-scale collapse.Love was holding reality at bay, the reality of a team depleted by injuries and riddled with youth and a hint of immaturity, but that all has crashed down around him in the past few weeks. Sure, there's still the pride of being that guy, the pillar of a team, but that pride is becoming less and less of an antidote with every loss.This season, Love has been as close to perfect for the Timberwolves as a 23-year-old player can be. With every game-winning shot and 30-point night, he's upped the expectations, and for most of the season, he wouldn't have had it any other way. But now, with a flagging defense and uninspired offense, Love is beginning to feel like those expectations are bordering on unreasonable."It's just tough to try and play Superman every night," Love said after Wednesday's 97-94 loss to Golden State, in which he had a chance at a game-winning shot but failed.After the loss, Timberwolves coach Rick Adelman talked about excuses. When asked about fatigue, the coach dismissed any notion exhaustion could have caused the meltdown that led to a blown 20-point lead. For Nikola Pekovic or J.J. Barea, who'd just returned from injuries, maybe, but for everyone else, the coach said, fatigue is no longer to blame. That's realistic, a coach giving tough love to a team that needs it. And Love has never wanted a pass all season; he's always held himself to a higher standard. Why should Adelman change what he expects from Love now, when for 56 games the forward has been demanding to be pushed ever higher?But for perhaps the first time all season, Love used an excuse that Adelman might not have permitted. He admitted to being tired, to feeling the league-leading 39.7 minutes per game in his legs. Those legs aren't always under his shot, Love said, and though his aching muscles can't be an excuse on defense, he can't help but blame them for his somewhat diminished offense in recent games.So maybe Love should get a pass, an acknowledgment that, yes, he's hurting after playing the best basketball of his life for a month. He's the reason this team is where it is, that it's now won eight more games in a shortened season than it did in all of 2009-10. But at the same time, he'd be better off not taking that pass, not admitting his frustrations, if he truly wants to become one of the NBA's elite.On Wednesday, Love learned that he'd been passed over as the NBA's player of the month for March in favor of Kevin Durant, who scored 50 fewer points, had 86 fewer rebounds and made 12 fewer three-pointers than Love in that time span. But Durant's Thunder went 11-5 in March while the Timberwolves finished 7-10, and Durant has established himself as a top-tier player and a winner.And just like Love, who's scored 24.9 percent of the Timberwolves' points this season, Durant too has been responsible for a large percentage of his team's scoring. The Oklahoma City forward's 5,562 points are good for 26.8 percent of the Thunder's total a greater rate even than Love's. For that matter, all three NBA players who have higher scoring averages than Love's also are responsible for a greater percentage of their team's points than is the Timberwolves forward. LeBron James has scored 26.2 percent of the Heat's points and Kobe Bryant 29.1 percent of the Lakers'.You don't hear them complaining about shouldering too big of a burden.If Love wants to be discussed in the same sentence with James, Bryant and Durant, he'll need keep his stresses to himself. But really, he is shouldering more than those three, who are all on playoff-bound squads. That much responsibility is a lot easier to handle when it leads to wins, and it's hard not to think that Love must at times feel like his efforts are futile when 51 points can still earn him a loss. In addition, none of those three top scorers accounts for more than 20 percent of his team's total rebounds; Love is responsible for 24.8 percent of the Timberwolves' boards.Love's scoring role with the Timberwolves has been increasing for the most part since his rookie season, when his 899 points were 11.2 percent of the team's total. Last season was the first time Love was Minnesota's leading scorer, yet he accounted for 17.8 percent of the team's points, a number that seems paltry compared to this season's total. His role has ballooned, and when coupled with injuries and a team that hasn't had a winning season in Love's career, that can be a lot to handle."I've felt my whole career I've been fighting an uphill battle, whether it's been with coaches or players or a system, no matter what," Love said. "I like that. I embrace that."Even then, he wasn't really complaining, and Wednesday's frustration was far from the norm. Love is not the kind of guy who lets problems overwhelm him. He channels them and feeds off them. He internalizes them in the best way possible. So if Love can embrace that, yes, he faces a tougher situation than nearly all of the players who compete at his level -- if he can accept it and use that disadvantage as proof that he's just as good that might be the key to his burden somehow becoming a blessing.Follow Joan Niesen on Twitter.
Original Story:
http://www.foxsportsnorth.com/04/05/1...
THE BACKYARD
BEST OF MAXIM
RELATED ARTICLES
MINNEAPOLIS The worse the loss, the more he stares at the carpet. The bigger the disappointment, the closer his voice drops to a mere whisper. On Wednesday night, Kevin Love never once looked up. In the moments after the most disappointing Timberwolves' loss of the season, he was barely audible. His was the wavering voice of frustration, a far cry from the confidence of an...
(Eds: APNewsNow. Will be updated. With AP Photos.) By JON KRAWCZYNSKI AP Sports Writer All those minutes on the court finally seem to be catching up to Kevin Love. The Minnesota Timberwolves' All-Star leads the NBA in minutes played this season. After another 43 of them in a loss to Golden State on Wednesday night, Love admitted that he's starting feel the toll. Love still...
MINNEAPOLIS The Timberwolves' lineup on Wednesday will look very different than it did Monday, as both J.J. Barea and Nikola Pekovic are healthy and starting.Pekovic, who played 19 minutes in Monday's loss in Sacramento, missed seven games with bone spurs in his right ankle. Barea has been out since March 23 with a thigh contusion that he suffered at the end of a game in...
Today's WAG is former Miss Puerto Rico Universe & Miss Universe, Zuleyka Rivera Mendoza. She's been dating J.J. Barea of the Minnesota Timberwolves and the two have a child together. addthis_url = 'http%3A%2F%2Fmysportsrumors.com%2Fblog%2F2012%2F04%2F06%2Fwag-zuleyka-rivera%2F'; addthis_title = 'WAG+%26%238211%3B+Zuleyka...
The Minnesota Timberwolves and Golden State Warriors are in the process of falling completely out of playoff contention. That trend will continue for one team Wednesday night when Minnesota looks to end another three-game slide by beating the visiting Warriors for the second time in just over two weeks. The Timberwolves (25-30) have dropped 4 12 games behind Houston for the eighth...
MINNEAPOLIS On March 24, Jeremy Lin injured his knee, thereby dealing the death blow to the NBA's feel-good story of the moment. But don't call it fleeting the Lin phenomenon lasted a whole month and a half. Yes, that's right, a month. Exactly 49 days separated Lin's breakout 25-point night and his season-ending injury, and yet it somehow became an era. Linsanity...
Fading out of playoff contention in the Western Conference, the banged-up Minnesota Timberwolves are looking for anything positive to help them get back on track. A visit to New Orleans might be what they need. Looking to avoid a season-high fifth consecutive defeat, the Timberwolves try to take advantage of a matchup with the conference-worst Hornets on Saturday night. Without...
NBA News

Delivered to your inbox

You'll also receive Yardbarker's daily Top 10, featuring the best sports stories from around the web. Customize your newsletter to get articles on your favorite sports and teams. And the best part? It's free!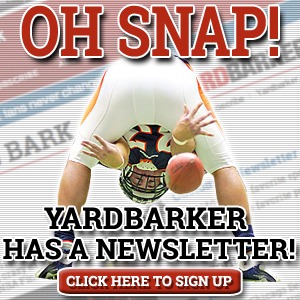 Latest Rumors
The Backyard

Today's Best Stuff

For Bloggers

Join the Yardbarker Network for more promotion, traffic, and money.

Company Info

Help

What is Yardbarker?

Yardbarker is the largest network of sports blogs and pro athlete blogs on the web. This site is the hub of the Yardbarker Network, where our editors and algorithms curate the best sports content from our network and beyond.