Found October 31, 2012 on Fox Sports North:
MINNEAPOLIS Kevin Love didn't want it to be like this.He wanted the cameras, but not like this. He wanted the questions, but not about this. He wanted the attention, but for something he'd done, not for everything he cannot.Nothing is more humanizing than an injury. It's amazing what that thin, removable cast can transform; an exemplar becomes just a bald guy in a folding chair. That was Love on Wednesday, when he rejoined the Timberwolves and was for once the odd man out. He was the one explaining himself when usually his actions are enough, deflecting insinuations when, really, there's never before been much to insinuate.He was a guy with a cast and a burden much more painful than those two broken bones. You almost had to feel sorry for him.For the past week, Love has been in California, rehabbing and spending time with his family. He's moved past the injury. He's dealt with his return timetable ("I'm going to continue to say eight (weeks)," he said. "But if I'm back before that, then so be it."). He hasn't touched a basketball.But on Wednesday, the injury was thrust back at him. There were the questions of how it happened because some people still aren't buying knuckle push-ups. There was the relentless inquiry into how long? How long? How long? We want to hear it from Love himself, not from these doctors who couldn't possibly understand what he means to this team, to this city. (Because meaning something obviously factors into recovery targets, right?) But perhaps most difficult of all, there was an insinuation, one had to hit Love square in the gut.Has he apologized for this? Should he?Last April, when JaVale McGee's elbow sent Love spread-eagled on the court in Denver, no one demanded an apology. No one said, "Hey Kevin, how dare you be in the path of that arm? How dare you hit the floor that hard?" We saw it. We believed it. We felt terrible that it had happened.Not this time. This time, no one saw anything. This time, the injury happened behind closed doors, at Love's home while he was doing knuckle push-ups with his personal trainer, Rob McClanaghan. It took a day for the details to come out, a day in which conspiracy theories congealed and everyone seemed to forget that Love had never, not once, done anything to betray his struggling team. He'd never given any indication he wasn't out there to improve, to give every ounce of himself to his game. But in spite of it all, there was talk of punches being thrown and theories about why and what Love might have smashed in some invented fit of rage.In two weeks, Love likely forgot about all that. He'd moved on, looking forward at a return rather than back to a day he'd rather not remember. And now he's reliving it again."I've heard everything," Love said of the alternative theories about the injury. He offered to check his phone and his Twitter, where an indelible record of how fast fans can turn fickle remains. "I know that it's more sexy having punched something, but also I guess more idiotic, for lack of a better term," he added. "I didn't punch something."Short of producing a videotape of the entire saga, that's as much proof as Love is going to give. It should be enough. Love has done nothing but push the Timberwolves toward the relevance they're clawing at this season, and for that, he's owed a shred of tolerance or at least some acknowledgment that in situations like his, even the biggest superstars are human."I was upset," Love said. "I was real upset I'm still upset And then when I started hearing about, oh, the Timberwolves are cursed, I think the human instinct is to kind of take all the pressure and all the blame onto yourself. I think that's a large part of what happened. I do feel like I'm a big part of this team, and for me not to be out there the first few or several games, it kills me."Watch the guy. At practice on Wednesday, he had nowhere to go, no drill to complete, no free throws to attempt. He did shoot a bit with his left hand, but Adelman said Love won't be participating with the team beyond just his conditioning in the near term. Come Friday's season opener, he'll be on the bench with Ricky Rubio, a scene that should be eerily reminiscent of the end of last year. That's going to be hard. It's going to hurt.It'll hurt Love more than anyone.So no, he hasn't apologized. No one's demanding it. "We all know he's sorry," center Nikola Pekovic said, but it's sorry in a different sense, not for doing something stupid or making a mistake.He's sorry he can't be out there with his team. Sorry that things will be more difficult for them. Sorry that it couldn't be different. But it's been two weeks, and playing without Love has become the status quo. The team is adjusting, and it'll continue to adjust when he gets feedback next week and knows more about his recovery schedule. But it can't let Love be its biggest concern, and Adelman is making certain of that."A lot of teams have faced the same thing in this league," he said. "We're no different.""We've got to move on. We just have to move on."Two weeks down, six to go, unless the doctor next week says otherwise. Two down, six to survive, and then it becomes easier. Two down, six to go, and the better things go on Friday, then Sunday, then Monday, the easier this countdown will seem. Follow Joan Niesen on Twitter.
Original Story:
http://www.foxsportsnorth.com/10/31/1...
THE BACKYARD
BEST OF MAXIM
RELATED ARTICLES
Kevin Love says he understands the skepticism about the source of his broken right hand. The Minnesota Timberwolves All-Star, however, insists the story about knuckle push-ups gone wrong is true. Love spoke publicly Wednesday for the first time since his injury, calling it ''pretty much a freak accident.'' He's heard all the conspiracy theories but said he really...
MINNEAPOLIS It isn't every day Kevin Love is mistaken for a senior citizen.That's what happened, though, in August, when the Timberwolves star and Kyrie Irving took the court for a staged pickup basketball game in Los Angeles. They were there for the second installment of Irving's "Uncle Drew" Pepsi commercials, and for the Cavaliers' point guard, the jig...
AGELESS WONDERS
I thought the Pepsi MAX commercials with Kyrie Irving posing as an ::ahem:: older former baller named Uncle Drew were genius! Now we're back with part two and it features more secret players in disguise as they take to the courts and hustle guys in pick up games. Check out the continuation as Uncle [...]
Previously on That NBA Lottery Pick, we featured a short film starring Cleveland Cavaliers point guard Kyrie dressing up in old man make-up as "Uncle Drew" and schooling some street ballers.In this clip, Uncle Drew invites help from old man name Wes who is really Timberwolves forward Kevin Love:  (Courtesy of Pro Basketball Talk)
MINNEAPOLIS On Wednesday, James Harden's deal in Houston got done, as did Steph Curry's with Golden State and DeMar DeRozan's in Toronto. Chicago and Taj Gibson took it down to the wire. So did Jrue Holiday and Philadelphia, but both got their money. As the clock ticked to midnight, these and other members of the draft class of 2009 learned their fates; the winners saw...
MINNEAPOLIS You'll have to wait a little longer to find out who's going to start tonight for the Timberwolves against the Kings. With Kevin Love out, the power forward position is up for grabs, and it'll likely be Dante Cunningham or Derrick Williams out there to begin the game. There won't be confirmation of the decision until about 6 p.m. tonight, after coach Rick...
The Minnesota Timberwolves fell apart last season after Ricky Rubio went down with an injury. How they'll fare with both him and star Kevin Love sidelined to begin the 2012-13 campaign remains to be seen. Brandon Roy and a host of newcomers make their team debuts Friday night when Minnesota hosts the Sacramento Kings, who will look to clean up their play after dropping their...
Betting on NBA games? Well you need to know who is injured because that will change the entire scope of games. The NBA season starts tonight and here are the key players who won't be playing. Key NBA injuries Dirk Nowitzki, Dallas Mavericks - Out until mid November after undergoing minor knee surgery. Kevin Love, Minnesota Timberwolves - Out [...]
Timberwolves News

Delivered to your inbox

You'll also receive Yardbarker's daily Top 10, featuring the best sports stories from around the web. Customize your newsletter to get articles on your favorite sports and teams. And the best part? It's free!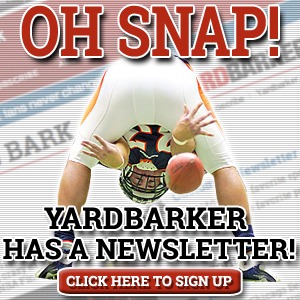 Latest Rumors
The Backyard

Today's Best Stuff

For Bloggers

Join the Yardbarker Network for more promotion, traffic, and money.

Company Info

Help

What is Yardbarker?

Yardbarker is the largest network of sports blogs and pro athlete blogs on the web. This site is the hub of the Yardbarker Network, where our editors and algorithms curate the best sports content from our network and beyond.