Found June 29, 2012 on Fox Sports Florida:
MIAMI Yes, it really did happen. Justin Hamilton is now property of the Miami Heat. Im still kind of in shock, like its just slowly sinking in, Hamilton said Friday afternoon, a day after he was drafted by Philadelphia with the No. 45 pick in the second round and shipped to the NBA champion Heat. I think this morning when I woke up, I wasnt really sure the draft really happened. And then it was a great feeling. And I think its starting to settle in. But theres no guarantee Hamilton, a big man from Louisiana State, will be on Miamis roster next season. Heat president Pat Riley said after Thursdays draft he could end up playing overseas. Hamilton doesnt doubt that could end up happening. Because his mother is from the country, he did recently apply for Croatian citizenship in case the NBA didnt immediately work out. For now, though, Hamilton wants to show his stuff for the Heat in next months summer league in Las Vegas. The Heats just indicated they just drafted me and they liked how I played, and now its just a matter of playing summer league and just doing whatever I can to see if I can help the team, Hamilton said. If I can help them out, then Ill be here. If I still need more improvement, Im not sure. The 7-foot Hamilton, 22, averaged 12.9 points and 7.2 rebounds in his one season for LSU. He left college with one year of eligibility remaining after having played two years at Iowa State and then transferring. The Heat entered Thursdays draft with the No. 27 pick in the first round. However, they agreed to trade that selection to Philadelphia for the No. 45 pick and a future first-round selection. The Heat then drafted big man Arnett Moultrie at No. 27 for the 76ers. Hamiltons father, Larry, was a defensive tackle on Brigham Youngs 1984 national championship football team. His mother, Tami, starred in volleyball at BYU. Its really competitive, Hamilton, who played at Lone Peak High School in Highland, Utah, said of growing up in that sports environment. Hamilton, considered a project, wasn't projected by some outlets to even be drafted. But he said he's been overlooked before. "Ever since i was starting to play basketball, that's how it's been,'' said Hamilton, who is listed at 260 pounds and said he wants this summer to add strength. "Everybody has kind of written me off. It doesn't really affect me, just because I know what I have to do . I just took (draft projections) as what other people thought and just continued to work hard.'' It paid off for Hamilton by being drafted Thursday. And he eventually figured out Friday it really did happen. Chris Tomasson can be reached at christomasson@hotmail.com or on Twitter @christomasson
Original Story:
http://www.foxsportsflorida.com/06/29...
THE BACKYARD
BEST OF MAXIM
RELATED ARTICLES
Last week, we brought you the heartwarming Disney story of Sara Jay and Angelina Castro, the two adult film starlets who promised to suck off all of their Twitter followers if the Miami Heat won the NBA Finals. Well, the Heat won, so it's time to start those Hoovers up, ladies. But if you had Sara and Angelina pegged as liars, guess what? You're hella wrong, son. On August 2...
Pat Riley's approach to free agency has changed considerably since 2010, simply because the Miami Heat have nowhere near the same amount of money left to spend as they did during the coup that brought LeBron James, Dwyane Wade and Chris Bosh together. Still, the sales pitch from the Heat president will remain the same. ''There's a lot of room out there this year...
LeBron James couldn't have asked for a better scenario to win his first NBA title. Not only was he finally able to silence the critics who said he is incapable of winning big games, but he also put the Heat on his back and carried them most of the way. LeBron capped off an MVP regular season with an incredible postseason where he averaged more than 30 points and nearly 10 rebounds...
Well, as we all know, Lebron James and the Miami Heat finally won the NBA title. This was supposed to be their 2nd in what was supposed to "7″ titles. However, it was their first. What changes with this championship other than me no longer being able to wear my "RINGLESS" shirt to mock Lebron? Well, for starters, my view on Lebron is changing. For the past 2 years, I have...
The Miami Heat just completed its victory parade on Monday as the 2011-12 NBA champions, with the proverbial championship monkey finally off LeBron James' back. So while there were a few days of celebrations in South Beach, Heat officials no doubt already are preparing for next season, starting with this Thursday's NBA draft. The Heat were the preseason NBA title favorites in...
For those of you with a keen eye during the Miami Heat first round draft pick, you might have already seen this fan doing an oral joke behind ESPN's Rece Davis.The rest of you who missed it, keep an eye on the corner of the screen at the :38 second mark:
It's been over a week since the Miami Heat won the NBA title, yet it's hard to be sure if the vitriol towards the franchise or LeBron James has abated or not. If you caught the post-championship appearance on "Late Night" where the three-time MVP was given a standing ovation from the crowd, you'd probably [...]
  With free agency beginning July 1, the amount of rumors are on turbo speed and this isn't as much of a rumor as it's Jason Terry being Jason Terry via Chris Tomasson. Mavs guard Jason Terry just wrote in an email to me he "definitely" will consider the Miami Heat when free agency starts Sunday. [...]
The lasting image from the Miami Heat winning the 2012 NBA championship may be the unfettered exuberance of LeBron James. James spent the whole night smiling, cradling the Larry O'Brien trophy and partying around South Beach. But apparently his teammate, old man Chris Bosh, was counting down the minutes until he could get home. Bosh kept using the word "tired" when...
Dwyane Wade will have surgery knee surgery according to Chris Tomasson on July 9th. He is likely to miss at least a big chunk of the Olympics as a result, if not the entire 2012 games. According to Tommasson, Jerry Colangelo was told by Wade that he is looking at a 4-6 week recovery time after the surgery. Below is the report from Tommasson via Twitter: Wade didn't look healthy...
While LeBron James and Chris Bosh take on the rest of the world in London as part of Team USA, Dwyane Wade will be recovering from left knee surgery. Wade's chronic left knee issues will require a procedure in the coming weeks that eliminated the Heat star from Olympic participation. The U.S. roster won't have Bulls' point guard Derrick Rose or Orlando Magic center...
Dwyane Wade's tenure as an Olympian has ended. The newly crowned NBA champ will not be with USA basketball this summer in London. Wade was battling a knee injury for the bulk of the playoffs and has informed USA Basketball Chairman Jerry Colangelo and coach Mike Krzyzewski that he'll be having knee surgery in early July. [...]
Heat News

Delivered to your inbox

You'll also receive Yardbarker's daily Top 10, featuring the best sports stories from around the web. Customize your newsletter to get articles on your favorite sports and teams. And the best part? It's free!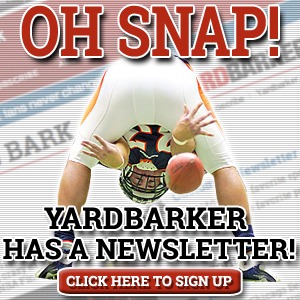 Latest Rumors
The Backyard

Today's Best Stuff

For Bloggers

Join the Yardbarker Network for more promotion, traffic, and money.

Company Info

Help

What is Yardbarker?

Yardbarker is the largest network of sports blogs and pro athlete blogs on the web. This site is the hub of the Yardbarker Network, where our editors and algorithms curate the best sports content from our network and beyond.