Found March 02, 2013 on Atlantic Twine:
  Via ESPN.com I want to start off by saying $1 million is relatively the same thing as $50 grand to Jay-Z, or at least I would assume so. So now we have Magic Johnson offering LeBron $1 million to participate in the Dunk Contest, or to anyone who could beat him. Despite the enormous amount of respect that LeBron has for Magic, I'd continue to be shaking my head if I were Bron-Bron. It's no secret the Dunk Contest has been terrible over the past several years. There aren't any more Vince Carter's, or Jason Richardson's, or Dominique Wilkins'. We've also hit a point in dunking where it's near impossible to create something that hasn't already been done, without the use of cars, cheerleaders, or telephone booth's. But that was no excuse when Vince Carter revolutionized the contest in 2000. The same thing was said, and he went out and pushed even more boundaries. I don't blame LeBron one bit for not participating in any of these past dunk contests. They've been outright jokes. And if LeBron wants to put on a show for the 200 fans that happen to show up to a Miami Heat game early, then so be it. Maybe it's a ploy to have Miami fans show up before halftime. Leave the man alone. I'm glad he came out and said he would continue doing it, I don't believe LeBron is doing it for his teammates, but whatever excuse he gives himself to continue is good in my book. "I don't do it for anyone besides our team," James said. "We came up with something to say, 'Let's get warmed up even more.' We're happy our fans love it, and we're going to continue to do it. It's something we enjoy. It's something that gets us up for the game."  
Original Story:
http://nbaatlantictwine.com/magic-joh...
THE BACKYARD
BEST OF MAXIM
RELATED ARTICLES
LeBron James is an incredbile athlete. He has arguably the best skill set of any basketball player, ever. He has Magic Johnson's court vision, with Michael Jordan's athleticism, and Karl Malone's body. There is nothing he cannot do on a basketball court. Fans know this, and they have been clamoring to see him participate in the NBA Slam Dunk Contest for his entire carer. After...
He didn't look like he was hurting, but LeBron James reportedly played through knee pain to help the Miami Heat win last night.  The superstar has been performing on a whole new level this season (which didn't seem possible), and he has the Heat poised to repeat as NBA champions.Despite the knee injury that Brian Windhorst of ESPN says occurred after James fell awkwardly...
Tweet   On Friday Magic Johnson made a pretty bold statement when he offered to put up $1 million if LeBron James enters the NBA's Slam Dunk Contest. It's probably a safe bet that won't happen so we will have to settle for the dunks worthy of a dunk contest that James has been doing [...]
In recent weeks there have been rumors that LeBron James and his fiance Savannah Brinson were possibly on the outs since she was strangely absent from a pair of pretty big events (All-Star game and White House visit). If the way the two were at the Motown Revue Charity Event is any indication those rumors could be a bit premature. Word is that the two were very affectionate...
  While the sports world has been set abuzz by the Harlem Shake video that LeBron James and the Miami Heat recently released, apparently others are trying to compete. Courtesy of Sports Crackle Pop, we have video of TNT's Inside The NBA crew trying their hand at the popular dance. Watch as Shaq and Charles get down in a way only they can.
Friday I pleaded to stop the madness and obsession over the made up controversy swirling around LeBron James and his dunking.  No less than 24 hours later, Magic Johnson put up $1 million dollars on national television to try to entice LeBron James to participate in next year's dunk contest. I kid you not.  One.  Million.  Dollars.  Here's the video evidence from...
And we're still discussing the NBA Dunk Contest. Can we please stop? Several days after the actual dunk contest, people still want LeBron James to take part in the festivities but there is one man in particular who would pay to see it—Magic Johnson. According to ESPN, James is considering the offer. Here is what [...] [[ This is a content summary only. Visit my website for full...
LeBron James had 29 points, 11 rebounds and seven assists, and the Miami Heat tied a franchise record with their 14th straight victory, rallying to beat the New York Knicks 99-93 on Sunday. Dwyane Wade added 20 points for the Heat, who had to overcome a 16-point deficit to beat the Knicks for the first time in three tries this season. Chris Bosh bounced back from a dismal first...
  The official Twitter page of ESPN (@ESPN) tweeted out this image of Lebron James 'vs the rest of the NBA' just moments after the Miami Heat's victory over the Memphis Grizzlies for their 13th straight victory. @ESPN:13 straight wins. Lebron,and the @MiamiHeat , have a pretty good handle on the rest of the league They attached the above cartoon with a larger than life Lebron...
MVP candidate Tony Parker went down with an ankle injury last night, and if we have learned anything about Spurs' coach Greg Popovich, we probably won't see Parker again until the playoffs.The Spurs will be fine, as they have already stacked up a nice record for themselves (best in the NBA to be exact) and are generally excellent at plugging in pieces to combat the wear and...
MIAMI Its a winning streak that -- this week -- has been on life support.Entering a three-game homestand, the Miami Heat had won 10 in a row while outscoring foes by an average of 13.7 points. They had won road games over formidable foes Oklahoma City, Atlanta and Chicago by 10, 13 and 19 points.So entering this week, you could say the Heat were playing their best ball since the...
Look I am not going to lie, I do not understand this fascination with the "Harlem Shake" dance craze. However, it seems to be taking the Internet by storm and everyone is getting in on the act including the Miami Heat. As in other "Harlem Shake" videos, Chris "Birdman" Andersen comes into the Heat locker room, flapping his arms like a bird when suddenly...
NBA News

Delivered to your inbox

You'll also receive Yardbarker's daily Top 10, featuring the best sports stories from around the web. Customize your newsletter to get articles on your favorite sports and teams. And the best part? It's free!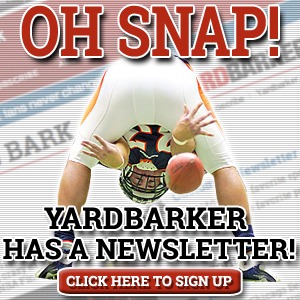 Latest Rumors
Best of Yardbarker

Today's Best Stuff

For Bloggers

Join the Yardbarker Network for more promotion, traffic, and money.

Company Info

Help

What is Yardbarker?

Yardbarker is the largest network of sports blogs and pro athlete blogs on the web. This site is the hub of the Yardbarker Network, where our editors and algorithms curate the best sports content from our network and beyond.