Found June 20, 2013 on Project Spurs:
Tony Parker, blanketed by LeBron James for the majority of Miami's thrilling 103-100 victory on Tuesday night, missed 12 of his first 16 shots. Even the shots he made were incredibly difficult  -- Miami completely snuffed out every San Antonio Spurs' option on one possession in particular, with about 5:50 remaining in the third period, and Parker careened into a lane packed with Heat defenders, stopped on a dime, and still made the shot with a lot of contact from Dwyane Wade. He bailed San Antonio out.   Fast forward to the end of the fourth quarter. And there was Parker, missing shots left and right, with the ball above the arc and the shot clock dwindling. There was James, too, mirroring his every movement, plugging every angle to the rim. So, instead, Parker lofted a high arcing three-pointer that gracefully splashed in the net.    20 seconds later, Parker pick pocketed an errant Mario Chalmers pass, and hit another shot -- a turnaround jumper to put the Spurs up two points with 58 seconds left. Parker wilted afterwards, missing five of his next shots and scoring just three points.   But, even with Parker playing poorly, he's still the catalyst for the majority of the Spurs' offense. In the 83 minutes without Parker this series, San Antonio has scored 104.5 points per 100 possessions, a decent mark but still substantially lower from their efficiency with Parker on the floor (107.2), per NBA.com.   Former Los Angeles Laker and current ESPN analyst Magic Johnson tweeted that the Spurs will only win Game 7 if Parker plays well.  I think if the Spurs are going to win the series it's going to be because of Tony Parker. #NBAFinals — Earvin Magic Johnson (@MagicJohnson) June 17, 2013 And he's right. Parker's scoring averages and shooting efficiency in three victories (17.8 points and 56.8 percent shooting) are much better than in three losses (15.7 points and 34.3 percent shooting).    Miami's defense has rarely been dialed in, and the Spurs are still scoring at a healthy rate, but they have squelched many of the deadly dribble drives that Parker subsists on. Their aggressive help rotations have cost them more than a few times (*cough* Danny Green *cough*), but that is partially by design. These dribble drives open the floor for the rest of the Spurs players and walling off Parker's pathways to the rim is palatable even if it means making difficult close outs and yielding the occasional juicy wide open 3-point looks.    These are concessions Miami will continue to make, because an aggressive Parker is never a good thing for opposing defenses. Oftentimes, he's the very difference between a win or loss.
Original Story:
http://www.projectspurs.com/2013-arti...
THE BACKYARD
BEST OF MAXIM
RELATED ARTICLES
The San Antonio Spurs and Miami Heat will play for all the marbles tonight as they will face off in Game Seven of the NBA Finals. However, the Spurs blew a great shot at clinching the NBA Finals in Game 6 as they squandered a five-point lead in the waning moments of Game Six in the fourth quarter. Miami then forced overtime and the Heat ended up winning thus forcing a Game Seven...
With the championship on the line, emotions are running at an all-time high in tonight's Game 7 matchup. Spurs guard Tony Parker was smack dab in the middle of a threeway conversation with Miami's LeBron James and referee Danny Crawford when teammate Tim Duncan kindly reminded Parker that his presence was needed in the Spurs huddle by dragging the San Antonio guard to the sidelines...
Tony Parker refused to consider it, though it can't be ruled out. Those last, agonizing moments of the NBA Finals may have been the last we see of these San Antonio Spurs. Tim Duncan, Manu Ginobili and Parker have been together for more than a decade, through more than 100 postseason victories. They are proud winners who have endured some crushing defeats, but nothing ever...
TOUGH ONE TO SWALLOW
After blowing a 10-point lead in the fourth quarter and losing in overtime, Spurs veteran Manu Ginobili didn't mince words when explaining how it felt, saying, "I'm devastated."
Let's play the "What If?" game. What if Tony Parker's last-second shot at the end of regulation in Game 6 found its way inside the net? Well, the Spurs would have won their fifth NBA title in the Tim Duncan era, Parker likely would've won his second Finals MVP and ESPN would feature nothing but "LeBron's Tarnished Legacy" headlines until Tim Tebow is named the starting...
In terms of classic GIF's, this one of San Antonio Spurs Tim Duncan pulling Tony Parker away from LeBron James by his jersey is an instant classic. Clearly, Tim is older brother here… *** Tim pulls Tony Parker away from LeBron James [Yahoo Sports]  
I was born in 1975, so there have been seven Game 7s in my NBA lifetime.  Although the Sonics-Bullets series was a bit before my understanding, I will rate how well these Game 7s were played.One of the themes in Game 7s is sloppy play and bad shooting.  It is a combination of good defense and tight offensive play.  #7      1984-CELTICS vs LAKERS:  While the Lakers-Celtics...
Listen. We all know Magic Johnson is the greatest point guard in NBA history (well next to my created Myplayer on NBA 2K but that's beside the point). No one questions his supremacy on the court and his astute business acumen off the court. But can I be honest with you again? Magic is a [...]
ANALYSIS
Aaron Rodgers weighed in on the job Magic Johnson does as an NBA analyst, and he compared him to Jon Gruden. It wasn't pretty.
It was painful to watch as the San Antonio Spurs walked off the Heat home court in a Game 7 loss in the NBA Finals. It was the first time in the Spurs' history they lost in an NBA Finals. The Spurs spoke about the loss and needless to say, the pain of losing in basketball's grandest stage was evident on their faces. Tim Duncan: Coach Pop: Tony...
After watching watching last night's NBA Finals, Packers quarterback Aaron Rodgers sounds like he's sick of hearing Magic Johnson analyze games. Magic is quickly becoming the John Gruden of ESPN NBA coverage. Everybody is the greatest everything. #bedtime — Aaron Rodgers (@AaronRodgers12) June 21, 2013 I really love Rodgers' honesty.  As much as I like Gruden, he does fave...
NBA News

Delivered to your inbox

You'll also receive Yardbarker's daily Top 10, featuring the best sports stories from around the web. Customize your newsletter to get articles on your favorite sports and teams. And the best part? It's free!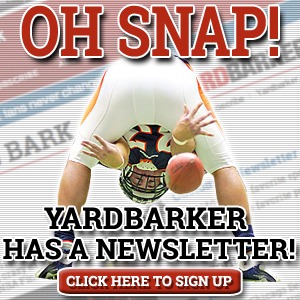 Latest Rumors
Best of Yardbarker

Today's Best Stuff

For Bloggers

Join the Yardbarker Network for more promotion, traffic, and money.

Company Info

Help

What is Yardbarker?

Yardbarker is the largest network of sports blogs and pro athlete blogs on the web. This site is the hub of the Yardbarker Network, where our editors and algorithms curate the best sports content from our network and beyond.