Found September 01, 2012 on NESN.com:
Mario Chalmers has let the world know plenty of times that he thinks he's pretty good. The way he makes it sound, he was the Heat's missing link -- the thing that got the pack of All-Stars over the top and finally hoisting the Larry O'Brien trophy. LeBron James, Dwyane Wade and Chris Bosh? Part of the team, but just as much a part of the team as Chalmers, who should be listed as among the best as he enters his fifth season in the NBA. For those who missed Chalmers' bravado following the Heat winning the NBA title last...
Original Story:
http://www.nesn.com/2012/09/mario-cha...
THE BACKYARD
BEST OF MAXIM
RELATED ARTICLES
It's no surprise that the out-spoken, Rajon Rondo, is again making headlines. Sparking the media, both in a negative and positive light, has rivaled Rondo's trademark passes in recent years. On Friday, The Standard, Hong Kong's English News Paper, is reporting more brazen comments from Rondo, this time about the Los Angeles Lakers. Rajon has [...]
Rajon Rondo wrapped-up his Red Bull "King of the Rock" trip in Hong Kong the other day. He held a skills clinic as well as crowning the winner of Hong Kong's KOTR qualifier. Here are some photos of the festivities courtesy of OSports & HoopChina. Enjoy:
From declaring that he believes he is the best point guard in the NBA to disclosing his intention to retire as the greatest point guard in Celtics history, Rajon Rondo does not lack confidence. As his travels as part of the Red Bull tour swung through Hong Kong, Rondo had some more brash words. This time, Rondo was not making any individual boasts, but a team one. Rondo "expects...
I was going to do a nifty little gimmick for this piece where I started each paragraph with the name of an NBA point guard that I think is better than Miami Heat PG Mario Chalmers. Then I realized that there is no way I could write that many paragraphs unless I started making new ones halfway through every sentence. Boston Celtics PG Rajon Rondo recently said that he was the...
For anyone that thinks Boston Celtics point guard Rajon Rondo doesn't have a good leaping ability, you need to check out this clip of Rondo jumping on top of a plyometric box during a recent workout.Watch as he lands with both feet firmly planted on the box: (Courtesy of Ball Don't Lie)
Every morning, we compile the links of the day and dump them here… highlighting the big storyline. Because there's nothing quite as satisfying as a good morning dump. Rajon Rondo's standstill pass fake People associate Rondo with his fake behind-the-back pass, but that one's been around for a while. What I haven't seen guards his size do is use pass fakes from a standstill...
The point guard has been touring all around Asia during the off-season, giving the farthest outskirts of Celtic Nation some love.  He recently sat down for an interview with Ethan Strauss of Bleacher Report, which if you have the time, is a great piece considering the usual private nature of RR.  As many do not have the time, here are some of the highlights:He is not the greatest...
Linsanity completely dominated the headlines for a while last season. You can thank ESPN for all the hype regarding the point guard who turned the ball over just as much as he made a great play. A lot of opposing players seemed to get sick of the attention that a former bench-warming point guard was getting. Deron Williams was one, who shut everyone up after dropping 38 on Jeremy...
Every morning, we compile the links of the day and dump them here… highlighting the big storyline. Because there's nothing quite as satisfying as a good morning dump. The Celtics guard was somewhat skeptical about the new lineup of another rival team, the L.A. Lakers, who now feature stars Dwight Howard and Steve Nash alongside Kobe Bryant and Pau Gasol. Rondo said they've...
Celtics Green  Hall of Fame Travesty - Johnny Most The Greatest Game The Greatest Game - Video Celtic Nation  SQ12#34 Hero Ball vs. Best Look Possible Il Leprechaun del Jet. Lex Nihil Novi   Larry Lights Up Philly (again) Larry Lights Up Philly Rookie McHale Impresses Yet Again Celtics Life  Rondo says the Philippines is like Boston on steroids CelticsBlog   Memo To The...
While Rajon Rondo is busy flying all over the Far East, Paul Pierce is taking a more relaxed approached to final  days of summer – beach time with his kids. The Truth tweeted these pictures yesterday afternoon. I'm guessing he's somewhere in California and not Revere beach. Nothing screams fun like a crotch full of sand.
Listen to internet radio with CLNSRadio on Blog Talk RadioBecause of our recent merger with CLNS Radio, the King of the Court podcast now has a different call-in number: 347-215-7771.We'll also soon have a new link to download the show on iTunes, but since Jay King : technology :: Isiah Thomas : building an inexpensive, successful basketball team, that isn't ready for tonight's...
NBA News

Delivered to your inbox

You'll also receive Yardbarker's daily Top 10, featuring the best sports stories from around the web. Customize your newsletter to get articles on your favorite sports and teams. And the best part? It's free!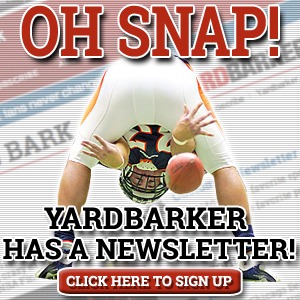 Latest Rumors
Best of Yardbarker

Today's Best Stuff

For Bloggers

Join the Yardbarker Network for more promotion, traffic, and money.

Company Info

Help

What is Yardbarker?

Yardbarker is the largest network of sports blogs and pro athlete blogs on the web. This site is the hub of the Yardbarker Network, where our editors and algorithms curate the best sports content from our network and beyond.