Found May 07, 2012 on Pass The Pill:
In response to fans and media attacking the Dallas Mavericks and their owner, Mark Cuban, over their lackluster playoff performance in 2012, Cuban blames the newly installed Collective Bargaining Agreement. This comes in the wake of Oklahoma City's ugly four game sweep of the reigning champion Mavericks that concluded with a 103-97 loss in Dallas on Friday night. Cuban has been less than thrilled over the heat he's catching from Mavs fans and the media, or 'talking headless' as he put it. "I've heard some of the talking headless (media), and all I can tell you is, within the collective bargaining agreement we did everything possible to put the best possible team on the court," he said. "Period. End of story. If someone wants to read it (the CBA) and tell me otherwise, go ahead. But it's like I said, I think we've got a good team. One bounce, one break and we're talking about we had one bad game like we had in Portland last year and we're still up 2-1." Cuban also has no regrets about letting some pivotal pieces to last season's championship run walk away. Most notable the newly dubbed Defensive Player of the Year, Tyson Chandler. "Hell no," Cuban said. "Nope. Not even a millisecond. Because those who are talking otherwise haven't read the CBA and are just talking out their (expletive) without any foundation. But that's what you guys do. "Given what happened, I think we put together a damn good team. If we had one break, one call, one bounce, we're having a completely different conversation and you're thinking how smart we are instead of how stupid we are." Cuban did give it a shot after losing Tyson Chandler, J.J. Barea, DeShawn Stevenson and Caron Butler. They landed Vince Carter's corpse in free agency and bartered what would likely be a late 1st rounder for Lamar Odom's moody doppelganger. Cuban still insists the new CBA is to blame. "If you want to nail me for something, I'll be the first to admit that it was a huge (expletive) that I didn't fight for the new (CBA) harder," Cuban said. "I said it before, I'll say it again. It put us and other teams in a bad spot, and it was an overnight handshake deal that I should have fought harder. I'm the first to say that. "That was my mistake, because once that thing passed, our hands were tied in a lot of respects. But within that, we did the best we could. And we're not out of it yet." It's a tricky situation. A failed experiment with Lamar Odom and losing the dominant defensive presence of Tyson Chandler made for bumpy transitions in Dallas. But maybe Mark has a point.
Original Story:
http://sports-kings.com/passthepill/?...
THE BACKYARD
BEST OF MAXIM
RELATED ARTICLES
The farce is over. The Mavericks 2011-12 season has come to an abrupt and fitting end, so it's time for the Deron Williams watch to begin. Mavs owner Mark Cuban is now attempting to hedge his bet by saying he doesn't have a specific plan in mind this summer. But anyone who professes to believe that is likely drawing a paycheck from the man. It's hard to recall an...
Jason Kidd might have played his last game as a Dallas Maverick on Saturday, but it won't be the final game of his storied career. "I'll land somewhere early, I would think," Kidd told The Dallas Morning News. Kidd became an unrestricted free agent after the defending NBA Champions were swept out of the first round by the Oklahoma City Thunder. The Mavericks...
The Dallas Mavericks have decided they will not give Lamar Odom a playoff share, about $14,000. It was a players vote following Dallas' first round sweep at the hands of the Thunder that determined Odom would miss out on the money. The team had already banished Odom after a season of ups and downs, but mostly downs. Circumstances in his personal life made it a tough go for Lamar...
The Mavs organization, Jason Kidd says, 'probably has more hard decisions to make than at any time ever.' And Kidd – the 39-year-old legend – is a hub of the wheel of those hard decisions. Dallas needs him to be a recruiter … but as he's a free agent, first it needs to recruit him. My thoughts on Kidd's future – and a Video Visit with Kidd himself … In Jason Kidd Mavs Donuts:
Donnie Nelson continues to insist that Rick Carlisle will remain with Dallas next season despite being in limbo on his contract.
What a difference a year makes. Around this time last year the Dallas Mavericks were headed to the NBA Finals after beating the Oklahoma City Thunder. Now their offseason has already begun after getting swept at the hands of that same Thunder team. The Thunder did not change their team all that much, they were just young and with a year's more experience, they got a lot better...
Mavericks players voted not to give Lamar Odom a playoff share.
Dirk Nowitzki said the Mavericks need to add players who can create for themselves.
DALLAS – Break out your brooms, the sweep is over. There were some dramatic moments in this four game series. But none were more dramatic than the posture of the Mavericks captain Dirk Nowitzki leaving the court. His stellar 34 point performance was not enough. Please click the link below to read the rest of this story and watch recap video from Game 4.
When the Dallas Mavericks returned home for Game 3 of this first-round series, they greeted fans with royal blue T-shirts bearing the slogan, "All-In." It was a take-off on owner Mark Cuban's question to Lamar Odom in the halftime locker room during a game in Memphis in early April. In truth, many of the players didn't believe the owner was "all in...
For years Dirk Nowitzki has been the face of the Dallas Mavericks. He's one of the greatest players of all time but no one can be on top forever. The Mavericks showed this year that they won't be able to repeat the magic they had last year unless they get some help. Mark Cuban has cleared out some cap space in order to find the help and it's been widely known that Cuban has...
NBA News

Delivered to your inbox

You'll also receive Yardbarker's daily Top 10, featuring the best sports stories from around the web. Customize your newsletter to get articles on your favorite sports and teams. And the best part? It's free!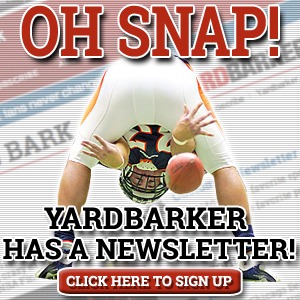 Latest Rumors
Best of Yardbarker

Today's Best Stuff

For Bloggers

Join the Yardbarker Network for more promotion, traffic, and money.

Company Info

Help

What is Yardbarker?

Yardbarker is the largest network of sports blogs and pro athlete blogs on the web. This site is the hub of the Yardbarker Network, where our editors and algorithms curate the best sports content from our network and beyond.