Found July 18, 2012 on Sportz Assassin:
PLAYERS:
Jeremy Lin
,
Kevin Mchale
,
Kyle Lowry
,
Goran Dragic
,
Carmelo Anthony
,
Amare Stoudemire
,
Raymond Felton
,
Brook Lopez
TEAMS:
Houston Rockets
,
New York Knicks
,
Phoenix Suns
,
Brooklyn Nets
Look, I'm not a Jeremy Lin fan.  That doesn't mean I hate him or that watching him have one of those out-of-the-blue stretches last season wasn't unreal.  I just don't believe in him being a guy that really ... matters. 
I'm not on the Money May bandwagon of Lin blowing up because he is Asian.  I will say that his star rose much, much higher because it happened in New York City.  If he did this in, say Houston, then it wouldn't be as big a deal as it became.  Again, not to say it didn't deserve a lot of attention.  I just don't think Lin is a big time player.
That being said, I don't fault Lin for going for the money during free agency.  In sports, I can rarely ever blame someone for getting paid.  Your earning potential is much smaller than many other people and we're talking big dollars.  If Lin wanted that Houston money like that, all the power to him.
But don't turn around and cry that you wished you could still be a Knick.  They wanted you and were willing to pay a lot to keep you around.  The Knicks were cool with the deal he was going to originally sign with the Rockets (New York could match any deal Lin got) but the "poison pill" added to the third and final year of the deal was just too much for the Knicks to handle.
That's another opinion piece for another time.
Lin though is sending signals that he wanted to be a Knick all along.  Nice, but don't sign an offer sheet somewhere else and then get upset when you actually have to honor it.  Houston can't tell you, "uh, we thought the Knicks were going to match you so we really don't want to pay you this amount", now can they?  If you want to be a Knick and they were going to compensate you in a way you could deal with ... then stop screwing around and sign with the Knicks.
Trust me, I get it.  New York told him to go out and see what he could get and they'll probably match it.  Lin went out and found the best deal he could and expected that the Knicks would match.  However, that "poison pill" added at the end was something that killed the deal.  You signed that knowing that it could be a sticking point.  Houston offered it to you knowing that the Knicks may think twice about matching and keeping the Rockets from looking like leverage than an actual destination for you.  That's why there is a poison pill in the first place.
Lin will go to Houston and do fine.  He will get a great shot to shine in Kevin McHale's system that got Kyle Lowry and Goran Dragic some shine last season.  Since Houston is about as talented as the banged up Knicks were when Lin exploded on the scene (remember, Carmelo Anthony was hurt and Amare Stoudemire was out of the lineup), Lin should be able to get his shots.  Other than people keeping tabs on him and the occassional big outing, I doubt ESPN will be on Lin that much once the sparkle of the new 2012-2013 season wears off.  I also doubt the Knicks will miss Lin that much on the court.  While Raymond Felton may not be as dynamic a player, he may fit in better with an offense that caters to Melo.  Should be a win-win.
But the NYC media (which for some reason is pushing the Brooklyn Nets all over us even though they've got the same crappy team back from last year ... and Joe Johnson and a "healthy" Brook Lopez.  How is that exactly a title team?) will tie us in to what Lin does for the season -- and probably beyond.  Again, I hope the best for him since it is a great story.  But some stories just aren't as good when you keep on reading.
Original Story:
http://sportzassassin2.blogspot.com/2...
THE BACKYARD
BEST OF MAXIM
RELATED ARTICLES
Knicks fans may need a few days before it officially sinks in, but Jeremy Lin is a Houston Rocket. Between the knee injury last season and New York letting Lin walk in free agency, Linsanity ended about as quickly as it began. With New York's decision to not match Houston's $25.1 million offer, Jeremy's life will undergo yet another rapid change. During an interview with Pablo...
DON'T LET GO
Knicks owner James Dolan reportedly felt "deceived" by Jeremy Lin who opted to sign with the Rockets and leave New York.
Not only is Houston Rockets guard Jeremy Lin working with shot doctor Doc Scheppler, he's doing one legged squats at Sparta. SPARTA, Knicks fans, SPARTA! Why not click the Google +1 & the retweet... Full story at Bob's Blitz ~ http://www.bobsblitz.com
NOC does it again with classic son parody about Jeremy Lin signing with the Houston Rockets. Couldn't help but to start singing along about 2 minutes into video…LMAO!
Jeremy Lin offer is declined by the Knicks. The much awaited decision from the New York Knicks in regards to the Jeremy Lin offer sheet has come to a head, and Howard Beck of the New York Times is reporting that the Knicks have decided not to match the offer Lin signed from the Houston Rockets. The decision has been much anticipated, and debated among the Knick community, and will...
It's over. After almost two and a half months of being a phenomenon in Madison Square Garden is over. Linsanity is over quicker than it began. Howard Beck of the New York Times has reported that the New York Knicks organization will not match an offer from the Houston Rockets to retain restricted free agent Jeremy Lin. Needless to say, I didn't think that James Dolan...
Knicks fans from all around are still distraught over the team's decision to not retain Jeremy Lin, allowing him to instead join the Houston Rockets.That said, those fans attempting to convince themselves that Lin was in fact not worth his heft $25.1 million, three-year contract are using Lin's choice not to play in this past season's postseason as justification.With...
"I hate you so much, I hope someone takes advantage of our horrific payroll so we lose you." While ESPN's NBA experts and their "SOURCES! WE HAVE SOURCES!" are suggesting that the New York Knicks will simply let Jeremy Lin walk to the Houston Rockets, there is still chatter that their decision has not been made. The reason that the Knicks would let Lin just go to...
With the trade to bring former Knicks Raymond Felton and Kurt Thomas back to New York now official, hope that the team will match Jeremy Lin's offer sheet with the Rockets continues to fade.Losing Lin would be devastating, to say the least. His impact and value both on and off the court makes him a key potential piece to the puzzle moving forward. Whether he played alongside...
More than 150 media members packed the Houston Rockets' practice court to be on hand for the introduction of Jeremy Lin as a member of the Rockets. The Houston Chronicle notes that's more media than attended the introductory press conferences for either Roger Clemens or Andy Pettitte when those two joined the Houston Astros. "I don't see myself as a conquering...
Texans linebacker Connor Barwin tweeted this picture and said that Lin could even shoot free throws from his new bed. Making Connor Barwin my new favorite linebacker. You may remember last year when Jeremy Lin was first sleeping on his brother's couch and then on Landry Fields'. Well it's good to know that he has options in Houston but with that new contract of his he could...
NBA News

Delivered to your inbox

You'll also receive Yardbarker's daily Top 10, featuring the best sports stories from around the web. Customize your newsletter to get articles on your favorite sports and teams. And the best part? It's free!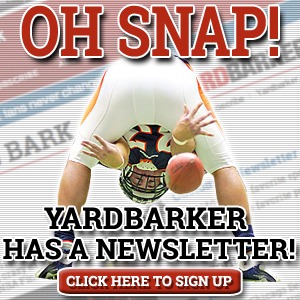 Latest Rumors
Best of Yardbarker

Today's Best Stuff

For Bloggers

Join the Yardbarker Network for more promotion, traffic, and money.

Company Info

Help

What is Yardbarker?

Yardbarker is the largest network of sports blogs and pro athlete blogs on the web. This site is the hub of the Yardbarker Network, where our editors and algorithms curate the best sports content from our network and beyond.