Found September 13, 2012 on Fox Sports Southwest:
PLAYERS:
Dirk Nowitzki
,
Mark Cuban
,
Donnie Nelson
,
Darren Collison
,
Elton Brand
,
Chris Kaman
,
O.J. Mayo
,
Dahntay Jones
,
Rick Carlisle
,
Michael Finley
,
Jason Terry
,
Chris Paul
,
Ian Mahinmi
,
Jason Kidd
,
Shawn Marion
TEAMS:
Dallas Mavericks
,
Boston Celtics
,
Los Angeles Clippers
,
Indiana Pacers
,
New York Knicks
Dirk Nowitzki says he's playing at least two more years. Who he plays with that second year, coincidentally the last of his current contract, and beyond is anyone's guess. When it comes to key personnel, the Dallas Mavericks could be embarking on their third straight one-and-done season. Tyson Chandler was the one that got away two years ago. (J.J. Barea hurt, too.) Last season was whatever it was. As for the 2012-13 collection assembled by Mark Cuban and Donnie Nelson for this campaign, it's inherently set up to dismantle. If anything, this group is fascinating. It doesn't have much sex appeal on the national level, not with what's happening in L.A., Miami and Oklahoma City, but there's definitely some intrigue locally. In a town consumed by the Cowboys and Rangers - or is it Rangers and Cowboys? - the Mavs are piquing interest. Bringing in Darren Collison, Elton Brand, Chris Kaman, O.J. Mayo and Dahntay Jones awakens the basketball junkie. Of those five, only two figure to be playing significant roles in the league beyond Dirk's golden years. The chances Collison and Mayo remain in Dallas are, again, anyone's guess. Each of the former first-rounders has professed their admiration for the Mavericks organization and a willingness to stay in Big D. Cuban said publically that it's his desire to keep the latest Mavs core intact. Mayo has a player option for 2013-14, meaning he can (likely will) become an unrestricted free agent next summer and gauge his value again on the open market. Barring an unlikely contract extension, Collison will be a restricted free agent or unrestricted should the Mavericks renounce his rights. They could also be the backcourt of the decade. Both played college basketball in Los Angeles. Both are in their mid-20s. Both have plenty to prove. Despite coming off the bench the last two years in Memphis, the Mavericks believe Mayo is first-rate shooting guard. The former USC lottery pick averaged 18 pointer per game in two years as a starter with the Grizzlies before tailing off to about 12 points coming off the bench. Mayo had been a constant source of trade speculation who elicited lukewarm interest in this past summer before the Mavs swooped in with a cap-friendly offer. "We feel his best basketball is ahead of him," Dallas coach Rick Carlisle said of Mayo. "It was great talking to him this summer because it was clear that he wanted to be in Dallas. He had his eye on hopefully being in Dallas for a long time." If the Mavericks end up with the Mayo of 2008-10, they've solved one of the problems that has plagued the franchise for most of the Cuban Era. Quality shooting guards and centers are always in short supply. Outside of Michael Finley in his prime, no one has manned the scoring role out of the backcourt better than Jason Terry. Mayo's production as a reserve mirrors that of Terry. Few, though, have been as clutch in high-pressure situations as the former Sixth Man of the Year. "Jet was a big part of this organization in their championship run," Mayo said. "He made a lot of great plays. I'm looking to make those same plays. "It's going to be fun because it's going to be a new opportunity for all of us. This organization is always about winning and that's what I'm all about. If I can take anything from Jet, the winning aspect is the most important thing. Collison apprenticed under Chris Paul in New Orleans before quarterbacking his own team in Indiana the last two years. Collison, however, fell out of favor with the Pacers in the playoffs and was dealt to Dallas (along with Jones) for Ian Mahinmi. Not exactly a blockbuster. And if playing behind CP3 was tough for Collison, imagine inheriting the sneakers worn by a future Hall of Famer. "Everyone has been trying to put me in the category of Jason Kidd, but we know that's tough to do," said Collison, a UCLA product. "I thought he was a great player for this organization. I just want to be myself. "I was brought here for a reason, to play my game. Some of the things I want to bring are tempo, energy, defense, whatever I can do to help these guys. I'm just excited to be here, but I just want to play my game." As much as it's easy for fans to look at offensive production, Collison and Mayo bring an athletic element that's been missing on the defensive end in the backcourt. Shawn Marion has been the Mavs' designated stopper, especially on the perimeter. Now he's got help. "In order to win, defense is a key aspect of the game," Mayo said. "Shawn has been terrific guarding positions 1 through 4. When you bring a younger group of guys with fresher legs, it's about competing and guarding your position. I definitely think we can bring that to this team."> Kidd did it with smarts, getting into passing lanes and using every bit of his veteran guile. But his issues with smaller, quicker guards was obvious. Paul, Russell Westbrook, Derrick Rose, Tony Parker and so on tormented the Mavs. Collison, at least, has the physical makeup to matchup better one-on-one. "One thing I've learned in this league is that you have to play defense," he said. "The team defense is something that has to be your primary thing to do. I think what I can bring to the table is pick up full court as much as I can, and just give a little bit more energy than we had last year. I think we'll be good at it." The Mavericks are counting on good from their new backcourt. For this year and, maybe, beyond.
Original Story:
http://www.foxsportssouthwest.com/09/...
THE BACKYARD
BEST OF MAXIM
RELATED ARTICLES
The 2012/2013 NBA season has not even started yet and the rumors are already flying. The word seems to be that if the Oklahoma City Thunder cannot get a James Harden extended by the October 31st deadline that he can be headed elsewhere. Read This Article
  The Dallas Mavericks had a few failures this off-season: they failed to snag Deron Williams, Dwight Howard, or Steve Nash, but their off-season was a complete wash when Chauncey Billups suggested that O.J. Mayo should sign with the Dallas Mavericks. Why? Coach Carlisle. Chauncey Billups was very familiar with Rick Carlisle as he coached [...]
Mark Cuban is not ready to give the Los Angeles Lakers the NBA Championship just yet. At an event this week introducing Cuban's new summer signings to the press and season ticket holders, the Dallas Mavericks owner took a minute to remind everyone that the Lakers have hoarded talent like this before with less then stellar results. "The Lakers have done this before,&quot...
  Mavericks owner Mark Cuban is salty about something regarding the Lakers. What's new ::giggle:: This time Cuban wants people to stop crowning the reloaded Lakers as NBA Champions: "The Lakers have done this before," Cuban said. "Remember Gary Payton, Karl Malone and Kobe and Shaq were all together, and it didn't work. "It takes [...]
  I get Mark Cuban, I truly do. Mark Cuban is all about making the Dallas Mavericks out to be more than what they are, and at the same time that means downplaying other teams. You know, like saying the Los Angeles Lakers aren't that big of deal although they have the best center in [...]
Photo:Sports Radio Interviews Mark Cuban is at it again. This time the Dallas Mavericks' owner has his sites set on the rival,  Los Angeles Lakers, and the moves they have made this summer. Cuban addresses the Lakers additions of Steve Nash and Dwight Howard, stating that "The Lakers have done this before. Gary Payton and Karl Malone and Kobe and Shaq were all together...
With a projected five new rotation players, the Dallas Mavericks are already showing signs of a team coming together, building chemistry before training camp begins. O.J. Mayo was amazed to see Dirk Nowitzki already training for the upcoming season at the Mavericks practice facility, a welcome sight given Dirk's lack of a regimen during last year's lockout season. "He was in...
NBA News

Delivered to your inbox

You'll also receive Yardbarker's daily Top 10, featuring the best sports stories from around the web. Customize your newsletter to get articles on your favorite sports and teams. And the best part? It's free!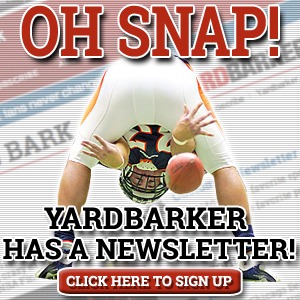 Latest Rumors
The Backyard

Today's Best Stuff

For Bloggers

Join the Yardbarker Network for more promotion, traffic, and money.

Company Info

Help

What is Yardbarker?

Yardbarker is the largest network of sports blogs and pro athlete blogs on the web. This site is the hub of the Yardbarker Network, where our editors and algorithms curate the best sports content from our network and beyond.