Found June 19, 2012 on Ballertainment:
In another sad notch in the belt of domestic family affairs, the ex-wife of Dwyane Wade cut the fool in Dolton, IL over the weekend by delaying the departure of the former couples children on their trip back to their permanent home of Miami, FL.
Siohvaughn Funches-Wade lost custody of the two boys in March 2011 to Dwyane after a contentious legal battle.
According to the Chicago Sun-Times:
Dwyane Wade's attorney, James Pritikin, said the boys, ages 10 and 5, were visiting their mother in Chicago and were to be turned over to Dwyane Wade's sister about noon Saturday so they could fly back to Miami for Father's Day and Game 3 of the NBA Finals between the Miami Heat and Oklahoma City Thunder.
But Funches-Wade did not answer her phone or doorbell when the sister arrived and police were called to the home, Pritikin said.
Sheriff's police were unable to enter the property, which is surrounded by a 10-foot high fence, Bilecki said. A neighbor let police onto their property, where deputies could see over the fence and that the children were safe.
"We played a waiting game and she eventually came out," Bilecki said. "She was placed in handcuffs and then pulled back and started swinging arms towards the officers."
Not only was she charged with two counts of child abduction, but also "two counts of unlawful visitation interference and one count of resisting arrest."
Messy, indeed. And, sad because Siohvaughn Funches-Wade has had an extremely difficult time adjusting to life without her family.
You can see the despair in her eyes in her mugshot. May healing and peace come to not only her, but the entire family, eventually. This is a very serious situation and not something to ridicule her for.
Under the guardianship of Trajil Wade, Dwyane's sister, the boys did arrive safely back in Miami in time for Father's Day and their father's NBA Finals game.
Ballertainment - Sports Entertainment, Lifestyle, and News
Original Story:
http://feedproxy.google.com/~r/Baller...
THE BACKYARD
BEST OF MAXIM
RELATED ARTICLES
At one point during the second half of Game 3 of the NBA Finals on Sunday night, Dwyane Wade got caught in a switch and ended up covering Kevin Durant. Wade is extremely athletic, but this is a combination that the Heat want to avoid as much as possible in this series. K.D. has too much height and length for D-Wade to handle, and according to Wade that is exactly what Durant told...
FASHION SHOW
Ballertainment Dwyane Wade rocks the Dwayne Wayne flip-up glasses The Miami Heat take a 3-1 lead over the Oklahoma City Thunder and a clearly happy Dwyane Wade wears Dwayne Wayne glasses to the post game presser. In doing so, he took many of us back to 1990 when A Different World was one of the most popular shows on television (shouts to Kadeem Hardison and old-school NBC)....
Dwyane Wade is asking a Chicago judge to suspend his ex-wife's right to visitation with their two children after a weekend incident that he says delayed the boys' return to his custody and led to her arrest. Wade's attorney was in court Tuesday morning to have the petition heard, hours before the Miami Heat guard was to play in Game 4 of the NBA Finals against the Oklahoma...
One of the biggest story lines of this year's NBA Playoffs has been the post-game fashion choices of many of the league's star players. After Miami's Game 4 win over Oklahoma City last night, Dwyane Wade upped the ante, taking questions from the media wearing a pair of the flip-up hybrid glasses made famous by Kadeem Hardison's 'Dwayne Wayne' character on the late 1980s...
Miami Heat star Dwyane Wade is not only participating in the NBA Finals, but he is involved in a custody battle with his former wife that escalated over the weekend, CBS4-Miami reported Tuesday. Wade's ex-wife, Siovaughn Funches-Wade, was arrested on Monday on two counts of attempted child abduction and unlawful visitation interference. According to the CBS4 report, Wade...
  If you haven't seen Dwyane Wade's glasses from last night's press conference, well you're looking at 'em. Sad thing is, BC used to really like Wade. Now it seems with every passing day the guy gets douchier and douchier. These new glasses are entering into territory we haven't seen before with Wade. We're used to seeing him in stupid glasses, but these don't even...
MIAMI -- Mess with D-Wade and you're messing with UD. Never was that more evident than in Miami's East semifinal last month against Indiana. In Game 5, Tyler Hansbrough had a flagrant foul on Heat star Dwyane Wade that drew blood. The next trip down the court, Wade's bodyguard, Udonis Haslem, walloped Hansbrough with a flagrant foul. The NBA ended up slapping Haslem...
Dwyane Wade might be a little busy right now with that whole NBA finals thing, but with yesterday being father's day, his family wanted to make sure that it was noted during the playoffs how great of a dad he is by rocking customize shirts to game three of the NBA finals against the Thunder. [...]
The Miami Heat and Oklahoma City Thunder have been squaring off in the NBA Finals and fans have been treated both on and off the court. Following each game, the competition on the hardwood transitions to a competitive display of geek-chic styles during post-game press conferences. When players from these two fashion-forward teams hit the podium, the buzz has been as much about their...
Dwyane Wade was very excited about the Heat beating the Thunder in Game 4 of The NBA Finals.  In fact, he was so excited as he walked to the locker room he decided to nickname Mario Chalmers for his solid 25 point performance on national TV.  Unfortunately for the world, Mario Chalmers nickname was one which needs to be bleeped.  Enjoy Dwyane yelling it not once, but two times...
Where there once was doubt with Erik Spoelstra regarding whether the Heat coach would be back next season, there now seemingly is certainty. Beyond Sunday's 91-85 victory over the Thunder at AmericanAirlines Arena, which lifted Miami to a 2-1 lead in these best-of-seven Finals, there has been a groundswell of Spoelstra being the right man for the job. "I think Spo has...
***For the first time since the second round the Heat have won a game in which LeBron did not drop 30.  However, his 29 did account for nearly a third of Miami's 91 points, so that's a little misleading.  Although he had a sub-par night from the floor (11-23), LeBron set a certain tone early with his assertiveness in the paint.  He was a man possessed on the offensive boards...
NBA News

Delivered to your inbox

You'll also receive Yardbarker's daily Top 10, featuring the best sports stories from around the web. Customize your newsletter to get articles on your favorite sports and teams. And the best part? It's free!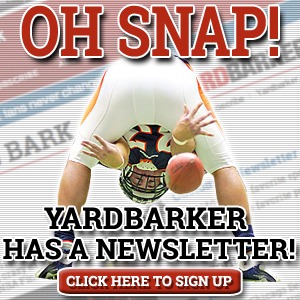 Latest Rumors
Best of Yardbarker

Today's Best Stuff

For Bloggers

Join the Yardbarker Network for more promotion, traffic, and money.

Company Info

Help

What is Yardbarker?

Yardbarker is the largest network of sports blogs and pro athlete blogs on the web. This site is the hub of the Yardbarker Network, where our editors and algorithms curate the best sports content from our network and beyond.