Found July 20, 2012 on The Victory Formation:
From The Victory Formation:
The name John Green might not ring a bell unless you happen to be a Detroit Pistons or Indiana Pacers fan. Green was the man who threw a drink on Metta World Peace (then known as Ron Artest) back on a November night in 2004 at the Palace of Auburn Hills in Michigan. It just happens that Metta and John are now friends.
World Peace was co-hosting on ESPN Radio Los Angeles and received a call from Green. Here's a transcription of what happened via Sports Radio Interviews:
How did you become friends with John Green, the guy who threw the cup at you that ended up instigating the brawl?

"What happened was, when I got into the brawl in Detroit, I was transitioning into a different type of person, that person that I've become, but that game had so many emotions involved. So I get suspended and I think the whole world hates me and I'm walking around not wanting to talk to anybody. Then my psychologist, I was talking to her about a few things, and I said, 'You know what, I'm going to reach out to John.' So I went on Twitter and said, 'Anybody that can find me this guy's number or information, I'll take you out to lunch.' … Somebody from Chicago found his number … so I called him and his wife picks up the phone. And I said, 'Hey, this is Ron Artest. I'd like to speak to John.' … Then I spoke to John and he answered the phone like he knew I was going to call."

John, is that the way you remember it?

"That was, he pretty much hit it right on the head. … I never knew, really, that that was going to happen, but it was weird. Just to clear things up, it wasn't a beer that I threw. It was a Diet Coke."
When asked why he threw the cup, John said it was because he bet his buddy that he could hit Artest with it. Green hit Artest with the drink to incite one of the worst player/fan fights in American sports history. Artest charged into the stands, and since he was unaware of who actually hit him, he went at a younger fan first. Stephen Jackson followed Artest into the stands and started swinging at anyone within his reach. Jermaine O'Neal absolutely annihilated a fan with one punch after he had jumped in front of him during the entire melee. In all, there were 146 games accounted for in terms of suspensions. 136 of them belonged to members of the Pacers, including the remainder of the regular season and playoffs for World Peace.
When the two finally spoke with one another, they both realized that they came from a checkered past and wanted to change their ways. It has taken some time, but for the most part they have moved on. Green was eventually sentenced to 30 days in jail for assault as a result of his involvement in the brawl, and the Pistons banned him for life. By all accounts, he hasn't tried to sneak back in, and it would be pretty easy to see him these days as there are only a handful of people left in the Palace seats.
Also from The Victory Formation
Video: Derek Jeter has no clue who Logan Morrison is
Video: Rory McIlroy hits spectator in head
Agent: Dwight Howard not signing extension
Original Story:
http://www.thevictoryformation.com/20...
THE BACKYARD
BEST OF MAXIM
RELATED ARTICLES
Ron Artest has friends? Does that mean Metta World Peace has friends too? Remember the infamous Ron Artest brawl with the Detroit Pistons in 2004? It was called Malice in the Palace, so if you don't, take a look at the video at the bottom. All the drama started when some idiotic fan threw a beverage at Artest. Well, apparently Artest and the fan, who goes by the name of John...
Los Angeles Lakers forward Metta World Peace is taking his off-season seriously. He's doing some serious partying this summer. That's right, just days after World Peace said that he wanted "to be one of the best again," he took his staff out to a nightclub called Bootsy Bellows. It's a celebrity hangout. Justin Bieber and Katy Perry party there. Check out some of the...
NBA News

Delivered to your inbox

You'll also receive Yardbarker's daily Top 10, featuring the best sports stories from around the web. Customize your newsletter to get articles on your favorite sports and teams. And the best part? It's free!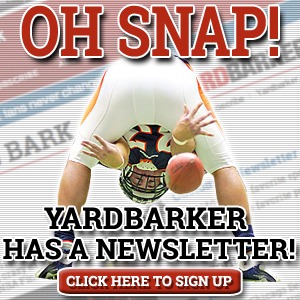 Latest Rumors
Best of Yardbarker

Today's Best Stuff

For Bloggers

Join the Yardbarker Network for more promotion, traffic, and money.

Company Info

Help

What is Yardbarker?

Yardbarker is the largest network of sports blogs and pro athlete blogs on the web. This site is the hub of the Yardbarker Network, where our editors and algorithms curate the best sports content from our network and beyond.