Found January 28, 2013 on Jocks and Stiletto Jill:
Photo via Charles Dharapak/Associated Press The NBA Champion, Miami Heat, visited the White House Monday.  President Obama congratulated the Heat and joked that a pick up game played with a couple team members on his birthday a couple years prior help give them the extra motivation needed to beat the Oklahoma City Thunder.  Dwyane Wade's wardrobe also caught th eye of the President, stating that "If anyone else can pull this off, let me know."   The President also praised the efforts of Mike Miller and Mario Chalmers, stating that Mike Miller could barely walk, but still hit seven 3s in the final game and how Chalmers had a nickname given to him by Dwyane Wade that couldn't be repeated. LeBron James was espceially excited, taking to the podium and exclaiming how happy to he was to be at the White House, saying "Mama, I made it!"
Original Story:
http://jocksandstilettojill.com/2013/...
THE BACKYARD
BEST OF MAXIM
RELATED ARTICLES
Are you such a huge fan of Dwyane Wade that you are willing to drop $25,000 on his autographed 2005 Range Rover? Yes? That must be a miserable life. However, it's your lucky day. Some guy is selling Wade's old ride, but it comes with a very cool piece of memorabilia. Wade autographed the driver's side visor. Are you a little fat and have been striking out with the ladies...
The Miami Heat and Oklahoma City Thunder matchup made for a fashion-forward NBA Finals. Players from both sides flaunted their unique sense of style throughout the series. Post-game sartorial winners and losers received almost as much attention as the action on the hardwood. In the end, the Heat were crowned NBA champs, landing them a trip to the White House to meet with President...
[Mario Chalmers] believes he belongs in a listing of the top point guards in the NBA. "I'd say top 10,'' the Miami Heat fifth-year man said of where he ranks. "I'm not in the lower part (of the top 10), I'm in the middle part. I just have confidence in myself. I think I can compete with the best of them.'' All of this is coming from a guy averaging 7.7 points and...
MIAMI Who doesnt belong on the following list? Chris Paul, Kyrie Irving, Derrick Rose, Rajon Rondo, Deron Williams, Mario Chalmers, Tony Parker, Russell Westbrook, Steve Nash and Stephen Curry. If you guessed Chalmers, youre undoubtedly with more than 99 percent who have a pulse. But Chalmers doesnt care if you picked him as the odd man out. He believes he belongs in a listing of...
Mario Chalmers has been a productive NBA point guard for the Miami Heat since entering the league in 2008. He is best known for his game-tying three point dagger against Memphis in the 2008 NCAA National Title Game. He has his nights where he puts up twenty but has more nights where he just disappears altogether. However, even on those twenty-point nights you wouldn't say Mario...
IS NO PLACE SACRED?
Despite being an unofficial member of the "Big Three", Miami Heat forward Chris Bosh often finds himself being overshadowed by LeBron James and Dwyane Wade. After all, both James and Wade are virtual locks for the Hall of Fame one day, and so is Bosh, if you ask him.In celebration of their NBA title last year, members of the Heat were invited to the White House for a tour...
It sure was nice to do comments for a win finally.   Heat fans spend more time trashing their own team than they do cheering for them. I guess that's the nature of bandwagon fans. I love how they say KG is finished and then say they wish Bosh played more like KG.   It was nice to see the Heat fans not gloating over Rondo's injury and wishing him a quick recovery.  ...
The Miami Heat were in the nations capital Monday to celebrate their 2012 NBA Championship. LeBron James, Dwyane Wade, Eric Spoelstra each got a shot at the mic after Obama spoke.Let's hope they challenge Obama and his staff to game of 5-on-5 afterwords.
Back on Monday, the Miami Heat traveled to Washington D.C. to visit the White House and celebrate their 2012 NBA Championship.Heat stars LeBron James and Dwyane Wade decided to roam the halls and took some time to take a photo with a portrait of 42nd USA president Bill Clinton:(Courtesy of TMZ/Image courtesy of LeBron James Instagram Account)
While Dwyane Wade and LeBron James receive most of the headlines for the Miami Heat, there is one player who often gets overlooked: Chris Bosh.The Heat big man is headed to his eighth career NBA All-Star Game next month and already has an NBA Championship under his belt. He boasts a career average of 19.7 points and 9.0 rebounds per game, which includes 17.2 PPG and 7.2 rebounds...
One of the perks of winning an NBA Championship is the opportunity to visit the White House and meet with the the President. Today was that day for the Miami Heat. The entire Heat team, staff and owner Micky Arison were on hand as President Obama took the time to honor the Heat, crack a few jokes at their expense and celebrate their 2012 NBA title. A few of the highlights: The...
NBA News

Delivered to your inbox

You'll also receive Yardbarker's daily Top 10, featuring the best sports stories from around the web. Customize your newsletter to get articles on your favorite sports and teams. And the best part? It's free!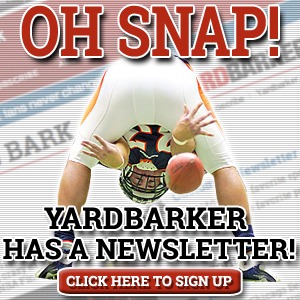 Latest Rumors
Best of Yardbarker

Today's Best Stuff

For Bloggers

Join the Yardbarker Network for more promotion, traffic, and money.

Company Info

Help

What is Yardbarker?

Yardbarker is the largest network of sports blogs and pro athlete blogs on the web. This site is the hub of the Yardbarker Network, where our editors and algorithms curate the best sports content from our network and beyond.