Found January 22, 2012 on Fox Sports Florida:
PLAYERS:
Chris Bosh
,
Erik Spoelstra
,
Shane Battier
,
LeBron James
,
Dwyane Wade
,
Brandon Jennings
,
Mike Miller
,
Joel Anthony
,
Ron Rothstein
,
Mario Chalmers
,
Andrew Bogut
TEAMS:
Miami Heat
,
Milwaukee Bucks
MIAMI - For Chris Bosh, it was a "stinker." Erik Spoelstra said it was "sloppy." Shane Battier called it a "clunker." As for LeBron James, he was no mood for descriptive words. "I don't even know what that means," James said when told Battier's word of choice had been "clunker." Well, LeBron, it doesn't mean anything good. It was that type of night for the Miami Heat. After winning three straight games over upper-echelon teams by an average margin of 18 points, the Heat were manhandled 91-82 by mediocre Milwaukee on Sunday night at AmericanAirlines Arena. Perhaps the only good news for the Heat (11-5) is they won't have to listen for at least a bit that they're allegedly better without Dwyane Wade. The guard missed his fourth straight game with a sprained right ankle. Overall, Miami now is 6-1 this season without him. To show how ugly of a defeat it was for Miami, perhaps it's best to look at Milwaukee's numbers. And they weren't any good. The Bucks (6-9) shot 35 percent, including 5-of-30 from three-point range (16.7 percent). At one point, Milwaukee missed 16 straight three-pointers. Guard Brandon Jennings led the Bucks with 23 points, and he shot 5-of-20. All of this, and the Heat still lost. "I've played in this league a long time, and today was your protypical early-game Sunday loss by the home team," Battier, a Heat forward, said of the 6 p.m. local start, which followed Miami having played Saturday while the Bucks had been off since Friday. "A lack of energy by our team. A lack of energy in the building. We just couldn't get anything going. It's just a tough day." That pretty much sums it up. And one has to figure the Heat, even though they're heavy favorites to win the NBA title, are entitled to a clunker or two this season, especially during a season in which 66 games have been sardined into four months due to the lockout. Heck, during their record 72-10 season of 1995-96, Chicago actually lost a game to expansion Toronto. "You're going to have stinkers if you have a whole training camp," said Bosh, a Heat forward. "If you have 82 games, not all of them are going to be good. I have been playing long enough to know that." The nine-year man has been around long enough to know that overall he had a stinker. While his 23 points might have looked good, he turned the ball over a career-high eight times. "I know I didn't really have a good game taking care of the basketball at all," said Bosh, enough of a stand-up guy that he brought up his turnovers even before he was asked. The Heat had 22 turnovers. That's what really irritated Miami coach Spoelstra. "Obviously, we didn't take care of the ball," he said. The Heat shot 37.3 percent and had just nine assists, one shy of their franchise record low. James had more than half of them with five. The Miami forward also had game highs of 28 points and 13 rebounds. But he couldn't do it by himself. "Going into the game, we knew we were going to have to have some energy, but we didn't have any," James said. "It was a long week for us, and that's a tough back to back for us less than 24 hours." James looked to have more energy than most of his teammates, but he sure is ready for a day off. The Heat were playing their fourth game in six nights, and they hadn't had a day with no game or practice since Jan. 14. "I know I really need one," said James, whose Heat will get Monday off in preparation for Tuesday's home game against his old gang, Cleveland. "I think the rest of the guys on the team need a day off." The Heat, though, weren't too tired to jabber at the officials. In one crazy 30-second stretch in the second quarter, Mike Miller, Joel Anthony and assistant coach Ron Rothstein all picked up technicals. Chippy play continued in the second half. In the waning seconds, Heat guard Mario Chalmers got a flagrant foul for sending Jennings flying out of bounds, something that isn't all that hard since he's 169 pounds. Minutes earlier, James had been knocked to the floor when Bucks center Andrew Bogut inadvertently whacked him on the head going for a rebound. "He hit me in the nose," said James, who was on the floor for half a minute or so. "He grazed my nose a little bit. I'm glad he didn't hit me square. I'd probably still be on the floor right now." When James went down, it sounded like a clunk. And even if it wasn't James' word choice, the game by the Heat sure was a clunker. Chris Tomasson can be reached at christomasson@hotmail.com or on Twitter @christomasson
Original Story:
http://www.foxsportsflorida.com/01/22...
THE BACKYARD
BEST OF MAXIM
RELATED ARTICLES
With the NFL's AFC/NFC Championship games going on Sunday, you might have missed this rather impressive dunk by Miami Heat star Lebron James on Bucks forward Mike Dunleavy as he drives baseline and posterizes him with a reverse windmill jam:
Tune into Sun Sports at 7 p.m. to watch the Miami Heat take on the Cleveland Cavaliers. NBA Heat territory. Miami and Cleveland will forever be linked by LeBron James' decision to abandon his hometown Cavaliers and bolt to South Beach in the summer of 2010. While matchups in Cleveland bring out passionate Cavs fans eager to harass James, meetings in Miami have been far more...
Chris Bosh scored 17 of his 35 points in the fourth quarter, LeBron James added 18 and the Miami Heat survived another shaky offensive night to beat the Cleveland Cavaliers 92-85 on Tuesday night. Bosh made 10 of 16 shots and reached the 30-point mark for the fourth time this season for Miami, which improved to 4-1 against Cleveland since James joined the Heat.
The Heat got a relatively easy win over the Lakers last Thursday Night in Miami.  LeBron James was an absolute beast in this game as he finished up with 31 points, 8 rebounds, 8 assists, 4 steals and 3 blocked shots.  Chris Bosh also had a solid game with 15 points, 8 rebounds, 1 assist and 1 steal.  Shane Battier (11 points, 6 rebounds, 1 assist, 1 steal and 1 blocked shot) and...
Kyrie Irving and Tristan Thompson were just a couple of high school basketball stars the first time they met LeBron James. Thompson attended the Nike skills academy in Akron, Ohio, before his senior year and Irving was even younger the first time James showed interest in him.
Chris Bosh scored 30 points, LeBron James added 28 points and nine rebounds and the Miami Heat remained unbeaten without Dwyane Wade in the lineup this season, defeating the Philadelphia 76ers 113-92 on Saturday night. Mario Chalmers scored 11 and Joel Anthony finished with nine points and nine rebounds for Miami, which outrebounded Philadelphia 52-31 and moved into a tie with Orlando...
US Presswire/Getty Images On the topic of LeBron James, Cavs rookies are more mature than most. There's a narrative out there that LeBron James is childish and foolish, and real deal longtime Cleveland fans could teach him a ton about what it means to be a real adult. I'm going to pick almost randomly on Joe Tait here. (So many to choose from.) Tait's the longtime and...
The Cavaliers are coming off back-to-back embarrassing losses. They travel to Miami to face LeBron James and the Heat tonight. Following an 8-1 start to the year, the Heat have lost 4 out of their last 7 games. Get Twitter updates from Tom Reed and Mary Schmitt Boyer @PDCavsInsider. Tip-off is scheduled for 7:30 p.m.
Tune in to Sun Sports tonight at 7 to watch the Heat take on the 76ers. NBA Heat territory. The Miami Heat got some unexpected resistance from the Philadelphia 76ers in the first round of last season's playoffs during their run to the NBA finals. Philadelphia is proving this season its solid play in that series was no fluke. The Heat may again be without Dwyane Wade when they...
Dwyane Wade and LeBron James have known Eddy Curry since they were in high school.
Cavaliers (6-9) at Heat (11-5) Tip-off: 7:30 p.m. TV: FOX Sports Ohio HD; Cavaliers Live pre-game show at 7 p.m. Probable starters: C Anderson Varejao vs. Joel Anthony PF Antawn Jamison vs. Chris Bosh SF Omri Caspi vs. LeBron James SG Anthony Parker vs. James Jones PG Kyrie Irving vs. Mario Chalmers All-Time Series: Heat lead, 45-39. Streaks: Cavs won previous meeting last...
Don't call Kyrie Irving another LeBron James just because he's also a Cleveland No. 1 pick. But if you want to call him another Chris Paul, that might be OK. In fact, James said he sees plenty of similarities between the Cavaliers rookie point guard and Paul, the Clippers star point. "He reminds me of CP early [...]
NBA News

Delivered to your inbox

You'll also receive Yardbarker's daily Top 10, featuring the best sports stories from around the web. Customize your newsletter to get articles on your favorite sports and teams. And the best part? It's free!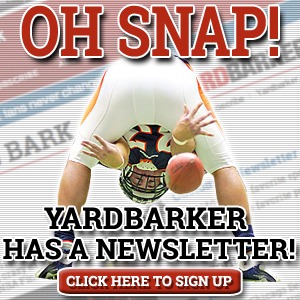 Latest Rumors
The Backyard

Today's Best Stuff

For Bloggers

Join the Yardbarker Network for more promotion, traffic, and money.

Company Info

Help

What is Yardbarker?

Yardbarker is the largest network of sports blogs and pro athlete blogs on the web. This site is the hub of the Yardbarker Network, where our editors and algorithms curate the best sports content from our network and beyond.