Found October 29, 2013 on Fantasy Sports Locker Room:
We have gone back and forth and want to share the answers to the questions that need to be asked. Stephen Curry at 3? Marc Gasol at 9? How about Nikola Vucevic at 31? You can find all the details below and we welcome and encourage your comments.   Mike Omelan on Stephen Curry at 3 in his 2013-14 Fantasy Basketball Rankings. Why should Stephen Curry be the third guy taken off the board come draft day? Why is he a better fantasy point guard than Chris Paul this year? You serious!? Steph Curry is the man! We all saw what he did in last years playoffs, and that was on a hobbled ankle! This is a scoring machine, set the record for 3 point attempts last season and he is just getting his feet wet. Coach Marc Jackson wants him to shoot even more! Huge man crush going on here. He's going to top in the league in points (way ahead of Paul), best in 3 point, great fg percentages. He gets assists, and steals, maybe not as much of Paul, but he'll get his fair share. The plus points and three pointers give him the edge in my mind.  We might be having MVP talks about this young man at the end of the season.   Chris Meaney on Marc Gasol at 9 in his 2013-14 Fantasy Basketball Rankings. You seem to be the only one from FSLR to rank Marc Gasol inside the top 10. Why do you feel Gasol should be picked in the first round? Gasol can do it all when it comes to fantasy basketball. Last year's stats – 49.4 FG%, 84.8 FT%, 14.1 PPG, 7.8 RPG, 4.0 AST, 1.7 BLK, 1.0 S. I like those number from Gasol. Every night I can expect a little bit of everything from the big man. The field goal and free throw percentages are huge for me. He is also 28 year of age, starting his prime I believe.   For the second straight year Ibaka led the league in blocks. Last year his 242 blocks were 36 more than the second best. (Getty Images) Chris Meaney on Serge Ibaka at 12 in his 2013-14 Fantasy Basketball Rankings. You are the only one to have Serge Ibaka inside the top 15, infact you have him ranked at 12. Why should he be the second center to come off the board? Much of Serge Ibaka's fantasy value comes from the defensive side of the ball. Last year he saw his points rise from 9.1 a game to 13.2 and his field goal percentage climb from 53.5 to 57.3. Ibaka also played 31:06 minutes per game, four more than the year before. His minutes should go up again this year and with Russell Westrbook out, Ibaka will be counted on to score more. Ibaka's outside shot has improved over the past four years and he has shown the ability to hit from beyond the arc. Three blocks per game are not bad either. Mike Omelan on Al Jefferson at 15 in his 2013-14 Fantasy Basketball Rankings. Mike you are the only one to have Al Jefferson inside the top 20 – you have him at 15… explain why the big man is better than his consensus ranking. I really like his outlook in Charlotte. He's feeling healthy and one of the better big mans in the game. He's a legitimate 20 and 10 guy every night and I expect the Bobcats to feed him the rock a ton in the post. Expect some big nights from him and Kemba Walker. If Byron Mullens could produce for the Bobcats then Big AL should be more than fine.   Chris Meaney on Nikola Vucevic at 32 in his 2013-14 Fantasy Basketball Rankings. Nikola Vucevic has a consensus ranking of 41, but you have him at 32. Why is Vucevic one of the top centers in the game? Vucevic finished second in the NBA in rebounding, averaging 11.9 rebounds per game and the Magic center finished the season with 46 double-doubles, which was the third most in the league. All of this in his second year in the association. Vecevic had three 20-20 games last year. He will also get a ton of time in Orlando, sign me up! Mike Omelan on David Lee at 49 and Ersan Ilyasova at 50 in his 2013-14 Fantasy Basketball Rankings. The two just don`t cut it for me. I'm a tad low on David Lee for a couple of reasons. He is coming off the injury but the main thing is just all the talent that resides in Golden State. I think he'll take a scoring dip with Steph Curry and Klay Thompson leading the way in points. Andew Bogut has looked great this off-season and should provide some nice numbers, and not to mention Andre Iguodala, so sounds like his stats will be fairy inconsistent this season. For Ilyasova, his ankle is a bit banged and is set to split time with the rising John Henson. He is going to way too inconsistent for me to take him there.   Mike Omelan on Ray Allen at 141 and Jared Dudley at 150 in his 2013-14 Fantasy Basketball Rankings. Dude, won them the NBA championship! But main reason, I don't trust Dwayne Wade to stay healthy, so I think Allen will be able to come in and contribute nicely. Plus, I love my three pointers! As for Dudley, he is in the starting line-up with the Clippers, so should get some looks. Like how he always touches multiple categories. Should be able to contribute with a couple assists, steals and good percentages.   The post 2013-14 Fantasy Basketball Rankings Discussion appeared first on Fantasy Sports Locker Room.
Original Story:
http://lockerroomfantasysports.com/20...
THE BACKYARD
BEST OF MAXIM
RELATED ARTICLES
Last season, the San Antonio Spurs and Golden State Warriors had an exciting Western Conference Semi-Final series which went six games before the Spurs knocked the young Warriors out of the playoffs. Golden State, however, did test San Antonio thanks to hot-shooting from Stephen Curry and Klay Thompson and resiliance after losing big to the Spurs in Game 1. Being tested by...
With the 2013-14 NBA regular season tipping off today, the road to revitalizing the Golden State Warriors has not been an easy trek to haul in Oakland, but the pieces of the puzzle have come together nicely. After Golden State failed to make the postseason after winning 36 games during 2010–11, then-head coach Keith Smart was shown the door after the new ownership group of Joe...
"Golden Gate" emerged last year as what many called the most exciting team to watch in the league.  From Stephen Curry's classic 54-point performance at Madison Square Garden to Golden State's shooting clinic in the 2013 playoffs, this team was just amusing to watch.  This is the type of team you would skip class just to watch play (don't go out skipping class, kids....
Harrison Barnes will miss at least the first two games of the regular season for the Golden State Warriors with a left foot injury. Warriors coach Mark Jackson told reporters following Tuesday's practice that shooting guard Klay Thompson will start in the season opener against the Los Angeles Lakers on Wednesday night. Jackson also said that Thompson already had earned the nod...
The Golden State Warriors will be without forward Harrison Barnes for at least the first two games of the season. Barnes has been dealing with some inflammation in his left foot that has kept him out for the last three weeks. Though the Warriors are not revealing any details as to what is causing the inflammation, or even how it is being treated or how long Barnes will be out, it...
Golden State Warriors: Andrew Bogut Signing Grade By Josh Morgan: Hoopstuff Senior Writer Contract: 3 years, 36 million plus incentives After the gruesome elbow injury that Bogut suffered in 2010 and the subsequent injuries to his ankles and knees that have limited him to just 44 games over the past two seasons, this signing may seem like a risky decision by the Warriors' front...
Warriors forward Harrison Barnes missed most of the preseason with a foot injury and now it appears it will impact the regular season as well. The Warriors were expecting to move Barnes to the bench anyway with the addition of Andre Iguodala, but the injury is going to hurt what is already a depleted bench unit offensively. It also limits the ability of the Warriors to run a small...
2011/2012 Regular Season W/L Record: 23 - 432012/2013 Regular Season W/L Record: 47 - 35Additions: Andre Iguodala, Marreese Speights, Toney Douglas, Jermaine O'Neal, Nemanja NedovicSubtractions: Jarrett Jack, Carl Landry, Brandon Rush, Andris Biedrins, Richard JeffersonIf things go well...It goes without saying that Steph Curry is the heart and soul of this team, but he also has...
The costs for the Golden State Warriors to build a new arena on the San Francisco waterfront is becoming more expensive than originally estimated, but they continue to push forward. Even rebuilding the aging piers where the arena will sit is far more expensive than thought at as much as $170 million. "It's a big number," Joe Lacob said. "But look, we're privately...
Harrison Barnes is slated to miss the first two games of the Golden Warriors' season. Mark Jackson made the announcement on Tuesday. Jackson said Klay Thompson will be in the starting lineup while Barnes is out and "moving forward."
Disclaimer: You'll notice that the superstars of the NBA (Lebron, Durant, Rose, Harden, etc) have been excluded from this list. There is a reason for that, and its overexposure. Yeah, they are incredibly entertaining to watch, but this list focuses on the newer blood of the NBA. This trio of players have been around the league for a few years but 2013-14 is their coming out party...
Week 1 October 29th-November 2nd 3 games: Bobcats, Bulls, Cavs, Mavericks, Warriors, Rockets, Pacers, Clippers, Lakers, Grizzlies, Heat, Pelicans, Magic, 76ers, Trail Blazers, Kings, Jazz 2 games: Hawks, Celtics, Nuggets, Pistons, Bucks, Timberwolves, Nets, Knicks, Thunder, Suns, Spurs, Raptors, Wizards   Point Guards 1.    Derrick Rose 2.    Chris Paul 3.    Kyrie Irving...
Warriors News

Delivered to your inbox

You'll also receive Yardbarker's daily Top 10, featuring the best sports stories from around the web. Customize your newsletter to get articles on your favorite sports and teams. And the best part? It's free!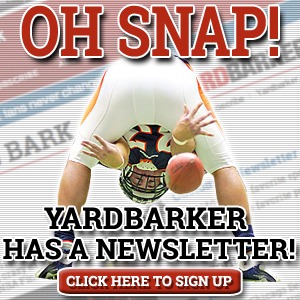 Latest Rumors
Best of Yardbarker

Today's Best Stuff

For Bloggers

Join the Yardbarker Network for more promotion, traffic, and money.

Company Info

Help

What is Yardbarker?

Yardbarker is the largest network of sports blogs and pro athlete blogs on the web. This site is the hub of the Yardbarker Network, where our editors and algorithms curate the best sports content from our network and beyond.