Found July 13, 2012 on Pass The Pill:
David Kahn
Photo Credit: pardonmybias.com David Kahn, the GM of the Minnesota Timberwolves, is known mostly as Bill Simmons' punching bag and the poster-boy of incompetent general managers. Well, he didn't do himself any favors when he signed restricted free agent Nicolas Batum to an invalid offer sheet on Thursday. When Batum signed the four-year, 46.5 million dollar deal on Thursday, there was one problem: the Timberwolves didn't have the adequate cap space for such a deal… Batum will now have to wait until Sunday night to sign the offer sheet (again). Having found out the error in their ways, the Timberwolves were forced to make a couple of roster decisions in order to create the appropriate amount of room for the Batum offer. To do so, they traded veteran Center Brad Miller to the New Orleans Hornets and waived Forward Martell Webster . It is unbelievable the amount of incompetence that is necessary in order to let such a mistake happen. It is not only the responsibility of Kahn, but also the associate GM's to make sure that you actually have enough cap room necessary to sign a player. The worst part of all of this is that the Blazers will presumably match the offer, and all these roster moves to make room for the offer sheet will be for no reason unless the two teams can work out some sort of sign-and-trade deal for the French forward. The post Minnesota Timberwolves Signed Nicolas Batum to Invalid Offer Sheet appeared first on Pass The Pill.
Original Story:
http://sports-kings.com/passthepill/m...
THE BACKYARD
BEST OF MAXIM
RELATED ARTICLES
MINNEAPOLIS On Friday evening, the Minnesota Timberwolves completed what appeared to be the final step in clearing enough salary cap space to sign restricted free-agent small forward Nicolas Batum to an offer sheet. However, a league technicality will impede them from doing so until 5 p.m. ET Sunday. After releasing small forward Martell Webster and trading center Brad Miller to...
MINNEAPOLIS On Friday afternoon, the Minnesota Timberwolves waived small forward Martell Webster and traded veteran center Brad Miller to New Orleans. Webster would have been owed 5.7 million next season, but only 600,000 of that sum is guaranteed. Miller, who announced his intention to retire at the end of last season but has not formally done so, is owed 5.1 million next season...
MINNEAPOLIS Sometimes it's easier not to listen. Sometimes, the best decision is to ignore, to forget about opinions and conjecture. Sometimes, the only thing to do is to play basketball. On Friday afternoon, Derrick Williams and Wes Johnson stood at center court in the Minnesota Timberwolves' practice facility. They weren't the tallest players present at minicamp...
MINNEAPOLIS In a tale of sports news that had been written for weeks, the Timberwolves announced Thursday that they waived center Darko Milicic, designating him as their amnesty player. Milicic, who spent two and a half seasons in Minnesota, averaged just 4.6 points and 3.3 rebounds in 2011-12 and lost his starting job to Nikola Pekovic in February. He played in just 29 games and...
In just over a year in the NBA, Derrick Williams has gone from being the No. 2 overall pick to trade bait. But the Minnesota Timberwolves forward says he is taking the rumors in stride. Williams practiced in Minneapolis on Friday in preparation to play with the Wolves' summer league team in Las Vegas next week. His name was mentioned in possible deals while the Wolves were...
Darko Milicic went unclaimed on the amnesty waiver wire and will become an unrestricted free agent.
MINNEAPOLIS Just hours after Martell Webster cleared waivers at 4 p.m. on Sunday, the Minnesota Timberwolves signed restricted free agent Nicolas Batum to an offer sheet. The Timberwolves would not confirm the terms of the offer sheet, but multiple reports have cited it as a four-year, 46.5 million deal. The Portland Trail Blazers received the signed offer sheet on Sunday evening...
Everyone once in a while through no fault of their own, Life messes with some "POOR FRICKIN SOUL" whose only crime was being a victim of circumstance. Over the years Your Old Pal New York Vinnie has seen some players get totally dicked around by the NBA even though they tried their best and never caused any problems for their team or for the NBA. When you discuss players that...
Darko Milicic became an unrestricted free agent after he was amnestied by the Minnesota Timberwolves. According to Yahoo's Marc Spears, the Celtics are frontrunners in signing him: Frontrunners for free agent center Darko Milicic are Boston, Brooklyn and LA Clippers, league source tells Y! Sports. — Marc J. Spears (@SpearsNBAYahoo) July 14, 2012 Hat tip to JHB from the shoutbox
Guys, can I let you in on a little secret? I get a little bored with sports this time of year. To me it seems like nothing is really happening. Oh sure we've just had a lot of really exciting sports things wrap up such as Wimbledon and the NBA Draft. We also have a bunch of stuff getting ready to happen such as NFL training camps and the NBA Summer League. Right now though is there...
A couple days ago was the 1st day that Free Agents are allowed to sign with their teams, but most of the signing were known then. This has also been a crazy off-season with many high profile trades. Check out all the moves so far from the teams in the Northwest Division. Denver Nuggets - The Nuggets signed guard Andre Miller to a three year contract. Other than that...
NBA News

Delivered to your inbox

You'll also receive Yardbarker's daily Top 10, featuring the best sports stories from around the web. Customize your newsletter to get articles on your favorite sports and teams. And the best part? It's free!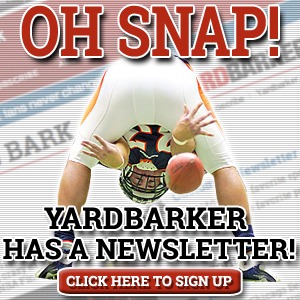 Latest Rumors
Best of Yardbarker

Today's Best Stuff

For Bloggers

Join the Yardbarker Network for more promotion, traffic, and money.

Company Info

Help

What is Yardbarker?

Yardbarker is the largest network of sports blogs and pro athlete blogs on the web. This site is the hub of the Yardbarker Network, where our editors and algorithms curate the best sports content from our network and beyond.