Found March 13, 2012 on NBA 24/7 365:
In a trade that strikes me as a big surprise, Monta Ellis will be sent to Milwaukee in exchange for Andrew Bogut.  Stephen Jackson, who quickly fell out of favor with Bucks coach Scott Skiles, is also headed (back) to Golden State, and big men Ekpe Udoh and Kwame Brown will be on their way to Wisconsin.  Monta has been involved in various trade rumors recently, but none of them had him landing in Milwaukee.  There were rumblings about a potential Andrew Bogut deal, but nothing seemed imminent.  Like I said, I'm a bit surprised.  Via Yahoo! Sports…
The Golden State Warriors have agreed in principle to trade guard Monta Ellis and two players to the Milwaukee Bucks for center Andrew Bogut and Stephen Jackson, league sources told Yahoo! Sports.

The Warriors will send forward Ekpe Udoh and injured center Kwame Brown to the Bucks as part of a package for Bogut, one of the NBA's most talented – but also often-injured – centers. The deal will be officially completed later on Tuesday night, one executive involved in the trade said.
My initial reaction?  I like Milwaukee's side of the deal.  Although good centers are hard to come by–and make no mistake about it, Andrew Bogut is one of the best in the league, especially on the defensive end–he's played 70 games or more only twice in his career, which began in 2005.  His offensive game hasn't been the same since the elbow injury he suffered a few years ago, and he's out right now with a fractured ankle.  While you could argue that Monta Ellis has only reached 70 games three times, he hasn't been riddled by various injuries like Bogut has… he just made a poor decision and busted up his ankle riding a scooter.  Certain seven footers simply seem to be fragile, and Bogut has been one of those guys.  Ellis has been reasonably durable.
So, I think it's clear that Golden State is taking the bigger risk here, trading an All-Star-level shooting guard for a guy who hasn't had a healthy season since '07/08.  However, the risk comes with a high reward.  Like I said, Bogut is one of the best bigs in the game when he's actually on the floor.  The Dubs haven't had a defensive presence like him since… before my time.  To pair him with David Lee is to create one of the league's premier four-five tandems.  Assuming he'll cooperate, Stephen Jackson is a good (albeit temporary) fit at shooting guard alongside Stephen Curry.  He's brings size and defense that Monta never did, and it's being reported that he won't be bought out.  You may recall that Stack asked out of Golden State back in '09, but the entire organization, from the coaching staff to the ownership, has changed since then. As for the loss of Ekpe Udoh, a second-year big man… I'm not high on him at all.  He's simply not that good and not that young.
From a Warrior perspective this is certainly a high-risk high-reward deal.  It'll be easy to applaud it or condemn it in two or three years, but it's tough to do either one right now.  Getting back to the Bucks side of things, like I said, I like the deal.  Stephen Jackson's salary is off of their books now with Kwame Brown's $7 million expirer coming in.  Although I don't like Ekpe Udoh, I've been wrong before.  Monta Ellis is 9th in the entire f@cking league in scoring, and he's 17th in assists.  In contrast to Brandon Jennings, who's become quite the player himself, he's one of the best finishers at the rim amongst guards.  It's true that both of those guys like to have the ball in their hands, and chemistry is certainly a concern… but Monta and Steph Curry worked well together on the offensive end and I think Monta and Brandon Jennings can too.  One thing's for sure; you certainly can't argue against Monta's talent.  Even if Milwaukee's new backcourt looks better on paper than it ever does on the floor at least they got an extremely talented player who's yet to reach the prime of his career.
I'm not big into making predictions, but I think the Knicks can kiss that 8th spot goodbye.  Milwaukee's suddenly got a lot of firepower, and Scott Skiles knows how to make a team bend their knees and play defense.  I think Monta will come in with a good attitude as he's joining a team in the midst of a playoff push.
Oh, and the Warriors should just re-assemble the entire '07 roster.  I still believe!
Original Story:
http://nba247365.com/?p=5434
THE BACKYARD
BEST OF MAXIM
RELATED ARTICLES
Tuesday's Monta Ellis-Andrew Bogut swap set off a tidal wave of reaction in the NBA world, some positive, some negative. For the remaining Warriors players, it was almost all negative, and some didn't hesitate voicing their frustrations to the media before their contest with the Kings on Tuesday. As tweeted by beat reporters Marcus Thompson and Rusty Simmons: Said one Warriors...
Two sources confirm the Magic are discussing a three-team trade involving the Warriors and Hornets that would send Monta Ellis, Andris Biedrins and Dorell Wright to Orlando.
Orlando attempted to piece together a three-team deal for Monta Ellis, including efforts with the Bucks and Hornets.
The Warriors and Bucks have completes a trade that will send guard Monta Ellis, Ekpe Udoh and Kwame Brown to the Bucks and receive center Andrew Bogut (injured) and Stephen Jackson to the Warriors. Jackson was apart of the Warriors most recent playoff run. The  #8 "We believe" team that bounced the #1 seeded Mavericks [...]
Monta Ellis could be moved to the Magic in a three-team trade that would net Andrew Bogut for the Warriors.
The Milwaukee Bucks and Golden State Warriors started the NBA's trade deadline bonanza to a rousing start Tuesday night by pulling off a five-player deal. In the trade Golden State sent Monta Ellis, Ekpe Udoh and Kwame Brown to Milwaukee in exchange for Andrew Bogut and Stephen Jackson.   The Warriors traded Monta Ellis and two other players to the Milwaukee Bucks for Andrew...
Twitter / @WojYahooNBA: Bucks and Warriors have ag ... via kwout There have been rumblings about something going down here for a couple of days.  In Andrew Bogut, the Warriors finally get a post presence (if the can stay healthy) while Stephen Jackson can be a nice scoring option along side Stephen Curry.  It's obvious that the Warriors are willing to roll...
During last night's NBA affair between the Golden State Warriors and the Los Angeles Clippers, Clippers star forward Blake Griffin was not welcomed to a block party thrown by Warriors guard Monta Ellis. Watch as Monta sends this ball into the front row:
By JEFF BARTL, STATS WriterThe Milwaukee Bucks moved into the thick of the Eastern Conference playoff race after their most recent win, and they're hoping a blockbuster trade will help keep them there.One night after acquiring high-scoring guard Monta Ellis, Milwaukee seeks its fourth straight victory Wednesday night when it hosts the Cleveland Cavaliers, who can tie the Bucks...
John Hammonds , the gm of  YOUR Milwaukee Bucks, was the executive of the year two years ago.  Since then he has been a piece of crap.  Last night he got his mojo back in a big way.   Expired milk (Bogut) and moldy ass cheese (Stevie Jax) for Monta Ellis, Ekpe Oduh, and an expiring contract (7million!) that belongs to Kwame Brown.  (Don't worry Bucks fans, Kwame is hurt and...
On the verge of their longest winning streak in two years, the Milwaukee Bucks appear to have hit their stride. They could become even more formidable with their new acquisitions in uniform. With Monta Ellis and Ekpe Udoh hoping to suit up versus their former team, the Bucks kick off a two-game road swing against the Golden State Warriors on Friday night seeking a fifth consecutive...
NBA News

Delivered to your inbox

You'll also receive Yardbarker's daily Top 10, featuring the best sports stories from around the web. Customize your newsletter to get articles on your favorite sports and teams. And the best part? It's free!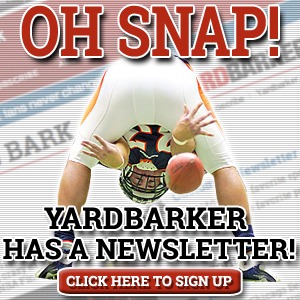 Latest Rumors
The Backyard

Today's Best Stuff

For Bloggers

Join the Yardbarker Network for more promotion, traffic, and money.

Company Info

Help

What is Yardbarker?

Yardbarker is the largest network of sports blogs and pro athlete blogs on the web. This site is the hub of the Yardbarker Network, where our editors and algorithms curate the best sports content from our network and beyond.