Found May 11, 2012 on Midwest Sports Fans:
You know about the Mannings, the Earnhardts, the Griffeys, and the Andrettis.
You're probably familiar with Calvin and Grant Hill and Bobby and Brett Hull.
These are just a few of the great father-son combos we've seen at the highest levels of sport.
But sometimes the athletic talents and passions come from the other side of the family.
With Mother's Day coming up, let's celebrate the moms who have been successful athletes at the professional or international level and have passed on their gifts and love of sports to their sons and/or daughters.
Here are five mothers from the world of sports whose kids were blessed with mom's athletic gifts.
* * * * *
Pam and JaVale McGee
We know JaVale McGee for mastering the art of goal-tending, running back on defense while his team is still on offense, and (more recently) for being a very productive post player for a Denver Nuggets team that just pushed the Lakers to a seventh game in the first round of the NBA Playoffs.
But whether McGee is missing dunks in spectacular fashion or outplaying Andrew Bynum in the paint in key playoff games, there's no denying that he has freakish athleticism for a player his size. (McGee is listed at exactly 7 feet.)
He gets it honestly.
Pam McGee assists her son at the 2011 Slam Dunk Contest. (Photo from Getty Images)
JaVale's mother, Pam, was an All-American basketball player at USC in the early 1980s and played for the gold medal-winning U.S. women's basketball team at the 1984 Olympics in Los Angeles. After playing professionally overseas for several years, Pam McGee returned to the States, where—at the age of 34—she was the second overall pick in the inaugural 1997 WNBA Draft. She played two seasons with the Sacramento Monarchs and Los Angeles Sparks.
Here are JaVale and Pam in action on Tuesday night:
* * * * *
Helga, Dirk, and Silke Nowitzki
Dirk Nowitzki is an NBA champion, and NBA MVP, an 11-time All-Star and All-NBA selection, and a future hall of famer.
Helga Nowitzki, Dirk's mother, played professional ball back in the 1960s and was a member of the 1966 West German women's national team.
Somehow this is the only picture of Dirk Nowitzki's parents that exists on the Internet. His mother Helga was a great basketball player in West Germany in the 1960s. (Photo by Holger R. Sauer.)
Dirk's dad, Jörg-Werner Nowitzki, was one of Germany's best team handball players. But the Nowitzki kids favored their mother's sport.
While Dirk's accomplishments are well known, his older sister, Silke Nowitzki, was also quite a player. Before Dirk made his professional debut with the DJK Würzburg men's team, Silke helped the women's team make the jump into the top tier of German basketball. In 1998 her DJK Würzburg team qualified for the Ronchetti Cup (now known as EuroCup Women). Like her mother, Silke also spent time on the German national team.
Silke moved to the U.S. in 2001 to work for the NBA. Since 2006 she has worked as Dirk's manager.
Dirk and Silke Nowitzki (Photo from Getty Images)
* * * * *
May Sutton and Dodo Cheney
May Sutton was the first American to win a singles title at Wimbledon. She won at the All England Club in 1905 and again in 1907. In 1904 Sutton swept the U.S. Open, winning the singles, doubles, and mixed doubles titles.
Twenty-three years after Sutton became the first player from the States to win Wimbledon, her daughter, Dorothy "Dodo" Cheney, became the first American to win the women's singles championship at the Australian Open. It was Cheney's only Grand Slam title, but she advanced to the semi-finals of each of the other three Slams at least once and played in seven Grand Slam doubles and mixed doubles finals.
Cheney, who is alive and living in California, continued playing competitive tennis into her 90s and has won more than 300 United States Tennis Association senior titles.
1938 Aussie Open champion Dodo Cheney, superimposed over her mother, three-time Grand Slam singles winner May Sutton. (Picture found at TennisForum.com)
* * * * *
Helen Callaghan and Casey Candaele
If you've seen A League of Their Own, you know about the All-American Girls Professional Baseball League (AAGPBL), the women's baseball league founded during World War II when many male ball players were serving in the military. One of the more than 600 women who played in the AAGPBL between 1943 and 1954 also happened to be the mother of a Major Leaguer.
Helen Callaghan played five seasons with the Minnesota Millerettes, the Fort Wayne Daisies, and the Kenosha Comets. She stole 354 bases in 388 AAGPBL games.
Callaghan had five sons, one of whom was Casey Candaele, who played 754 Major League games in nine seasons with the Montreal Expos, Houston Astros, and Cleveland Indians. (I remember Candaele from his days with the Indianapolis Indians, at the time the Expos' AAA farm team.) For his career Candaele batted .250/.308/.332. His mother hit .257/.359/.319. See? Genetics at work.
Another of Callaghan's sons, Kelly Candaele, produced the 1987 PBS documentary A League of Their Own about the AAGPBL, which inspired director Penny Marshall to make the 1992 feature film of the same name.
Ann Packer and Ian and David Brightwell
The 1964 Summer Olympics in Tokyo got off to a rough start for engaged British runners Ann Packer and Robbie Brightwell. Packer had hoped to win the 400 meters, her best event, but had to settle for a silver medal. Brightwell, who also specialized in the 400, failed to medal in the men's race, finishing fourth. (He ended up winning silver in the 4 x 400 relay.)
But the couple had one more chance at Olympic glory. Packer had also qualified for the 800, a race that she had only run a few times. "Women's middle-distance running was in its infancy then," Packer told the Guardian in 2008, "but unwittingly, I was perfectly prepared because I was a sprinter, and there wasn't that type of athlete in the 800 metres at the time."
Packer held her own in the prelims and semifinals, but she didn't finish better than third in either heat. She was able to harness her sprinter's speed in the final, making up for a slow start by whizzing past her competitors in the second half of the race. Packer not only won gold in the 800, she set a world record.
Lovebirds Ann Packer and Robbie Brightwell at the 1964 Olympics in Tokyo.
Packer, only 22 at the time, retired shortly after the 1964 Games. She and Brightwell married and had three children, two of whom would become professional soccer players.
Ian Brightwell made his professional debut as an 18-year-old with Manchester City in 1986. Ian played twelve seasons as a defender for Man City and another eight with an assortment of other English clubs. Ian's younger brother David joined him on the Manchester City Roster in 1988. Ian played in 321 games with City, scoring 18 goals. David played only 44 games in seven seasons in Manchester, and another 13 on loan to other teams. He played six more years with a variety of Football League clubs.
The Brightwells helped City earn promotion out of the Second Division and into Football League Division One in 1989. A few years later, Manchester City would become one of the founding members of the Premier League.
Original Story:
http://feedproxy.google.com/~r/Midwes...
THE BACKYARD
BEST OF MAXIM
RELATED ARTICLES
PART OF THE PLAN
Despite his struggles and frequent mental lapses while with the Wizards, the Nuggets say they would "one hundred percent" like to sign JaVale McGee to a long-term extension.
One of my buddies called me late last night and asked if I was watching the Lakers -Nuggets game. He wanted to know how I felt about JaVale McGee blossoming before my eyes. I told him I wasn't watching and as far as JaVale blossoming I'll believe it when I see it. After the Nuggets won game 3 and McGee put in 16 points and 15 rebounds, I received the "I told you so" calls...
The Denver Nuggets traded Nene for JaVale McGee earlier this season. The Denver Nuggets are going to Los Angeles to play a Game Seven against the Los Angeles Lakers. I'm not saying the first move here caused that second effect, but it certainly did nothing to hurt those chances. JaVale McGee is a guy it's becoming harder and harder to put into a box. Not because he's...
For years Dirk Nowitzki has been the face of the Dallas Mavericks. He's one of the greatest players of all time but no one can be on top forever. The Mavericks showed this year that they won't be able to repeat the magic they had last year unless they get some help. Mark Cuban has cleared out some cap space in order to find the help and it's been widely known that Cuban has...
Maybe we didn't notice JaVale McGee's defensive prowess because he toiled away on a horrible Washington Wizards team for the first three and a half years of his career but now that he is with the Denver Nuggets, Denver's interior defense has been much improved. McGee has taken his athletic, high-energy game and caused fits for the Los Angeles Lakers' All-Star center Andrew...
A face only a mother could love. The Los Angels Lakers failed to wrap up their first round series with the Denver Nuggets on Tuesday night. The Nuggets forced a Game 6 back in Denver on Thursday night with a 102-99 victory.  Despite 43 points from Kobe Bryant, it was too much JaVale McGee and Andre Miller. McGee had his best game of the series with 21 points and 14 rebounds...
NBA News

Delivered to your inbox

You'll also receive Yardbarker's daily Top 10, featuring the best sports stories from around the web. Customize your newsletter to get articles on your favorite sports and teams. And the best part? It's free!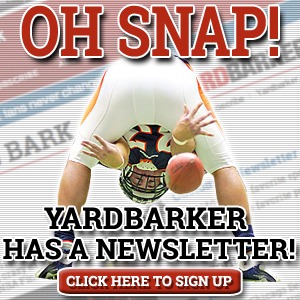 Latest Rumors
Best of Yardbarker

Today's Best Stuff

For Bloggers

Join the Yardbarker Network for more promotion, traffic, and money.

Company Info

Help

What is Yardbarker?

Yardbarker is the largest network of sports blogs and pro athlete blogs on the web. This site is the hub of the Yardbarker Network, where our editors and algorithms curate the best sports content from our network and beyond.