Found May 03, 2012 on Fox Sports West:
PLAYERS:
Caron Butler
,
Chauncey Billups
,
Eric Bledsoe
,
Maurice Williams
,
Nick Young
,
Chris Paul
,
Rudy Gay
,
Bobby Simmons
,
Marc Gasol
,
Zach Randolph
,
Blake Griffin
,
DeAndre Jordan
,
Vinny Del Negro
TEAMS:
Los Angeles Clippers
,
Memphis Grizzlies
MEMPHIS, Tenn. Looking down the Clippers bench in the fourth quarter was a sight for sore eyes and fingers, elbows and forearms. Seating alongside Caron Butler, his left hand wrapped in a splint, and Chauncey Billups, his left foot in a boot, was Eric Bledsoe, who was grabbing his left elbow, and Mo Williams, who was wincing as he flexed his right forearm. Farther down the line was Nick Young who was trying to generate feeling in his right thumb. The busiest man on the sideline was trainer Jasen Powell, who bounced between the three. "It gets kind of scary," said Chris Paul. "You see guys at the end of the bench getting worked on and I saw Bledsoe get hit in the arm, and then Mo. Hopefully everybody will be OK because we don't have anybody left." The Clippers lost a game that once again was there for the taking, this time Memphis swallowing hard as it held off another late charge for a 105-98 victory. That sends the series back to Los Angeles on Saturday tied at one game apiece. But as disconcerting as the defeat is the injuries that are piling up in what might be shaping up as a long and increasingly testy series. Williams, Bledsoe and Young are each expected to play, but all three were in discomfort at the end of the night. Williams had X-rays on his arm, which he was relieved were negative, and Young had an ice pack on his thumb after ripping off tape and re-entering the game to hit a late 3-pointer. "Of course they have an impact, they all have an impact," Clippers coach Vinny Del Negro said. "We lost Caron Butler, our starting three. Nick and Mo and we'll just have to heal up Bledsoe. We've got to go with the guys that are healthy. It's part of the game. We've got a few days in between games, so we'll make it work somehow." It was not hard to see the impact of Butler's absence. He has the height and the heft to defend Rudy Gay, something Young does not. This prompted Del Negro to start Bobby Simmons, who hadn't played in 10 days, in his place. Simmons acquitted himself well, making Gay work and scoring seven of his nine points in the fourth quarter. But Young was no match for Gay, who led the Grizzlies with 21 points on extremely efficient 9 of 13 shooting. "He's long and he shoots it high," Del Negro said. "It's hard to get to it and he got to his sweet spots a little bit too easy tonight at times. Rudy's going to make some shots. We can live with them as long as we make him work for them. He got to some of his spots on the elbow a little bit too easy." Gay proved to be hazardous in other ways for the Clippers. Butler was injured in Game 1 when his finger got stuck in Gay's jersey, fracturing a bone in his hand. Young's thumb was bent back when he was trying to defend Gay and the Memphis forward hit Bledsoe in the elbow as he dribbled past. The injuries seem to be just another sign that the Clippers are destined to do everything the hard way this season. They have had to integrate new faces since training camp. They suffered through a mid-season malaise. And they closed the season with three losses in four games, costing them the chance to catch the Lakers for the Pacific Division title and allowing Memphis to snatch homecourt advantage. Then, notably, the Clippers burnished their reputation as comeback kings with their stunning 24-point fourth quarter comeback in Game 1. They played much better Wednesday at the start, but Memphis recovered from an early staggering and gained control. When Gay sank a jumper with 3:51, the Grizzlies had their largest lead of the night, 97-84. Then they nearly coughed it up. The Clippers had closed to within 99-91 on Simmons' dunk with 1:00 left. But as Mike Conley missed a jumper, Paul was whistled for grabbing Marc Gasol, who was setting a screen, with 47 seconds left. That blunder was compounded by another. Gasol missed both free throws, but Zach Randolph rode Blake Griffin out of the play and grabbed the rebound, the last of 16 on the offensive end for Memphis. He was fouled and made one of the two free throws. Paul and Griffin shouldered much of the load, with Paul scoring 29 points and adding six assists and five steals, and Griffin scoring 22 points and grabbing nine rebounds. But they combined for 9 of the Clippers' 20 turnovers, the second most they've had this season. The turnovers and the offensive rebounds were too much to overcome. "We definitely feel comfortable going home with a split," Clippers center DeAndre Jordan said. "But in reality we felt like we should have two games right now." But that's how it has been for the Clippers this season. Adversity hasn't been nearly as challenging as success.
Original Story:
http://www.foxsportswest.com/05/03/12...
THE BACKYARD
BEST OF MAXIM
RELATED ARTICLES
WHERE THERE'S A WILL...
Despite breaking his hand in Game 1 of the Clippers-Grizzlies series, the forward is holding out hope that he somehow will be able to make a return to playing this postseason.
The Los Angeles Clippers are fairly new to the whole playoff thing and their playoff beards reflect this notion. DeAndre Jordan takes us behind the scenes at a Clippers practice and fills us in on the teams attempt at playoff beards. This team facial hair growing event is usually reserved for playoff hockey teams, but the other basketball team from L.A. decided to give it a...
In the fourth quarter Wednesday night in Memphis, the Clippers looked ready to make their move. Chris Paul had just converted on a four-point play to put the Clippers within four. But unlike Sunday night, the Clippers weren't able to shake their earlier shortcomings, eventually falling 105-98. The biggest woes for the Clippers came in three areas -- the offensive glass, turnovers...
Just two games into their first playoff run together, the Los Angeles Clippers are already hurting and hobbling. They're hoping a return home will allow everybody to get better quickly. The Clippers took the day off Thursday after a highly eventful two-game opening set in Memphis. Los Angeles left with a split and seized home-court advantage in the series despite following up...
MEMPHIS, Tenn. Looking down the Clippers' bench in the fourth quarter was a sight for sore eyes and fingers, elbows and forearms. Seated alongside Caron Butler, his left hand wrapped in a splint, and Chauncey Billups, his left foot in a boot, was Eric Bledsoe, who was grabbing his left elbow, and Mo Williams, who was wincing as he flexed his right forearm. Farther down the...
Lob City was in full effect last night in the Los Angeles Clippers playoff game against the Memphis Grizzlies. This time for once the best dunker in the league Blake Griffin wasn't involved. No surprise the best passing point guard in the NBA Chris Paul set up a perfect alley oop to DeAndre Jordan. Along with Griffin Jordan is also one of the best high flyers in the...
Caron Butler hopes he will be able to return during the Clippers' first round series against Memphis.
Caron Butler, Mo Williams, Eric Bledsoe and Nick Young sustained their injuries in the first two games of their series against a physical Grizzlies' team.
Los Angeles Clippers point guard Chris Paul scored a game high 29 points while his teammate Blake Griffin added another 22 points on Wednesday night as the Clippers took on the Memphis Grizzlies in the second game of their Post Season match-up at the Fed-Ex Forum. Unfortunately for Los Angeles the two players contributed more than half of the total points scored by the entire team...
POSTERIZATION
Damn!
I love dunks, but I love aggressive, caveman-like dunks even better. That's just what NBA viewers received Wednesday night during Game 2 of the round-one Western Conference playoffs between the Los Angeles Clippers and the Memphis Grizzlies. DeAndre Jordan went high as he used Tony Allen as a bit of leverage and in the process emasculated Allen. [...]
Caron Butler has a broken left hand. Will that stop the Clippers forward from playing Saturday against Memphis? Maybe. Maybe not. Either way, the Clippers aren't ruling him out, despite that Butler, who suffered the injury during Game 1 of his team's Western Conference first-round playoff series at Memphis, missed Game 2 on Wednesday. That series is tied, 1-1, heading...
NBA News

Delivered to your inbox

You'll also receive Yardbarker's daily Top 10, featuring the best sports stories from around the web. Customize your newsletter to get articles on your favorite sports and teams. And the best part? It's free!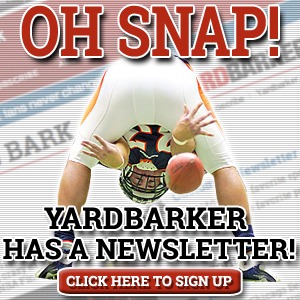 Latest Rumors
The Backyard

Today's Best Stuff

For Bloggers

Join the Yardbarker Network for more promotion, traffic, and money.

Company Info

Help

What is Yardbarker?

Yardbarker is the largest network of sports blogs and pro athlete blogs on the web. This site is the hub of the Yardbarker Network, where our editors and algorithms curate the best sports content from our network and beyond.