Found March 13, 2012 on Fox Sports Arizona:
PLAYERS:
Dwight Howard
,
Lamar Odom
,
Ramon Sessions
,
Ricky Rubio
,
Luke Ridnour
,
Pau Gasol
,
Kyle Lowry
,
Andrew Bogut
,
Brandon Jennings
,
Steve Nash
,
Jamal Crawford
,
Stephen Jackson
,
Chauncey Billups
,
Eric Bledsoe
,
Raymond Felton
,
Nate McMillan
,
Deron Williams
TEAMS:
Orlando Magic
,
Dallas Mavericks
,
Los Angeles Lakers
,
Cleveland Cavaliers
,
Minnesota Timberwolves
,
Portland Trail Blazers
,
Houston Rockets
,
Milwaukee Bucks
,
Phoenix Suns
,
Los Angeles Clippers
,
Brooklyn Nets
The formidable tag-team variables of time and money could make this NBA trade deadline week -- the official trade deadline week of the Dwight Howard Relocation Project -- relatively meek. Well, especially relative to last year. The 2011 deadline ticked its way into oblivion with all the nonchalance of a prison riot. It was considered by many to be the wildest change-of-address party the league had seen in 25 years. But the aforementioned tag team has checked in this year to mitigate the potential for compelling player movement. And, of course, we have the collective-bargaining skirmish to thank for it. The time element was conjured when the lockout rolled through all of November and into December, inspiring the NBA's big thinkers into compressing the schedule and pushing the trade deadline from February to March. That means teams grappling for playoff positioning may receive less season-rallying gusto from an acquisition who has less than 20 games to make an impact. It also encourages some teams to wait a few weeks and dump an undesirable player or two in the off-season. And, with so few games remaining and up to 12 teams still within striking distance of a Western Conference playoff ticket, less teams are prepared to start unloading contracts. The biggest deal-breaker, however, is the upgraded punitive muscularity of the new CBA's luxury-tax format that begins in 2013-2014. What used to be a dollar-for-dollar penalty slapped on teams over the tax threshold now has a kicker clause for teams making a habit of being in this predicament. The increased severity can make the act of busting the tax threshold seem as financially reckless as ordering wine in a restaurant. Beyond the threat posed to those already exceeding the luxury limit, teams still attempting to finesse the salary cap will be even less interested in acquiring players equipped with multiple years remaining on their current contracts. "That's been a real game-changer in terms of activity around the trade deadline," one assistant general manager said. "Even with teams you usually see above the (luxury tax) threshold, you're getting a lot less interest in dealing simply because avoiding more salary seems as important as strengthening their teams." Yeah, let's take a look at the Los Angeles Lakers, who own a cuddly item referred to as a trade exception. This was acquired by shipping Lamar Odom, his salary and his TV show to the Dallas Mavericks. The Lakers also received the Mavs' first-round pick (top-20 protected until 2017) in the 2012 draft. Despite living above the tax limit, the trade exception allows the Lakers to take back up to around 9 million in salary (that was Odom's tab) without the requirement of moving similar salary out. But even though they really could use a point guard, it has been reported the Lakers are hesitant to use the trade exception for this purpose because of the added salary. The Lakers also have seemed reluctant to part with that first-round pick, which would be the only asset a trade partner would have as motivation to deal. Cleveland Cavaliers back-up point guard Ramon Sessions (4.2 million with a player option for next season) could be a less-painful addition through use of their trade exception; it's doubtful they have any salary-match assets the Cavs would be willing to take back in a traditional transaction. But with the Buss family tightening its franchise belt, using the exception and tacking on Sessions' reasonable salary may be dicey. Sessions also could be a target for a reunion with the Minnesota Timberwolves, who last week lost Ricky Rubio for the season with a torn ACL. Rubio's absence leaves the T-wolves working with Luke Ridnour as their primary ballhandler, instead of using him as prime deadline bait for speculated transactions with the Lakers and the Portland Trail Blazers. Depending on whose sources you believe, Minnesota has been linked to Pau Gasol, the high-priced, 7-foot Laker who's been up to his neck in trade rumor all season. But while the T-wolves seem more in need of perimeter guns, a team still reportedly pining for Pau -- and the 38-plus million he's owed over the next two seasons -- is the Houston Rockets. The Rockets thought they had him back in December, but now are being asked to throw point guard Kyle Lowry to the Lakers. That seems unlikely for reasons that have nothing to do with time or money. Other popular names on the trade-rumor check list are Milwaukee Bucks center Andrew Bogut and point guard Brandon Jennings, Phoenix Suns point guard Steve Nash and Blazers combo guard Jamal Crawford. Bogut's history of physical woe means the Bucks probably aren't going to receive anything near Andrew's value ... during the rare instances when he's tip top. The Bucks also are believed to be pushing Stephen Jackson on any team interested in dealing for Bogut. We've been unable to confirm rumors that Jennings could be available, but if true, Monday's 34-point performance certainly won't trash his trade value. The reasons for Nash staying put -- at least until the free-agent market opens this summer -- finally have been drummed into national trade chatter and embraced as real. Crawford, who has a player option for next season, could be leaving Portland, where this season seems to have devolved into a reenactment of the Donner Party. The L.A. Clippers, who have been a mess since losing Chauncey Billups to an Achilles tendon rupture, reportedly have interest and would send lightning-quick point guard Eric Bledsoe to Oregon. Crawford had been mentioned as a possibility in Minnesota, too, but the Blazers' target was Ridnour and Luke figures to be staying with the T-wolves for now. The Blazers are interested in another lead guard, because Raymond Felton -- who's also been suggested as a potential Laker -- hasn't exactly thrived in the system of embattled coach Nate McMillan. By the way, we can't reconcile any dead-end deadline talk without taking a look at its mayor. Right, that would be Howard, who -- according to recent reports -- could finish this season still working for the Orlando Magic. The Magic may be preparing to reject all of the non-blockbuster trade offers they've been receiving and attempt to keep Dwight in the family. If Howard isn't traded, however, he could scoot into free agency, sign with whatever franchise strikes his fancy (provided they have cap room) and know his new team hasn't gutted its roster in a trade ... just to have him a few months early. The alleged leaders in this scenario have been the New Jersey Nets, who must decide if Dwight is a sure-enough thing to hold on to their primary asset -- point guard Deron Williams -- before he hits free agency. So, all variables considered, Trade Deadline 2012 may continue to generate tremendous potential as the week rolls on and produce minimal action. But if that's how things play out, we could have a much more interesting free-agent derby.
Original Story:
http://www.foxsportsarizona.com/03/13...
THE BACKYARD
BEST OF MAXIM
RELATED ARTICLES
Does someone at ESPN know something that nobody else does? The Orlando Magic's Dwight Howard was not included in the 5-player swap that sent Monta Ellis to Milwaukee, even though Golden State had said that they wouldn't trade him unless they knew they were getting D12 in return. Maybe someone running the scoreboard for the ESPN Mobile site just got a little too excited about...
The trade deadline is fast approaching, and Dwight Howard is still the star prize. Even though Orlando has seemingly offered him complete control over their franchise if he signs an extension it looks as though he will be moved. The Magic are reportedly willing to allow Howard the rights to both head coach Stan Van Gundy's job and general manager Otis Smith's as well. If Howard...
The Orlando Magic have made it pretty clear that they would love to keep Dwight Howard beyond this season – why wouldn't they? – and that they are willing to play this season out in hopes that Howard will re-sign with them. But when it comes to talking a trade involving Dwight Howard, which Orlando does reluctantly, they would like to open up negotiations with the Chicago Bulls...
Editor's note: Expectedly, this post I wrote earlier this afternoon stayed relevant for all of about a few hours before, as I predicted, Dwight waffled again…or the reporters did. Who knows. (But the Disney thing…that's still in play.) Earlier today reports broke that Dwight Howard was willing to return to the Orlando Magic next season and wouldn't opt out of his contract...
Dwight Howard had 30 points and 13 rebounds, and J.J. Redick added 18 points and a career-high nine assists as the Orlando Magic ran past the Indiana Pacers 107-94 on Sunday night. The Magic played without starters Hedo Turkoglu and Jason Richardson, but seemed unfazed as they built a 20-point lead in the first half and got 30 points from their reserves. Orlando has won four out...
Not really sure what happened last night on the NBA store on NBA.com but,  there was a Dwight Howard NETS shooting shirt on sale. The irony in that is, after the Magic defeated the Heat Tuesday night, Howard said he alerted management that he wanted to finish the season out with the Magic. Most know [...]
The Magic are still talking about Dwight Howard trade scenarios with other teams despite his commitment to opt-in for the 12-13 season.
Dwight Howard has told teammates and associates that he will play the option year of his contract with the Magic, sources have confirmed.
Dwight Howard has confirmed that he will opt-in for the 12-13 season in an exclusive interview with RealGM's Jarrod Rudolph.
Dwight Howard had lunch with three teammates following a large team meeting and informed them that he planned to opt-in for the 12-13 season.
The Magic plan on trading Dwight Howard if they do not receive a commitment from him beyond the current season.
A change we can all believe in.
NBA News

Delivered to your inbox

You'll also receive Yardbarker's daily Top 10, featuring the best sports stories from around the web. Customize your newsletter to get articles on your favorite sports and teams. And the best part? It's free!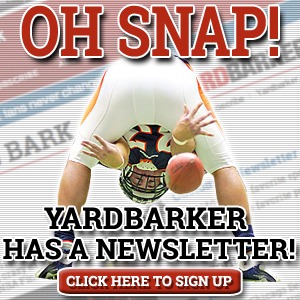 Latest Rumors
The Backyard

Today's Best Stuff

For Bloggers

Join the Yardbarker Network for more promotion, traffic, and money.

Company Info

Help

What is Yardbarker?

Yardbarker is the largest network of sports blogs and pro athlete blogs on the web. This site is the hub of the Yardbarker Network, where our editors and algorithms curate the best sports content from our network and beyond.