Found January 24, 2013 on NBA 24/7 365:
PLAYERS:
Tony Parker
,
Chris Paul
,
Rajon Rondo
,
Ricky Davis
,
Jamal Crawford
,
Jason Terry
,
Ben Gordon
,
David Lee
,
Blake Griffin
,
Serge Ibaka
,
LaMarcus Aldridge
,
Zach Randolph
,
Tim Duncan
,
Marc Gasol
,
Nikola Pekovic
TEAMS:
San Antonio Spurs
,
Los Angeles Clippers
,
Boston Celtics
,
Cleveland Cavaliers
,
Charlotte Hornets
,
Golden State Warriors
,
Oklahoma City Thunder
,
Portland Trail Blazers
,
Memphis Grizzlies
,
Minnesota Timberwolves
Well, folks, the halfway point of the season is upon us, and the 2013 All-Star reserves will be announced live on TNT at 7 PM.  This year, the NBA stuck to its usual procedure and left the big decisions up to the coaches, but if they'd elected to put me in charge (and I expect that they will once they catch wind of my awesome picks) these would be the seven Western Conference players swangin' down to H-Town to sip on drank and ride on fo's (and play basketball). BC: Tony Parker — Tony Parker doesn't have the flair of a Chris Paul, or the athleticism of a Russell Westbrook, or the crazy statistics of a Rajon Rondo, but he does average 19 points a night whilst making 52% of his shots for the San Antonio Spurs, who happen to be a pretty decent group of basketball players.  At times I feel as though Parker is the unsung top-five point guard, but as a member of the Spurs I'm sure he wouldn't have it any other way, and it won't prevent him from making his fifth All-Star appearance. BC: James Harden — James Harden… I don't think anyone has forced me to eat so much crow since Joakim Noah.  As a lead scorer, I proclaimed Harden would accomplish little more than Ricky Davis did during his brief tenure spent taking the majority of the shots for the Cleveland Cavaliers.  I just didn't think James Harden had it in him to be an All-Star, to carry a sketchy roster into playoff contention, or to achieve a scoring average that ranks amongst the league's premier offensive forces.  I thought James Harden was Jamal Crawford, Jason Terry, or Chicago Ben Gordon, albeit with a better gift for playmaking.  Clearly, I was way, way off the mark. FC: David Lee — Amongst teams that feature the same core as last season, the Golden State Warriors are the league's most improved.  How have they executed such a dramatic turnaround?  Well, there is never one single change behind any major transformation, but I believe the Warriors' ability to rebound the basketball has been the biggest difference.  In '11/12, Golden State ranked 30th in the league on the glass.  This year, they rank 10th.  Though he certainly hasn't done it alone, David Lee's work on the interior has been crucial in making the Warriors a force to be reckoned with in the painted area.  Oh, and for the record, Lee is currently the only player in the league who is top 15 in points (19.6) and rebounds (10.8). FC: Blake Griffin — Blake Griffin has truly been fantastic this season.  He's made improvements across the board, so don't be fooled by the downward shift in his statistics.  Though the Clippers lost on Tuesday, Griffin's 31-point, 11-rebound, 5-assist performance against Serge Ibaka is a great example of the individual dominance he's been capable of when he's been called upon to carry the load.  He's become a legitimate force on the low block, and at 36% from 16-23 feet his mid-range shooting has been decent enough to put him within a few percentage points of guys like LaMarcus Aldridge and Zach Randolph. FC: Tim Duncan — What Tim Duncan has been able to do at age 36 is nothing short of amazing.  I wish I could gather all the stats I've seen about the things he's done that only a select few 36-year-olds ever have, but I can't seem to find any of them.  I suppose I shouldn't need to anyway.  I mean, if you need me to provide stats to justify the placement of Tim Duncan on an NBA All-Star team then you should probably reconsider everything you think you know about the game of basketball. WC: Russell Westbrook — I don't make it any secret that Russell Westbrook is not the point guard I want leading my championship-caliber team, as my fear of his potential to spontaneously combust would surely send me to my grave.  That said, he creates fire far more often than he's consumed by it, and with averages of 23/5/8 for the squad with the best record in the league he is quite obviously an All-Star. WC: Zach Randolph — There are five players on this list that I feel are justifiable locks to make the team.  Those players are Westbrook, Harden, Griffin, Duncan, and Parker.  That leaves just two spots to distribute amongst four primary candidates: David Lee, Zach Randolph, Steph Curry, and Marc Gasol.  Collectively, they are the four best players on the fourth and fifth best teams in the West.  It's difficult to say which two are most deserving of this honor, but I made the case for David Lee from the Warriors and I'm going with Zach Randolph from the Grizzlies.  I think it's only fair that I spread the love, as there is no clear-cut choice between Randolph and Curry; both are having fabulous seasons. But what about… …LaMarcus Aldridge? LaMarcus has played well for a Portland team that, despite some recent struggles, has outperformed its expectations.  However, has he put together a better season than any of the bigs on my list, all of whom have been fantastic for top teams?  I think not. …Jamal Crawford? There is not a single player in this league that I would rather see in the All-Star game than Jamal Crawford.  He's a guy I've aimed to model my own game after for more than a decade, and by all accounts he's an outstanding person.  Unfortunately, I think he's more deserving of another Sixth Man award than he is an All-Star berth.  He's been absolutely invaluable to the Clippers, don't get me wrong, but has he been Tony Parker, Russell Westbrook, or James Harden?  Even I can't argue that he has. …Nikola Pekovic? Trust me, I wanted to… but with his recent injury troubles and the way the Wolves have played, I just can't.
Original Story:
http://nba247365.com/?p=9866
THE BACKYARD
BEST OF MAXIM
RELATED ARTICLES
Tony Parker returned from a cut above the same eye he injured in a nightclub incident last summer and scored 23 points to lead the San Antonio Spurs to a 113-107 victory over the Dallas Mavericks on Friday night. Parker missed about a quarter in the first half when he took three stitches above his left eye after a collision with Elton Brand on a drive. He nearly lost the eye in...
Point guard Tony Parker and power forward Tim Duncan will be representing the San Antonio Spurs in the 2013 All-Star game. Both are having great seasons, with Duncan being the most impressive at 36 years old. Parker is leading the Spurs in scoring with 19.8ppg and 7.4apg while Duncan is notching up 17.5ppg and 9.8rpg. The most impressive stat that's been noticed by Duncan...
The matchup for tonight's game will be between Greivis Vasquez of the New Orleans Hornets and Tony Parker of the San Antonio Spurs. This is the fourth of four games that these two teams will play against each other in which the Spurs lead the season series 2-1. We saw Vasquez and his Hornets come alive against the Spurs with him scoring 14 points and dishing out 11 assists...
SAN ANTONIO -- Tony Parker had 24 points and 13 assists and led a fourth-quarter comeback that lifted the San Antonio Spurs to a 106-102 win over the New Orleans Hornets Wednesday night at the AT&T center. Parker had nine points in the fourth quarter as San Antonio got its 14th straight win at home and improved to an NBA-best 18-2 on its home court. The steak was in jeopardy...
Before tonight's game, New Orleans Hornets coach Monty Williams called San Antonio Spurs guard Tony Parker a "one-man wrecking crew" when asked about the Spurs being without Tim Duncan and Kawhi Leonard. Parker did his part to live up to Williams' high praise by finishing the game with 24 points and 13 assists with just one turnover as he led the Spurs back into the game...
The San Antonio Spurs (34-11) will visit their division rival Dallas Mavericks (18-24) in Dallas in a Texas showdown. This will mark the third meeting between the two teams with the Spurs up 2-0 in the regular season series. The Spurs won the last meeting in Dallas 111-86. Tony Parker finished with 21, Manu Ginobili added 20 and Tim Duncan chipped in with 18 as the trio combined...
SAN ANTONIO -- Going into Wednesday night's game, the Spurs learned that they would not only be without Tim Duncan, but head coach Gregg Popovich, too. So they turned to Tony Parker to carry them to victory. Parker had 24 points and 13 assists and led a fourth-quarter comeback that lifted the San Antonio Spurs to a 106-102 win over the New Orleans Hornets at the AT&T...
On Friday, the San Antonio Spurs had to play their second consecutive game without their head coach Gregg Popovich (ill) and All-Star forward Tim Duncan (sore knee). Kawhi Leonard (10 points, 8 rebounds) did return to the lineup on Friday as Tony Parker (23 points, 10 assists) had a minor eye injury in which he left the game momentarily, but returned to guide the Spurs to a seventh...
NBA News

Delivered to your inbox

You'll also receive Yardbarker's daily Top 10, featuring the best sports stories from around the web. Customize your newsletter to get articles on your favorite sports and teams. And the best part? It's free!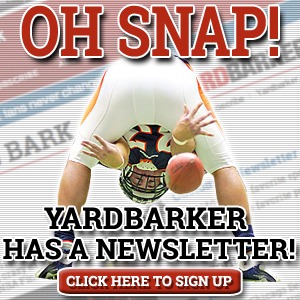 Latest Rumors
The Backyard

Today's Best Stuff

For Bloggers

Join the Yardbarker Network for more promotion, traffic, and money.

Company Info

Help

What is Yardbarker?

Yardbarker is the largest network of sports blogs and pro athlete blogs on the web. This site is the hub of the Yardbarker Network, where our editors and algorithms curate the best sports content from our network and beyond.