Found October 26, 2013 on isportsweb.com:
With big expectations before last season, the New York Knicks fared pretty well.  They had one of the best regular seasons in the league.  However, they fell short to the Pacers in the Eastern Semis.  Even with an early playoff exit, the Knicks should build off the momentum from last season.  Carmelo Anthony won the scoring title and he'll obviously continue to carry the load for this Knick team that lives and dies by him.  What should we expect out of NYK this year?  I present to you my N.Y. Knicks 2013-14 season preview: Photo courtesy of zimbio.com Guards (B+): Raymond Felton, Iman Shumpert, Beno Udrih, J.R. Smith, Pablo Prigioni New York's guard play took many by surprise last season.  You need consistent guard play to be good in this league.  Last season, New York finally got that.  Raymond Felton seems to fit well in his role and does a good job of getting teammates involved.  J.R. Smith is clearly a much bigger threat this preseason than we knew him as last preseason.  It's not just Melo teams have to worry about.  With the way Smith shot the ball last year, teams must beware of his ability to run up the score.  At 23 years old, Iman Shumpert has already developed an identity as one of the best lockdown defenders in the game.  Beno Udrih was an underlooked signing.  He should be a very solid backup and energy player for this improved rotation. Forwards (A-): Carmelo Anthony, Andrea Bargnani, Metta World Peace, Amar'e Stoudemire, Tim Hardaway Beside LeBron James and Kevin Durant, no player may have been more valuable to his team than Melo last year.  Melo openly took the team on his shoulders and showed much improved responsibility.  That play and attitude is expected to carry over into this season.  Melo remains basically an unstoppable scoring machine.  Andrea Bargnani was an interesting addition.  There's no question he fits the system.  However, individually, Bargnani hasn't lived up to his 2006 first overall draft pick.  Bargnani is going to have to get used to playing off the ball and always be ready to catch and shoot.  World Peace and Stoudemire are both big question marks.  Neither make near the impact they used to but we'll see if their veteranship and remaining skillset can give New York's bench a lift. Centers (B+): Tyson Chandler, Kenyon Martin, Jeremy Tyler Although former Defensive Player of the Year Tyson Chandler didn't play with the same force last year, he's still a premiere post defender.  The Knicks would not be able to survive without him as he is the backbone to their defense.  Chandler is 31 years old and has done an excellent job rebounding from his past injury issues.  He'll continue to be a crucial part of New York's success.  Kenyon Martin was an excellent signing near the end of last season.  Martin is a relentless defender and he's also a decent finisher at the hoop.  I think he works well with the makeup of this roster. Defense (B): New York's defense was also much improved under head coach Mike Woodson.  After years of just preaching offense, Woodson made it known that defense would be a factor in the team's success.  As I said before, the defense starts with Tyson Chandler.  He's there at the basket in case a player blows by J.R. or Felton.  That isn't often the case with Shumpert, who is a killer on the defensive end.  Bargnani certainly doesn't help New York's defensive stock so he'll have to put in work to satisfy Coach Woodson. Shooting (B+): New York's three-point attack was dangerous last year as they torched teams with the perimeter shot.  Unfortunately, the Knicks lost one of the league's most outstanding three-point shooters in Steve Novak.  However, they'll still be able to survive because Carmelo attracting the defense is the reason so much space is freed up for three-point shooters.  Bargnani is capable of knocking down shots consistently, especially with the extra space he should have this year.  Follow isportsweb on twitter Experience (A): The Knicks are experienced and basketball-smart enough to win the championship.  They have fantastic defensive players, an undeniable offensive weapon, and pretty good leaders on the court.  Many teams have taken an approach to garner young players but New York will roll the dice with players who have been around this league a while. Standing – 5th East: New York improved, but other teams such as Brooklyn and Chicago improved more.  I wouldn't be at all surprised if New York proved me wrong and cracked the top three in the East .  This team is definitely capable of doing a lot of damage. Read more NBA previews here
Original Story:
http://feedproxy.google.com/~r/isport...
THE BACKYARD
BEST OF MAXIM
RELATED ARTICLES
If you happen to be a New York Knicks fan, you most likely will be seeing the below alternate orange jerseys at game during this upcoming season. Check out the below tweet from the Knicks Twitter account of Carmelo in the "all orange": Check it out! @carmeloanthony looking good in that new jersey! #KnicksInOrange pic.twitter.com/DYZvtBKyaX — NBA New York Knicks (@nyknicks)...
On Friday, a photo surfaced on the interwebs of New York Knicks All-Star guard Carmelo Anthony modeling the team's new alternate uniform, and if there's one thing that can be said about them, it's that they are very … orange. Super orange, even. As in simply by looking at the unis one receives the recommended […]The post Carmelo Anthony models New York Knicks' new orange...
Carmelo Anthony models new New York Knicks orange jersey.Photo credit: @darrenrovell A day after the San Antonio Spurs debuted an alternate U.S. military camouflage jersey, the New York Knicks revealed a new jersey of their own. This appears to be the same which Iman Shumpert leaked early in the summer. The franchise released official images of the new jersey modeled by Carmelo Anthony...
Carmelo Anthony says he had a heart-to-heart with J.R. Smith after his teammate received a 5-game suspension for failing a marijuana test issued by the NBA. According to Ian Begley of ESPN NY: Anthony delivered a dose of tough love to Smith during the conversation. "The time is now," Anthony said he told Smith. "You've got to want to help yourself. Everybody else wants to...
We finally get a look at the new New York Knicks orange uniform thanks to the team's Twitter account, @NYKNICKS. Check out the jersey and shorts on Carmelo Anthony.
Carmelo Anthony should focus on trying to get players to join him in New York, not creating uncertainty about whether he would leave. That's the opinion of TNT analysts Charles Barkley and Kenny Smith, who are disappointed by Anthony's desire to become a free agent after this season. ''He owns the city, he should be trying to get guys to come here and not like ...
Carmelo Anthony repeated several times Saturday that Andrea Bargnani's transformation as a defensive-minded Knick won't "happen overnight.'' However, Knicks coach Mike Woodson said he won't wait a long time for the 7-foot Italian to make it as full-time starting power forward. If he has to change the big frontline of Tyson Chandler, Bargnani and Anthony by Wednesday's...
We finally get a look at the new New York Knicks orange uniform thanks to the team's Twitter account, @NYKNICKS. Check out the jersey and shorts on Carmelo Anthony.
After being hinted at as early as the 21st of October, the New York Knicks have unveiled their new jerseys by way of  a press release courtesy of the NBA's official Twitter account. The photos accompanying the tweet show off the front and back of Carmelo Anthony and Iman Shumpert's jerseys. The alternates reverse the ...The post Knicks Unveil Flashy Orange Alternates appeared...
Is this the season that Carmelo Anthony wins an MVP? The 2013-14 NBA season is right around the corner, which means that it is time for all of the basketball forecasters to put in their two cents on the happenings around the Association. Here is the Hardwood Gold Rush take on the 2013-14 NBA season award predictions from Jordan Morey, Justin Adams and Peter Sherwill: Regular Season...
With the start of the 2013-2014 NBA season fast approaching, teams have been rolling out hardwood fashion updates. Each year brings a new crop of special-edition styles, with fresh colors, patterns and performance features. The New York Knicks, San Antonio Spurs and Miami Heat are among the squads who will sport revamped gametime threads throughout the season. The New York Knicks...
Knicks News

Delivered to your inbox

You'll also receive Yardbarker's daily Top 10, featuring the best sports stories from around the web. Customize your newsletter to get articles on your favorite sports and teams. And the best part? It's free!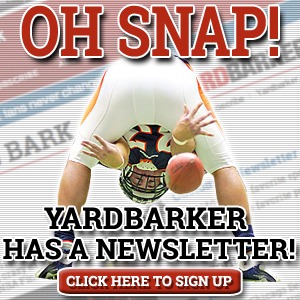 Latest Rumors
Best of Yardbarker

Today's Best Stuff

For Bloggers

Join the Yardbarker Network for more promotion, traffic, and money.

Company Info

Help

What is Yardbarker?

Yardbarker is the largest network of sports blogs and pro athlete blogs on the web. This site is the hub of the Yardbarker Network, where our editors and algorithms curate the best sports content from our network and beyond.