Found October 26, 2013 on isportsweb.com:
The Raptors made a nice splash at the trade deadline last season, acquiring highly talented swingman Rudy Gay.  Many debate whether Gay can be considered a franchise player or even if he can be considered an all-star caliber player.  I don't think Toronto expects Gay to be it's main franchise piece.  I don't think they are building around one player in particular.  Rather, they're putting as much young talent together as possible.  How will that work out for them this season?  Let's take a look at the Toronto Raptors' season preview: Guards (B): Kyle Lowry, DeMar DeRozan, D.J. Augustin, Terrence Ross, Dwight Buycks In my mind, Lowry and DeRozan is a backcourt that raises a lot of questions.  Don't get me wrong; I'm well-aware both of these guys can play.  The questions they present range from Lowry's big health concerns to both of their extremely inconsistent jumpshots.  Their backups, Augustin and Ross, are actually much more efficient outside shooters.  The reason Lowry is starting point guard worthy is because of his I.Q. and valuable intangibles, such as often picking up loose balls.  I think Terrence Ross will open a lot of eyes this year and be one of the stronger bench players (possibly 6th men) in the league. Photo courtesy of spokeo.com Forwards (B-): Rudy Gay, Amir Johnson, Landry Fields, Steve Novak, Austin Daye Sometimes, Rudy Gay makes amazing highlight plays causing you to go, "woah, this guy is pretty good."  But other times, he kind of blends in with the rest of the competition.  I don't know exactly what holds him back from being a proven all-star.  I'd guess it has something to do with work ethic and mentality.  Not that his work ethic is poor, but it doesn't seem like he wants to be the best.  To be a great small forward in this league, you have to want to be the best.  The rest of these forwards don't excite me too much.  Amir Johnson went on a roll about the last 20 games of last season.  However, he still is nowhere near being feared as a starting big man.  Obviously, Novak is a deadly three-point shooter, but he needs court spacing and a good ball handler to attract the defense and kick it out to him (Gay, Lowry?). Centers (B-): Jonas Valanciunas, Tyler Hansbrough, Aaron Gray After winning Summer League MVP, Valanciunas should be a preseason frontrunner for Most Improved Player.  His game looks fairly similar to Nikola Pekovic's of Minnesota.  That would be saying something as Pekovic is one of the biggest bruisers down-low.  There are few talented (true) centers in the East including Hibbert, Noah, and Chandler.  Valanciunas and Pistons' Andre Drummond are two big bodies that could rank atop the Eastern Conference centers in a couple years.  Hansbrough isn't really a center, but Toronto's abundance of forwards will often force him to play it.  "Psycho T" has no problem playing the five, though. Photo courtesy of torontosun.com Defense (B+): Toronto should be a much better rebounding team with Andrea Bargnani out of the mix.  The presence of him, alone, really hurt the team's defensive value in the past.  Johnson and Valanciunas give the Raptors some beef in the painted area, which is a reason Dwane Casey may be satisfied with starting this young duo.  If Lowry could get rid of his injury problems, he would consistently be a tenacious defender.  DeRozan also plays pretty well on both sides of the ball. Shooting (B-): Again, the shooting inconsistency of Lowry and DeRozan is likely to haunt them.  Toronto may want to consider playing a small lineup in the last five minutes, consisting of Lowry, Ross, DeRozan, Gay, and Valanciunas.  That might give them an edge when trying to put the ball in the hoop.  Again, Novak is deadly as they come from three-point territory but his shooting success will largely depend on his teammates freeing up space for him.  Although Gay is a pretty solid shooter, it seems his jumper has reached it's peak.  But Gay doesn't have much of a problem finishing at the hoop. Follow isportsweb on twitter Experience (B-): B- might be a generous rating.  This team needs to grow together in order for it's game to speak as loud as it's talent on paper.  It'll be essential for Lowry and Gay to serve as good team leaders. Standing – 10th East: Toronto could easily clinch a playoff spot this season.  But if they don't, it's still likely they'll head in the right direction with the way the team is built.  The Raptors shouldn't be in any rush to try and be a conference contender.  They'll have to take one step at a time. Read more NBA previews here
Original Story:
http://feedproxy.google.com/~r/isport...
THE BACKYARD
BEST OF MAXIM
RELATED ARTICLES
For all those young guns reading this blog, "The Carlton Dance" was a dance made famous by Carlton Banks on the television show, "The Fresh Prince of Bel Air". Recently, Toronto Raptors forward Rudy Gay decided to show off his Carlton Dance skills to his teammates and well, check out this Instagram video: *** Gay image courtesy of Getty Images
posted by Romy AquinoWell, it looks like it was Julyan Stone who impressed Coach Casey and the Raptors front office for that final roster spot.  The Raptors announced yesterday that they have waived forwards Chris Wright and Carlos Morais.  Going into the preseason, Chris Wright was a familiar face to Toronto and looked to have a strong chance of locking down that final spot with...
Earlier this week, Raptors' Kyle Lowry deemed Amir Johnson "the fastest guy on the team." On Friday, Johnson and Rudy Gay took part in a head-to-head race after practice: The post Rudy Gay And Amir Johnson Have A Race (Video) appeared first on Beyond The Buzzer.
posted by Romy AquinoFor the second year in a row, Amir Johnson got his hair and makeup did.....zombie style.  He and his some of his NZA crew (National Zombie Association) that included the Raptors own Kat Stefankiewicz participated in Toronto's annual Zombie walk.  Based on these photos, Amir stepped up his zombie game and got a fresh new zombie look. Check out the photos...
If you ever wondered who would win in a race between Toronto Raptors forward Amir Johnson and Rudy Gay, the below Instagram video might be the best thing for you to view. Check out the race that occurred during a practice early today and watch as Rudy pulls it out:
Team Preview: Toronto Raptors Next up on the list is the Toronto Raptors.  The Raptors made their big splash during the season last year when they went out and acquired Rudy Gay in a trade with the Memphis Grizzlies. While the questions remains on whether or not he will be re-signed once his contract expires. That being said, the Raptors went out this offseason in hopes to build...
With a protective splint wrapped all the way around his injured left ring finger, Kyle Lowry practiced Sunday for the first time since sustaining the injury last week. "It's very sore, it's very tender," Lowry said of the torn tendon in his finger, which will require him to wear the splint on his non-shooting hand for six weeks, still participating in practices...
The Toronto Raptors waived forward Chris Wright and guard Carlos Morais. Morais totaled six points and 21 minutes in three preseason games, while Wright tallied 10 points, six rebounds and 26 minutes in five outings. The Raptors' roster now stands at 15.
Friday night's Milwaukee Bucks preseason game at the BMO Harris Bradley Center was called off in the middle of the first quarter due to safety concerns because the court surface was proving to be too slippery. The game against the Toronto Raptors was only the second game held on the Bucks' new home court, which was unveiled with much fanfare last month. Unfortunately...
Officials called off a preseason game between the Milwaukee Bucks and Toronto Raptors because of concerns about the condition of the floor on Friday night. Officials stopped the game with 5:58 left in the first quarter after several players slipped on the court surface in the first few minutes of the game. After about 20 minutes' worth of discussion, an announcement was made...
I can say with full emphasis that this shot by Milwaukee Bucks center ZaZa Pachulia is the best shot of the NBA preseason. It happened in the first quarter of the Bucks game against the Toronto Raptors and check out ZaZa over-the-head no-look shot that somehow found the bottom of the net: *** ZaZa image courtesy of Getty Images
The Toronto Raptors have named Rudy Gay and DeMar DeRozan as team captains. Gay was acquired last January by the Raptors in a trade with the Memphis Grizzlies. DeRozan signed a long-term extension with the Raptors last October.
Raptors News

Delivered to your inbox

You'll also receive Yardbarker's daily Top 10, featuring the best sports stories from around the web. Customize your newsletter to get articles on your favorite sports and teams. And the best part? It's free!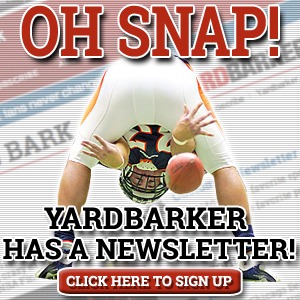 Latest Rumors
The Backyard

Today's Best Stuff

For Bloggers

Join the Yardbarker Network for more promotion, traffic, and money.

Company Info

Help

What is Yardbarker?

Yardbarker is the largest network of sports blogs and pro athlete blogs on the web. This site is the hub of the Yardbarker Network, where our editors and algorithms curate the best sports content from our network and beyond.