Found April 10, 2012 on Bacon Sports:
In part two of our NBA action is Fan-Tastic piece we are going to look at an absolute gem. This video is from 1991 and is centered around MC Hammer's "Can't Touch This".
The 30 seconds of that video were more exciting than anything that I've seen in the NBA in years (OK that might be a stretch but you know what I'm getting at). Obviously anything Michael Jordan does is filthy (especially if Craig Ehlo is guarding him) but that pass by Magic Johnson, the alley oop to Shawn Kemp, the blocks by Patrick Ewing and Hakeem. They all show why I loved the NBA so much back then. This definitely gave me a sports boner.
While the play on the court was awesome, the fans in this video are on a completely different level (like Milton Bradley level of crazy). Lets break it down frame by frame:
Is this guy a cult follower of David Koresh or an NBA fan? The double arm fist pump/wave is going to be a common theme. Big kudos go out to this guys orange shirt with nothing on it. He must be a big Sunny D fan.
Single arm fist pump + early 90′s hair. Nice work. This guy looks very similar to Ted from the show "Hey Dude"
You know that this picture is old because Philadelphia 76ers fans haven't reacted like this in a real long time. Notice how not a single person is on a cell phone checking Facebook. Instead they are all going buck wild because the 76ers just scored 100 points so they get a free donut or Sir Charles just threw down a monster slam. Also, fantastic mustache by the guy in the yellow sweater. Magnum PI would be proud.
Another awesome mustache with a double arm fist pump. There's no way that a fan in Milwaukee is going this crazy over anything that Monta Ellis does.
This guy looks a lot like Clark W. Griswold. Despite how dorky he looks consider this…this dude has floor seats. Impressive. His partner to our right does a nice little dance move in the video. When was the last time you saw someone dance on the court like this? They are reacting like they just saw Vanna White naked and won the lottery at the same time. This most definitely does not happen at NBA games now.
Original Story:
http://www.baconsports.com/nba-action...
THE BACKYARD
BEST OF MAXIM
RELATED ARTICLES
MILWAUKEE -- "We really moved the ball well again." After nearly every game in recent weeks, these have been the words that Milwaukee Bucks coach Scott Skiles chooses to explain how his team once again totaled more than 30 assists that night. For a Skiles-coached team that only one year ago was known for its stifling defense but poor offense, this year's Bucks are...
Athletes should be required to study the blue print Magic Johnson has laid in his post career. I understand everyone has a different path. But with so many athletes filing for bankruptcy, being sued for various payment defaults and not being prepared for life post playing days, Johnson's story and the brand he's built outside [...]
Dario Saric models his passing and ball-handling after Hall of Fame point guard Magic Johnson.
NBA legend Magic Johnson sits down with CNN anchor Zoraida Sambolin to talk HIV, Trayvon Martin, Dodgers, the new Broadway show "Magic/Bird" and his relationship with Larry Bird. On Trayvon Martin, the new L.A. Dodgers owners says, "All of us are still wondering what's going to happen. Here in America we're still dealing with situations like this. It's very unfortunate...
When Magic Johnson's ownership group bought the Los Angeles Dodgers for $2 billion cash, two thoughts likely came to mind. One, that fans were likely excited that Magic would be taking over as the face of a franchise badly in need of some star power after Frank McCourt's disastrous tenure. Two, where the heck did they find all that money? It turns out that the new ownership...
"We are the communities we serve." That motto, asserted in the opening chapter of his 2008 book "32 Ways to Be a Champion in Business," is what Magic Johnson says frames all the business interests he's had since retiring from the NBA in 1996. It's been a successful mantra, as Johnson, whose net worth was estimated at more than $500 million by Forbes...
Here it is folks! Set your DVR!   ( From Late Show)
The Larry Bird-Magic Johnson rivalry has been taken to a new stage -- literally. The new Broadway musical, Magic/Bird, opens later this week, giving basketball fans their latest look at one of the most popular rivalries of all time. It also happens to come at a time when both are in the news. On one hand, Bird is reportedly leaning toward retirement from his post as the president...
The Dodgers had the NL Cy Young winner on the mound and the NL MVP runner-up in the middle of the lineup for Tuesday's 2-1 win over the Bucs in their home opener. Even with that star power on the field, arguably two of the most popular members of the Dodgers organization were absent from the opening day festivities. The legendary Vin scully missed the home opener due to a &quot...
If there was ever a "must win" game for the New York Knicks, that game was Wednesday night against the Bucks in Milwaukee. With the Bucks breathing down the Knicks' necks for the final playoff seed in the Eastern Conference, New York has to do everything in its power to not only hold the Bucks down, but also make strides to catch a team like the 76ers for better seeding...
Last night, NBA legends Magic Johnson and Larry Bird were on the Late Show with David Letterman to talk about their brand-new Broadway show.Some of the other topics included their rivalry in the 1980's, Magic revealing that he was HIV-positive, and Larry Bird being Larry Bird:(Courtesy of Sports Grid)
NBA News

Delivered to your inbox

You'll also receive Yardbarker's daily Top 10, featuring the best sports stories from around the web. Customize your newsletter to get articles on your favorite sports and teams. And the best part? It's free!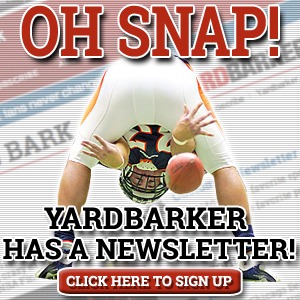 Latest Rumors
The Backyard

Today's Best Stuff

For Bloggers

Join the Yardbarker Network for more promotion, traffic, and money.

Company Info

Help

What is Yardbarker?

Yardbarker is the largest network of sports blogs and pro athlete blogs on the web. This site is the hub of the Yardbarker Network, where our editors and algorithms curate the best sports content from our network and beyond.