Found June 16, 2013 on isportsweb.com:
Critics seem quick to judge the other two-thirds of Miami's highly-regarded "big three."  Just because Dwyane Wade and Chris Bosh aren't superstar status, doesn't mean they aren't still capable of holding a decently heavy amount of weight.  Chris Bosh clearly isn't the same player he used to be, but that is largely a result of the system he is in.  Dwyane Wade hasn't consistently performed at an all-star level since he turned over the keys to King James. In game 4, however, Wade threw aside the significance of him being the second option.  D-Wade played with that funk and poise that the young product out of Marquette had.  Despite LeBron's terrific numbers, Wade was a true star in game 4.  Maybe we just don't come to appreciate James' performance as much because the Heat have been searching for that type of performance from Wade. Chris Bosh (20 points, 13 rebound, 2 blocks) also played extremely well on Thursday and it was about time.  Prior to game 4, Bosh had been so disappointing that the benefit of starting Chris "Birdman" Andersen over him came across my mind.  Don't call me crazy for actually saying that because Bosh hadn't been playing with nearly as much energy and aggressiveness that Birdman had been playing with.  On top of that, Bosh's ineffective shooting largely took away the impact he had on the game. Dwyane Wade and Chris Bosh stepped up and rose to the challenge in a game 4 that Miami really needed them in.  For the majority of the first three games, LeBron had been screaming for help.  Wade and Bosh finally responded in game 4, which Miami won in a dominant fashion. It's not like we didn't see any of Wade through the first three games.  In all three games, Wade played his part in the first half, but for some reason, disappeared after half time.  D-Wade erased that trend in game 4 as he was extremely active on both ends of the floor.  On defense, Wade had the eye of a tiger as he anticipated every lazy pass made by San Antonio.  Those six steals helped Wade capitalize on the offensive end, and he ended up with 32 points on 14-25 shooting. We can't just look at this situation as Miami being fortunate to finally have a great game from Wade.  We must not forget who Dwyane Wade is and what he is ultimately capable of doing on the court.  Nowadays, people act like they're surprised when Wade blows up, but that shouldn't be the case.  The truth of the matter is that Miami needs Wade to act as a superior second fiddle. In Bosh's case, he doesn't need to make spectacular plays like James and Wade do.  Bosh really doesn't have to focus on much but hitting open shots and holding his ground on post defense.  Bosh doesn't make a living off banging inside and being physical with players, but his tremendous length still takes a great toll on San Antonio's offensive attack. You can consider them the "big three" or you can simply play that term off.  I don't care what you think and Miami certainly doesn't care what you think.  LeBron James, Dwyane Wade, and Chris Bosh aren't here to label themselves anything other than "world champions."   Follow me on Twitter @ZJTbasketball11
Original Story:
http://feedproxy.google.com/~r/isport...
THE BACKYARD
BEST OF MAXIM
RELATED ARTICLES
Do you like Dwayne Wade? Do you like highlights? Do you like super-slow motion? Well this video from the NBA is right up your alley: Wade's Game 4 highlight reel in super-slo motion.
SAN ANTONIO Dwyane Wade declared 2 years ago he no longer wanted to be known as "Flash, the nickname teammate Shaquille ONeal gave the high flyer before the Miami Heats 2006 title run. For least one night, though, Wade said people can go back to calling him that. Not as if he could stop anybody even if he wanted. Miami forward LeBron James called the guard by the nickname...
The focus prior to last night's Game 4 of the NBA Finals was LeBron James. That is usually the case for the Miami Heat whenever they have a must win game in the playoffs. LeBron had been unable to get going offensively and the debate was whether or not James would be able to go off and score 35+ on the Spurs last night. I didn't think James could do it as it looked like the...
Kevin Durant is one of the more likable players in the NBA, but that does not mean he is exempt from making questionable decisions. It wouldn't be fair to the other NBA players we rag on if we let KD wear ridiculous outfits and get away with it, so we had no choice but to call your [...]
Amirite? Apparently it helped him play well, do good on you D-Wade. [Barstool] Article found on: Next Impulse Sports
Dwyane Wade has struggled mightily in the postseason playing through an injured knee, averaging 14.2 points, he broke through Thursday night and delivered a performance - 32 points, six assists, four rebounds and six steals – reminiscent of his days as "Flash," a "greatest in the universe" superhero nickname given to him by former teammate Shaquille O'Neal prior to the...
It was the Dwyane Wade of old, not the old Dwyane Wade, who showed up in San Antonio when Miami needed him most.
Dwyane Wade was in 2006 form as the Miami Heat crashed the Spurs party last night in Game 4 in San Antonio. Meanwhile, back in Miami, the deck at a waterfront sports crashed into the water below. On the golf course, Phil Mickelson got off to a great start at the U.S. Open despite having flown into Pennsylvania at 4 a.m., while a soggy Tiger struggled early in a group that was anything...
Stop me if I'm being a skeptic. Please. But lets count this thing down. First off, Dwyane Wade couldn't jump for 8 games. Then he starts flying over the court, dunkin on dudes and blowin up for 32. We're like, Oh hey Flash forgot you were here. Manu Ginobili starts talkin about retiring after  SEVEN points per game this series, shows up with even less hair than we remember...
SAN ANTONIO (AP) -- Tony Parker's hamstring, not Dwyane Wade's knee, is the current chief injury concern. Manu Ginobili, not Chris Bosh, is mired in the slump of the moment. Things change quickly at the NBA Finals, and with everything suddenly seeming right with the Miami Heat, it's up to the San Antonio Spurs to change them back Sunday night in Game 5. "It is...
Tweet Coming into the NBA Finals, everyone wondered who would be the star. Would it be the wily veteran, Tim Duncan? Would it be the crafty Tony Parker? Would Manu Ginobili or Dwyane Wade find new life? Or would it be the best player in the game, LeBron James? As it turns out, one of [...]
Heat News

Delivered to your inbox

You'll also receive Yardbarker's daily Top 10, featuring the best sports stories from around the web. Customize your newsletter to get articles on your favorite sports and teams. And the best part? It's free!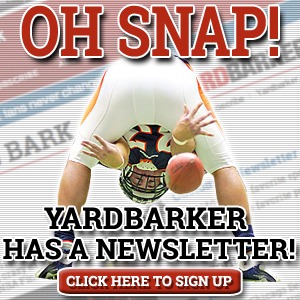 Latest Rumors
Best of Yardbarker

Today's Best Stuff

For Bloggers

Join the Yardbarker Network for more promotion, traffic, and money.

Company Info

Help

What is Yardbarker?

Yardbarker is the largest network of sports blogs and pro athlete blogs on the web. This site is the hub of the Yardbarker Network, where our editors and algorithms curate the best sports content from our network and beyond.