Found November 14, 2011 on Juiced Sports Blog:
SCOTT JACOBS
The NBA Owners and David Stern have their vision. The Players Association headed by Billy Hunter and Player Head Derek Fisher, have theirs. Though just roughly 2% in revenue separates themselves from being on the cusp of a deal (there are system issues as well), the NBA and its Players Association are also a disagreement or angry meeting away from a proposed 72 season to no season. Players have talked about de-certifying (hello NFL!) which would put this lockout in the hands of the courts (which as we all know is a really fun process, especially when we get into March and April and they're looking at litigation instead of key regular season games and playoff bouts).
Look, we think the whole thing sucks, which is why we've spent like 12 seconds discussing it. I don't know all the logistics to this stupidity, but I do know that we'd rather talk about what happens on the field than off. If there is no basketball this season the NBA will have failed horrifically in its chance to build on an incredibly compelling 2010-11 season. With the market the way it is, and even a number of NFL fans failing to sell out a mere 8 games a season (the list keeps getting longer), the NBA could be underestimating just how badly a lost season could damage people's willingness to spend money on their product. A 72 game season under a reasonable CBA and all of this lockout crap goes away (we've already seen how the NFL has rebounded. There was a lockout right?) Lose the season, and then who knows, maybe it bleeds into another and another, and if the NBA isn't careful, could result in the demise of its standing in the Big 3. There's no telling where the NBA will be if they blow this.
I don't frankly want to know.  But the NBA released a Youtube slideshow video to show you what they're proposing. And if the players don't accept they're the bad guys (that's what the NBA would lead you to believe). Personally, it seems like the NBA is looking for a league where parity reigns, when they've had 2 teams dominate the championship scene unlike any other sport. The NBA is a story of dynasties. They are not the NFL. The best teams usually win. The teams with multiple stars go down in history. This is the NBA's legacy going back into its foundation.
The Celtics, Lakers, Bulls,and  Spurs have all had their moments.  Throw in the Pistons and you have what ultimately could be summarized as the NBA's hierarchy over 60+ years of hoops. The league is not ripe for parity. There are too few players on a team for it to even out like the NFL or even MLB does at times. This is not hockey.
Hoops are a team game, but at its heart, they are an individual dominated sport.
Parity is a nice thought, but its a bit of a pipe dream.
Photo: Reuters
Original Story:
http://juicedsportsblog.com/2011/11/n...
THE BACKYARD
BEST OF MAXIM
RELATED ARTICLES
Dear Gentlemen,David SternFirst of all, we want to congratulate you on managing to kill the momentum you had built with fans over the past 10-years. It's something that isn't very easy to do. The NHL did it and is still recovering. Major League Baseball did it too, they are just now, some 8-plus years later, recovering from that decision.We'll start here with the NBA...
If NBA players committed financial suicide Monday afternoon by rejecting David Stern's latest ultimatum and choosing a court battle, let's objectively agree it was assisted suicide, with the media playing the role of Dr. Jack Kevorkian. At least when NFL media succumbed to lockout hysteria, it did so without serving as out-of-the-closet mouthpieces for Roger Goodell and...
The push for the dissolution of the National Basketball Players Association has gained momentum since NBA commissioner David Stern presented its latest proposal late Thursday night. Players' union executive director Billy Hunter was less than enthusiastic about the deal and a person close to the union who has been briefed on the negotiations said the offer "may be worse" than...
Commissioner David Stern blamed "greedy" NBA agents Saturday for trying to scuttle a new labor deal and believes they are trying to push their clients into a "losing strategy" of decertification.
NEW YORK (AP) -- NBA players rejected the league's latest offer Monday and began disbanding the union, likely jeopardizing the season. "We're prepared to file this antitrust action against the NBA," union executive director Billy Hunter said. "That's the best situation where players can get their due process." He said players were not prepared to...
The NBA chose to file a disclaimer of interest yesterday, dissolving the union, bringing this battle into the court system and yanking bargaining power away from Billy Hunter and Derek Fisher. Theoretically, the process could take years. But the preliminary steps are quick enough that a season could still be salvaged.Andrew Zimbalist, an economics professor at Smith College, told...
When Billy Hunter says that "collective bargaining has completely broken down" it's easy to believe. The union is lawyering up. The league is lawyering up. The players will not be shoved around and are willing to walk away from vast piles of cash to prove it. David Stern has an enormous collection of scary phrases at his disposal, and he rummaged through them to come...
Crafty NBA commissioner David Stern cancelled the first two weeks of the league's December schedule Thursday night without the pomp and circumstance of his past cancellations. There was no formal press release or direct mention of it. It wasn't until last night that games from Dec. 1-14 were...
  DATELINE: HUMOR!   We wonder how many former NBA stars, aging off the court, are willing to come out of retirement to make a few Bucks, an assortment of Lakers, and a litany of Knickerbockers. Many NBA players retired before the big money hit the fan market. Now NBA czar and Rasputin of the lockout, David Stern has hinted that scabs are festering over the open sores...
Union executive director Billy Hunter says the players' association is prepared to file antitrust action against the NBA. He says this is the best situation for "players can get their due process."
NBA reportedly cancels games through Dec. 15 By Brian T. Smith The Salt Lake Tribune Published Nov 15, 2011 02:38PM MDT The NBA has canceled regular-season games through Dec. 15, Yahoo! Sports reported Tuesday. The league has yet make an official announcement. However, commissioner David Stern acknowledged Monday it takes about 30 days for the league to get up to full speed...
First of all, let me discuss Rajon Rondo; his lack of swag, to be more specific.  You can spot him to Derek Fisher's left standing next to fellow overrated point guard Russell Westbrook.  Let's take a closer look… Firstly, those glasses… c'mon son.  Kobe's wearing sunglasses inside and doesn't look half as lame.  Those damn things look like they belong to one of...
NBA News

Delivered to your inbox

You'll also receive Yardbarker's daily Top 10, featuring the best sports stories from around the web. Customize your newsletter to get articles on your favorite sports and teams. And the best part? It's free!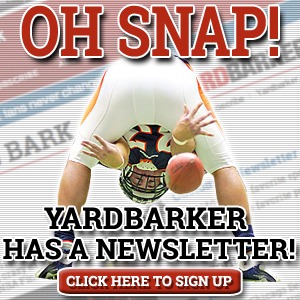 Latest Rumors
Best of Yardbarker

Today's Best Stuff

For Bloggers

Join the Yardbarker Network for more promotion, traffic, and money.

Company Info

Help

What is Yardbarker?

Yardbarker is the largest network of sports blogs and pro athlete blogs on the web. This site is the hub of the Yardbarker Network, where our editors and algorithms curate the best sports content from our network and beyond.