Found July 14, 2012 on Fox Sports:
When Los Angeles Clippers forward Blake Griffin went down with a torn meniscus in his left knee at Olympic training camp in Las Vegas this week, somewhere in Dallas, Mavericks owner Mark Cuban probably couldn't help but mutter a quiet "I told you so" -- even if only to himself. Cuban's presumed rancor, of course, wouldn't be intended for Griffin, who, through no fault of his own, will be forced to miss this summer's Olympics as a result of the untimely injury. Instead, Cuban's venom would be aimed directly at the NBA for allowing the injury to happen in the first place. Earlier this year, Cuban slammed the league for allowing its players to participate in the Olympics free of charge, calling it "the worst decision the NBA makes." "If you look up 'stupid' in the dictionary, you see a picture of the USA Dream Team playing for free for corporate America so the U.S. Olympic Committee can make millions of dollars," Cuban told FOXSports.com's Greg Couch at the time. "If you come up with something that you own, that you give it to me for free so I can make billions of dollars, I want it." Cuban's argument, as an owner, is simple: These players are essentially assets, and they're putting their livelihoods -- and, by virtue, the owners' livelihoods -- on the line to play for Team USA. Meanwhile, USA Basketball has seemingly everything to gain and nothing to lose from their participation. If a player can't play in the Olympics, there's always going to be another All-Star ready to replace him on behalf of the country and expand his global brand. But there's not always someone there to take the injured player's spot on the team that actually pays for his services. Donald Sterling can't just call up Anthony Davis and have him fill in for the Clips while Griffin is out. Cuban is no stranger to conflict, and his position -- one that is actually shared at least in part by NBA commissioner David Stern, who has suggested limiting NBA involvement in the Olympics to players age 23 and younger -- isn't necessarily a popular one. Some even view it as downright unpatriotic. These players grew up in the Dream Team era and hoped one day to play for their country, as well. It's a matter of pride and responsibility and devotion to something greater, and many see it as fulfilling a duty as much as anything. Limit this year's roster to those players 23 and younger, and you're taking that opportunity away from all but five players -- Davis, Kevin Durant, Russell Westbrook, James Harden and Kevin Love. But the stances of businessmen like Cuban, who finance these teams and essentially allow the NBA to exist and thrive as it does, are also not without merit. Teams pay players exorbitant amounts -- Griffin actually signed a five-year, $95 million extension the day before his injury -- to be the best in the world at what they do. Every time they step on the court for their country, they're putting their team's investment at risk with no insurance in the event that something goes awry. The NBA, in allowing these players to play, is essentially tightrope walking without a net, which isn't recommended for anyone with his own best interests at stake. And these owners didn't become owners by being naive. They're looking out for No. 1, at all costs. Don't get me wrong. Freak injuries happen, and sometimes there's nothing that owners can do to stop them. Guys are going to slip on the kitchen floor or fall down the stairs or hurt themselves playing with their kids in the yard. That's life. But when their players can exercise better judgment, they should. In this particular case, it seems the NBA can breathe a sigh of relief. Griffin, who already has missed an entire season because of a stress fracture in that same left knee, should be back at 100 percent in time for Clippers training camp this fall. Additionally, when reached Friday, a USA Basketball spokesman was quick to point out that the soreness in Griffin's left knee dated back to the Clippers' playoff series against San Antonio. "Blake worked extremely hard in our training camp, and certainly would have been a valuable contributor," USA Basketball chairman Jerry Colangelo said in a statement. "This is another unfortunate injury, but we have to continue to move on." The spokesman also noted that in 20 years of international competition, no NBA player has ever been seriously hurt -- but what happens when someone isn't so fortunate? What happens when a guy gets hurt while playing for his country and has to miss an NBA season as a result? What happens if that injury impacts his career? Just because it hasn't happened doesn't mean it won't. "They get hurt, you both get hurt, player and team," Cuban told FOXSports.com in that April interview. "And players do get hurt. And then what? Just stupid. They should play high school players. Give them experience." Perhaps Cuban is overstating a bit by suggesting that the Olympic pool should be derived from prep stars, but the point he makes is still sound. The risk NBA teams take isn't a worthwhile one when it comes to their players participating in international play. The answer might come in the form of a partnership between the NBA and FIBA, resulting in a World Cup of Basketball. This venture, should it ever materialize, wouldn't have the prestige of the Olympics, or perhaps even the FIBA World Championship. But it would allow NBA teams and owners to benefit financially from the use of their players, which seems like a fair enough return for putting their own investment at risk. It may not be the most patriotic answer to the problems at hand, and some may have difficulty sympathizing with the financial hardships of 1 percenters like Cuban. But in the end, rich or poor, we all need to cover our assets. Follow Sam Gardner on Twitter: @sam_gardner
Original Story:
http://msn.foxsports.com/olympics/bas...
THE BACKYARD
BEST OF MAXIM
RELATED ARTICLES
Clippers All-Star forward Blake Griffin sustained a left knee injury during Wednesday nights practice with the U.S. Olympic basketball team in Las Vegas and was scheduled to return to Los Angeles on Thursday for further evaluation. Griffin will be examined by the same doctor who performed his season-ending left knee surgery during his rookie season in 2010. Griffin had been given...
Welp, it's official. Blake Griffin has a meniscus tear in his left knee and is scheduled to have arthroscopic surgery next week. Griffin injured his knee on Wednesday during a Team USA practice. He's expected to be out approximately eight weeks but should be available for the start of the Clippers training camp in October. Of [...]
One of the biggest gripes about the Olympic games featuring NBA talent comes from owners – Mark Cuban being one of the more vocal – is the concern about injury while playing in the games. Clippers star Blake Griffin, who just signed a 5-year-$90 million deal with the franchise, twisted his left knee Wednesday during [...]
The New Orleans Hornet's Anthony Davis will replace Blake Griffin on Team USA's Olympics basketball team. Please click the link below to view this story.
All-Star forward Blake Griffin left the Team USA training camp Wednesday, the day his new five-year contract with the Clippers became official, and returned to Los Angeles for an MRI on his left knee. Griffin was injured in a team drill, according to Yahoo Sports, and a source told Sports Illustrated the initial prognosis was "not good." Anthony Davis, the No. 1 pick...
Anthony Davis was seated on the court, the best players in the world towering above him. The NBA rookie had just been fouled while making a 3-pointer, falling backward toward the U.S. bench, looking up to see the likes of LeBron James and Kevin Durant dancing in celebration. The Americans weren't just giddy over the basket. Their joy was in knowing they can count on the kid...
Maybe Mavs owner Mark Cuban is feeling empowered after he incinerated Skip Bayless in his own backyard on First Take, because Sunday night on Twitter he went after ESPN's top dog - Bill Simmons.  What would cause Cuban to fire a shot towards Grantland's sovereign soil?  It began when The Sports Guy didn't exactly give Dallas a ringing endorsement for their offseason...
(Photo Credit: Issac Baldizon/NBAE via Getty Images) As it turns out, yesterday was a pretty active day for the Mavericks. They must have seen my tweet begging them to break their silence. In a move that happened last evening, Mark Cuban and Donnie Nelson made a trade that heavily favors the Mavericks. They sent Ian [...]
NBA News

Delivered to your inbox

You'll also receive Yardbarker's daily Top 10, featuring the best sports stories from around the web. Customize your newsletter to get articles on your favorite sports and teams. And the best part? It's free!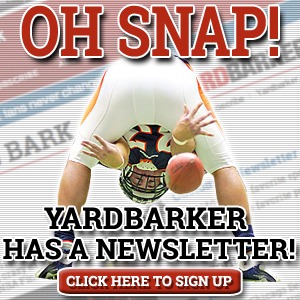 Latest Rumors
The Backyard

Today's Best Stuff

For Bloggers

Join the Yardbarker Network for more promotion, traffic, and money.

Company Info

Help

What is Yardbarker?

Yardbarker is the largest network of sports blogs and pro athlete blogs on the web. This site is the hub of the Yardbarker Network, where our editors and algorithms curate the best sports content from our network and beyond.