Found October 26, 2011 on Hoops Manifesto:
As the NBA lockout rages on, more and more poor, starving, unemployed NBA players are fleeing overseas in search of work in order to feed their families.  But how are these players faring in foreign lands?  Here's our first update, featuring Andrei Kirilenko, Deron Williams, Tony Parker, J.R. Smith and Danilo Gallinari. Danilo Gallinari - Olimpia Milano (Italy)One positive of the lockout is many of the NBA's European players are able to go back home and play in front of family and friends.  Take the Nuggets' Danilo Gallinari, for instance.  Gallo is back playing for Olimpia in Milano, which is who he played for from 2006-2008 before he entered the NBA.  So far Gallinari helped lead the team to victory in it's first Euroleague game (23 points, seven boards) and has them near the top of the Italian League standings with a record of 2-1 (9.3 ppg, 4.0 rpg).Andrei Kirilenko - CSKA Moscow (Russia)Andrei Kirilenko also has enjoyed a homecoming, playing for the Russian (a...
Original Story:
http://www.hoopsmanifesto.com/article...
THE BACKYARD
BEST OF MAXIM
RELATED ARTICLES
And speaking of Danilo Gallinari … San Diego-based rap band Hemmy Hendrix, perhaps following in the footsteps of O'Grime's lyrical devotion to Jonas Valanciunas, yesterday released a hip-hop track named for The Rooster for public consumption. The YouTube "video" is posted below the break and the track may be downloaded here. BiE thinks Milano needs to play this in the pre...
All signs suggest that Kim Kardashian and Kris Humphires marriage WILL END SOON. Another sign that it'll end soon is coming from a report which says that Kim wanted to date a former N.Y. basketball star before dating New Jersey Nets star Kris Humphries, back earlier this year. Wetpaint.com is reporting that Kim Kardashian had producers at E! Network, which is home to her family...
Oh this Kim Kardashian + (insert athlete here) story line continues to get better and better. Recently we told you that Kim Kardashian and Kris Humphries were having marital trouble. That may be the case, but it's likely a good thing for them because it helps keep Kim in the news. Anyway, on to more [...]
Jr Smith is clearly apart of the "ink my whole body" crew. The latest tattoo pays homage to Michael Jordan. Jr has Jordan's retired Bulls jersey and his jumpman logo squeezed into a random obscure spot on his stomach. Wait, I forgot the Jordan…2′s, I believe that's the pair featured also. :shrug: When JR was with the Hornets he rocked #23 too. Tatted for life I guess...
 I'm beginning to think that JR Smith couldn't stop getting tattoos if you paid him to stop. It's tough to estimate just how many tattoos JR Smith has, but if you wanted to go ahead and say he that he has mad tattoos, you'd be correct sir. As you can see, no tattoo on his body can wear the number 23 as JR and his tattoo artist have retired Michael Jordan's jersey too...
Jeez Louise, there doesn't appear to be one square inch on J.R. Smith's upper torso that isn't inked. He's running out of skin, man. He's like the medium character in Clive Barker's "Book of Blood" only the ghosts that write their stories on his skin are dead tattoo artists. Note: Yes, I realize that Clive [...]
  Like former teammates Wilson Chandler and Kenyon Martin shooting guard JR Smith will be hooping it up in China this season. Another of Smith's former teammates is playing overseas as well. Ty Lawson is in Lithuania and doesn't appear to be enjoying it. Despite a frustrating start, it looks like JR is living quite [...]
The Chinese Basketball Association has an insanely high turnover rate for Western players who sign on. The basketball is different, but more so it's the radical culture change that players struggle with, things like the food. J.R. Smith is getting some of that, but he's adjusting. A fascinating post over at Sheridanhoops.com breaks down the…
Not surprised that this story has come out. It's being alleged that Kim Kardashian and her "people" were casting for the role of her New York boyfriend to spice up the first season of her and that's the real story behind she and Kris Humphries link up. But there's MORE, Kris wasn't her first choice (I mean OBVIOUSLY), former Knicks/current Nuggets cutie Danilo Gallinari...
We all know that Kim Kardashian recently married New Jersey Nets forward Kris Humphries but a rumor is abound that another NBA player was being courted to be Kim's boyfriend.It was none other than former New York Knick Danilo Gallinari:A source tells Wetpaint Entertainment that last fall, a representative of E!, the network that airs the many Kardashian reality shows, approached...
NBA News

Delivered to your inbox

You'll also receive Yardbarker's daily Top 10, featuring the best sports stories from around the web. Customize your newsletter to get articles on your favorite sports and teams. And the best part? It's free!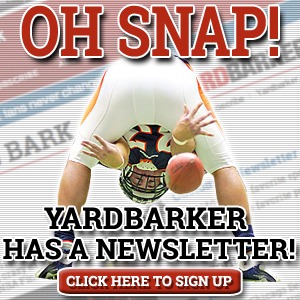 Latest Rumors
The Backyard

Today's Best Stuff

For Bloggers

Join the Yardbarker Network for more promotion, traffic, and money.

Company Info

Help

What is Yardbarker?

Yardbarker is the largest network of sports blogs and pro athlete blogs on the web. This site is the hub of the Yardbarker Network, where our editors and algorithms curate the best sports content from our network and beyond.