Found March 05, 2013 on BlackSportsOnline:
PLAYERS:
Tony Parker
,
Chris Paul
,
LeBron James
,
Zach Randolph
,
James Harden
,
Aaron Brooks
TEAMS:
San Antonio Spurs
,
Los Angeles Clippers
,
Miami Heat
,
Indiana Pacers
,
Los Angeles Lakers
,
Denver Nuggets
,
Memphis Grizzlies
,
Houston Rockets
,
Golden State Warriors
,
Oklahoma City Thunder
,
New York Knicks
The Los Angeles Lakers may not be on this list, but they are back on everyone's radar. For as much hype and undue attention as they got heading into the season, the narrative has run the full gambit. Is it possible to go from being completely overrated to potentially (foolishly) underrated, IF they happen to make it in? Strangely, Tony Parker's injury could actually help the MVP-case for guys like Chris Paul, if the Spurs are able to maintain their position in his absence. MVP Race: I know what I just said…and do want to pay respect to some of the players that have been excellent this year (CP3, Parker, Durant), but LeBron James is going to run away with this award. #1 Miami Heat 44-14 (1): The Heat have won 15-straight, and have the "who's next?" expression these days. Sunday's game with the visiting Indiana Pacers will be an interesting test. Dare I say, statement game? #2 San Antonio Spurs 47-14 (2): The Spurs responded to losing Tony Parker to an ankle injury by thumping the Pistons by 39. The next month (reportedly) should be interesting, as the Spurs are battling OKC for the top seed out West. The Thunder roll into town on Monday, but only after the Bulls and Blazers provide the next tests for San Antonio. #3 Oklahoma City Thunder 43-16 (4): OKC chopped down the Clippers at Staples, and are now in a prime position to chase down the West-leading Spurs. Trouble is, SAS isn't going to simply "let" them back in it. The Lakers, Knicks, Bobcats, and Celtics are on this week's schedule, before the showdown with San Antonio next week. #4 Los Angeles Clippers 42-19 (3): After a tough loss at the 'hands' of OKC, the Clippers find themselves tied in the loss column with the Grizzlies. They are 2-0 vs. Memphis this year, so their remaining meetings with the Grizz (3/13 & 4/13) could prove to be huge if the two teams finish the season deadlocked. Bucks, Nuggets, and Pistons on the schedule this week. #5 Indiana Pacers 38-22 (6): Some people are calling these Pacers the league's best team. I'd probably pump my brakes on that notion, but will say they are one of the more complete and fun teams I've watched this season. Show me what you have when you go into Miami (Sunday), and we'll see where you rank. Taking care of business against the Bulls and Magic along the way wouldn't hurt, either. #6 Denver Nuggets 39-22 (5): I assure you, the Nuggets' dropping a spot has nothing to do with them, and is far more indicative of what the teams around them have done. The Pepsi Center may be the toughest place to play for an opposing team. This is key, as they are actually only 13-19 on the road. The Kings, Clippers, and Timberwolves are on this week's schedule. #7 Memphis Grizzlies 39-19 (7): Memphis hit a bit of a soft spot in their schedule and fully capitalized, as a good team should always do. Could Zach Randolph's claim of "addition by subtraction" (Gay) be right? Next week's road trip (@Blazers, @Clippers, @Nuggets, @Jazz) could end up saying a lot. #8 Houston Rockets 33-28 (10): James Harden continues to impress, and his Rockets have scored 116+ six times over the past two weeks, including 140 and 136 against Golden State and Dallas (respectively). Put simply, these guys are the most potent offense in the league, and just added a familiar face in Aaron Brooks to the mix. Could this team stun one of the top-seeds once the playoffs roll around? #9 New York Knicks 36-21 (8): Carmelo hurts his knee…the Knicks immediately erase a 22-point road deficit and knock off Kyrie Irving's Cavs. Whether this is a fair assessment, that is the narrative that has dominated each of the Knicks' past 2 seasons. If the Knicks stand a chance in the playoffs, Woodson is going to have to find a way to get all of those individual parts to fit. #10 Golden State Warriors 34-27 (9): The Warriors finally stopped the losing streak once they returned home, but still have plenty of cause for concern. Unlike New York's situation, the Warriors simply need Bogut to remain healthy to have a chance at advancing in the opening round of the playoffs. Easier said than done, as the highly effective big man hasn't had a relatively healthy season since three years ago.
Original Story:
http://blacksportsonline.com/home/201...
THE BACKYARD
BEST OF MAXIM
RELATED ARTICLES
For all those riding along on the Tony Parker MVP Bandwagon, the road to the Maurice Podoloff Trophy has hit a few potholes. And it's not because Parker is out for a month with a bum ankle. No, because the Spurs never seem to hit any potholes. San Antonio just keeps winning, moving to 2-0 without Parker after rolling over the Chicago Bulls in the second half in Wednesday...
  It has been declared that Tony Parker will be out for around four weeks with an ankle injury. Yes this news may be a few days late, but the message is new and gives hope to the fans of the San Antonio Spurs. The Spurs' hold on the number one seed in the West may be in trouble, but with the majority of their remaining games at home and the fact that they rarely lose in front...
Prior to his ankle injury, San Antonio Spurs' Tony Parker was playing on a whole other level this season which has garnered him some consideration as a possible NBA MVP for this season. As if that wasn't enough for TP, he also signed on with PEAK (leaving Nike) and will now sport their basketball sneakers on the court. In the video below, Parker talks about why he...
In the Spurs' win over the Kings on Friday night, Parker sustained a grade 2 sprain to his left ankle, an injury that will cause him to miss around four weeks   The constantly injury-riddled San Antonio Spurs suffered yet another unfortunate blow to their core as a routine win over the hapless Sacramento Kings resulted in an ankle injury for star point Tony...
SAN ANTONIO (AP) -- Tim Duncan insists the San Antonio Spurs are still trying to find their way on offense without All-Star point guard Tony Parker. They sure looked smooth Sunday night. San Antonio had one of its most efficient games this season, routing the Detroit Pistons 114-75 in its first game since Parker was injured. Manu Ginobili scored 17 points, Duncan had 16 points...
Tony Parker turned 30 this season, just two days prior to the San Antonio Spurs' 86-84 victory over the Oklahoma City Thunder. Parker drained the game-winning bucket -- a wide-open mid-range shot, created  by both pristine offensive execution and Russell Westbrook's costly defensive mishap. It was a sign of things to come. Since then, the Frenchman has produced his finest...
San Antonio Spurs' Tony Parker joined Bill Simmons in an exclusive interview of the "B.S. Report". Parker talks about being underrated in the league, which he shrugs off saying it's because he plays for the San Antonio Spurs. Parker also discusses the Western Conference Finals loss to the Oklahoma City Thunder and James Harden being traded. Needless to say he...
On this new episode of the Project Spurs-News 4 San Antonio Spurs Roundtable, Jeff Garcia and Kyle Boenitz discuss the guard depth for the San Antonio Spurs now that the team will be without All-Star guard Tony Parker who is dealing with a left ankle injury suffered recently. So who will not step up? We take a look at the Spurs depth chart at the guard spot and who will mostly...
We've known for a long time that Tim Duncan was almost a member of the Boston Celtics coming out of college (Celtics had the best chance to get the first pick in the draft), but did you know that Tony Parker was also almost a member of the Celtics? That's right, over NBA All-Star Weekend, Parker revealed to Grantland's Bill Simmons (nine minute mark) that he was literally...
It's only been five quarters since Tony Parker, the San Antonio Spurs' definitive Most Valuable Player, sprained his left ankle. He will miss four weeks with a Grade 2 ankle sprain. But the numbers have been impressive regardless: 148 points, 48 assists, 12 3-pointers and 53.2 percent shooting. All numbers are well above average, even for one of the league's best...
Parker suffers ankle injury Tony Parker's eyes were perhaps getting a little big for his stomach. These last two years, Parker has transformed himself into one of the premier point guards in the league. Maybe the 2007 Finals MVP was that already, but now Gregg Popovich has turned the team over to him and told him to dominate the same way he does when he plays for the French...
The San Antonio Spurs are preparing to begin a four-week stretch of games where they're expected to be without their All-Star point guard Tony Parker, as their first opponent during the stretch will be the visiting Detroit Pistons. Spurs head coach Gregg Popovich said guard Gary Neal (tightness, left calf) and forward Boris Diaw (low back strain) will also join Parker on...
NBA News

Delivered to your inbox

You'll also receive Yardbarker's daily Top 10, featuring the best sports stories from around the web. Customize your newsletter to get articles on your favorite sports and teams. And the best part? It's free!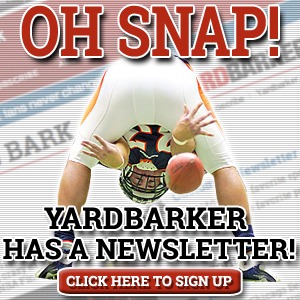 Latest Rumors
Best of Yardbarker

Today's Best Stuff

For Bloggers

Join the Yardbarker Network for more promotion, traffic, and money.

Company Info

Help

What is Yardbarker?

Yardbarker is the largest network of sports blogs and pro athlete blogs on the web. This site is the hub of the Yardbarker Network, where our editors and algorithms curate the best sports content from our network and beyond.