Found December 20, 2011 on Jocks and Stiletto Jill:
It's only the pre-season (6 more days until the NBA season officially kicks off) but I'm going to say that it's not wrong to be excited about the Clippers this year. Wait, I know you hear that from me every year but if you watched the pre-season game last night between the Lakers and the Clippers, then you know that there is definitely a feeling of something different.
Clippers took this one 114-95. Lob City is in FULL EFFECT!! Or maybe "Lob Angeles?  Check out this DeAndre Jordan dunk over Pau Gasol and Andrew Bynum
Remember Blake Griffin and DeAndre Jordan were #2 and #3 for dunks made last season…
That Chris Paul guy, 17 points, 9 assists and he connected with DeAndre for a lob. Don't forget the Clippers signed Chauncey Billups too, he had 23 points AND connected with Blake for a lob off the backboard, "Lob City."
Kobe went in the 3rd quarter he hit the court and landed on his right wrist after a block from DeAndre Jordan. Kobe stayed in the game another 3 minutes he seems to be ok :fingers crossed: Mamba finished up with 22 points. I think Josh McRoberts might turn out to be a decent pick up for the Lakers. His lone basket of the night was off of a KB pass and he had an assist where he quickly flipped it to Pau for 2. Will he replace LO, no but it could be ok. Steve Blake was the starting point guard, he had 5 assists. I have to tell you, it was cool to hear "World Peace" but he didn't really do much for basketball peace.
Matt Barnes started the game at SF. He came up scoreless and only played for 11 minutes. He's coming back from knee surgery. I have no comment on Mike Brown yet but, I wonder if he's regretting his decision to purchase a home in the Orange County area now that it appears Kobe won't be out that way anymore. Well, if something doesn't go right pretty quickly for Brown and the Lakers, I'd imagine it may not matter where he chose to live.
But it's too early for those thoughts right!
Like I've always said either way, I win when the Clippers play the Lakers (no really, check the archives I've always been a fan of both teams, don't try to dictate my fandom bro) it's cool to see the lil brother grow up. If there was ever a time for the spotlight to shift, this is it.
The only down side to this. Clipper tickets used to be cheap and readily available. Not so much now.
Original Story:
http://jocksandstilettojill.com/2011/...
THE BACKYARD
BEST OF MAXIM
RELATED ARTICLES
Monday night, Los Angeles' two NBA franchises the Clippers and Lakers squared off in the first preseason game for both teams. The Lakers are coming into the season with a new coach and, besides a couple reserve forwards, basically the same team that was swept by the Mavericks in last season's playoffs. The Clippers on [...]
AIR JORDAN
That didn't take long.
Precisely 3 minutes and 25 seconds into Lob City's first preseason game, DeAndre Jordan did the honors of officially announcing their arrival onto the basketball scene.  They did not arrive quietly…   Last night, if only for the duration of one preseason game, the LA Clippers were not only on top of the City of Los Angeles, but the entire basketball world.  Credit the initial...
Well I guess the torch has passed in LA huh?  The Lakers went down to the Clippers 114-95 last night in a pre-season game.  I guess I can't technically say the torch has passed yet, but it's beginning to look that way.  The Lakers seriously need to make a move in order to compete out west.  Oh yea, and the Clippers have two high flyers now.  This was DeAndre Jordan...
Los Angeles Clippers' DeAndre Jordan had an absolutely filthy dunk in a preseason game against the in-town rivals on Monday night. "Man, DeAndre Jordan threw down on $33 million worth of Lakers big men," tweeted J.A. Adande, media. Although it wasn't a 'Lob City' dunk, the addition of Chris Paul to the Clippers will result...Read the Rest...
The Los Angeles Clippers shot up to the top of many NBA fans' must see TV for this season when they traded for all-star guard Chris Paul. The news of the trade was a welcome one for the Clippers two young high flyers Blake Griffin and DeAndre Jordan, who coined the term "Lob City" as soon as they found out. In their second (and final, thanks lockout) the dunking...
Let's not get excited. The Clippers may have beaten the Lakers by a considerable margin in an exhibition game on Monday night, but that's why it was an exhibition game. Okay, you can get a little excited.  When Blake Griffin first got the news about Chris Paul coming to the Clippers he acted like an excited 12-year-old who just realized he and his best friend got drafted by...
For those of you who missed last night's preseason the Los Angeles Clippers dunkfest against the Los Angeles Lakers, here is a recap of what happened in terms of dunking: Here are some of the better dunks in full HD:
Write this down: the Clippers are going to be really fun to watch this season. In the first quarter of what might have been the most-watched preseason game in NBA history, DeAndre Jordan announced the Clippers' arrival emphatically. I still have reservations as to whether the Clippers are good enough to challenge the best teams in the Western conference. My three...
It's only the preseason, and not a very good or very long one at that. And it certainly should not be indicative of what we should expect from the Los Angeles Clippers or Los Angeles Lakers in this truncated 66-game season. But if you'll allow the Clippers' 19-point win over the Lakers on Monday to be slightly telling? Then the Clips just told the old men off. And DeAndre...
Clippers 114 @ Lakers 95: The most exciting preseason game ever played?  Quite possibly.  Lob City ran amok on the poor Lakers tonight, who could do absolutely nothing but watch as DeAndre Jordan repeatedly hurled the ball through the rim with the utmost authority.  The abuse wasn't limited to that end of the floor, either.  I believe it was early in the second half when the...
DeAndre Jordan is going to love him some Chris Paul. Those two hooked up a couple of times for big plays as the Clippers rolled the Lakers in an exhibition (see more dunks below). Paul looked good but this is an exhibition, so we're not going to read a lot into it. However, the steady…
NBA News

Delivered to your inbox

You'll also receive Yardbarker's daily Top 10, featuring the best sports stories from around the web. Customize your newsletter to get articles on your favorite sports and teams. And the best part? It's free!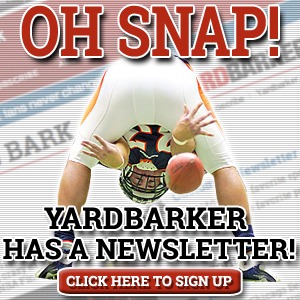 Latest Rumors
Best of Yardbarker

Today's Best Stuff

For Bloggers

Join the Yardbarker Network for more promotion, traffic, and money.

Company Info

Help

What is Yardbarker?

Yardbarker is the largest network of sports blogs and pro athlete blogs on the web. This site is the hub of the Yardbarker Network, where our editors and algorithms curate the best sports content from our network and beyond.