NBA Referee Hotline Bling: David Fizdale calls B.S.
It's safe to say Memphis Grizzlies coach David Fizdale is not a fan of how his team is being officiated against the San Antonio Spurs.
Eric Gay/Associated Press
The NBA has a new hotline for players to call and speak their mind about NBA referees. It's active during the playoffs, unlike half the teams in the league and Boston's rebounders. Each week, we'll present a look at the hotline's responses, which are about as real as Deron Williams' hairline. We know when that hotline blings, that can only mean one thing: a rookie coach is "Popping" off.
David Fizdale vs. The Refs
Dear Mr. Fizdale,
Thank you for your passionate call about the foul disparity in Game 2 of your series against the Spurs. We're impressed, we're confused and we're a little bit scared. After some discussion, we have decided that we're not going to rook you, and we will in fact take that for data.
You said, "I'm not a numbers guy, but that doesn't add up." Maybe not, but you are definitely a words guy! That's one of the best turns of phrase of the 2016-17 season, right up there with the Utah "STAYWARD" billboard for Gordon Hayward. However, we do have a few follow-up questions.
Are the Spurs who you thought they were? Do you feel like you let them off the hook? Did the Grizzlies play to win the game? Obviously we can't talk about playoffs, but are we allowed to talk about practice? Did both teams play hard? Is Rudy Gay walking through that door? Is Shareef Abdur-Rahim walking through that door? How about Bryant "Big Country" Reeves — is he walking through that door?
Oh, and to answer your earlier question, Zach Randolph didn't get foul calls because he took most of his shots outside the paint and he's 35 years old. Also you will be receiving a $25K fine for criticizing the officials. Rookie mistake.
Cautiously yours, NBA Referee Hotline
Billy Donovan vs. the Houston Rockets
Dear Mr. Donovan,

We want to stress that this hotline is for comments about officiating. If you're calling to report a fire, please call 9/11! Our operators are still haunted by the panic and despair in your voice as you described the Rockets that were torching your poor defenders. But it was confusing! 
First we assumed it was a kitchen fire when you shouted that Enes Kanter was getting cooked. Then we thought it was arson, or perhaps an attempted homicide, as you insisted that Patrick Beverley was torching everyone. Finally, we speculated that it was a construction issue, as you claimed the interior was completely collapsing.

So none of this was arson or against the NBA rules at all. It did appear to be quite a spectacle: a three-alarm, multi-level offensive inferno, or as professional firefighters call it, a triple-double. In the future, keep extinguishers handy and don't let Victor Oladipo handle them — he's going to miss every flame. Or call Mike D'Antoni's fire brigade. Once they hear the alarm, these firefighters are heading to the pole in seven seconds or less.

Smokily yours, NBA Referee Hotline

Carmelo Anthony vs. Phil Jackson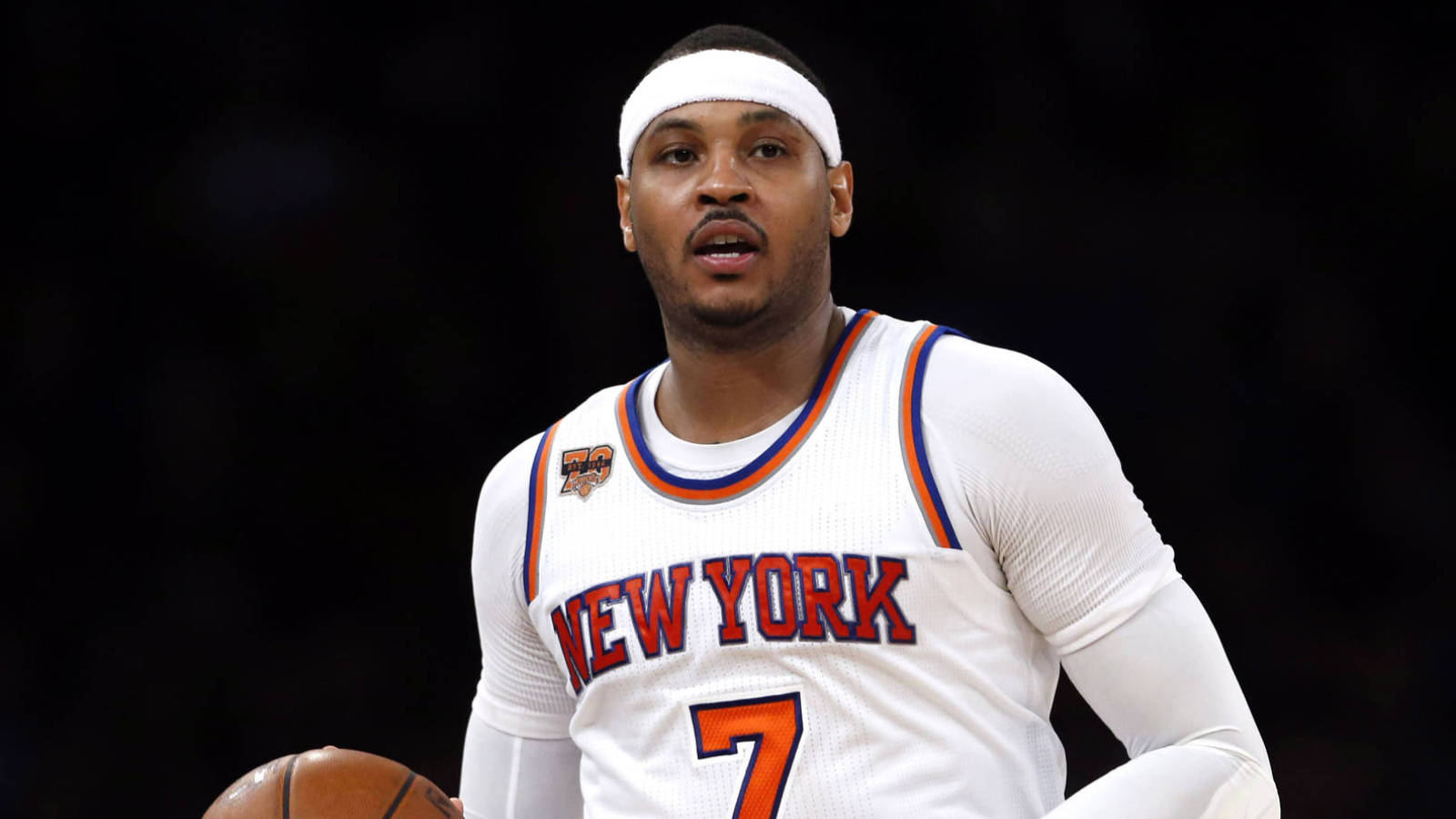 Is Carmelo Anthony's time with the Knicks over?
Noah K. Murray/USA TODAY Sports
Dear Mr. Anthony,

Thank you for your call expressing your concerns about Mr. Jackson. He spent a great deal of the year belittling you through surrogates and criticizing your play, seemingly trying to drive you out of town. Last week Mr. Jackson said you were "a player who would be better somewhere else." Now, reportedly the season of discord led to your separation from your wife. We sympathize, but we cannot call fouls on executives.

We agree, you had clearly established position in New York City before Mr. Jackson arrived. This means he had a duty to respect your space. Unless you entered the restricted area — the practice space for J.D. & the Straight Shot. Many of his statements and comparisons were clear reaches. And retweeting an article openly critical of one of his own players? You don't need a replay review to know that's clearly out of bounds.

It's also possible that Mr. Jackson is upset about his own breakup and is lashing out. He might feel hurt that he's been replaced by Jay Mohr, a worse insult than being replaced by Mike Brown. It's like when Shaq would react to a perceived non-call by running down court and hammering the opposing center. Only you don't exactly get "hammered" from peyote.

Mr. Anthony, often the officials — or the universe — correct things in the form of a makeup call. Or a booty call. As such, we wish you good luck at your next NBA destination, where it looks like you'll be focused on rebounding.

Sincerely yours, NBA Referee Hotline

Giannis Antetokounmpo vs. DeMar DeRozan
Dear Mr. Antetokounmpo,

Congratulations on your Game 1 victory and a very impressive block on Mr. DeRozan. We appreciate your enthusiasm, but unfortunately, pumping your fist is  an automatic technical. This dates back to the past decade, where the NBA was dealing with the aftermath of the Malice at the Palace and, worse, the aftermath of the MTV sensation, "Jersey Shore." As such, you can also get a technical for:

Gym, tanning and laundry on the sidelines
Getting self-tanner on the ball
Getting hair gel on the ball
Snooking on the ball
Throwing up on the ball
Asking a sideline reporter to smash
Openly doing a bunch of steroids
There is a gray area when it comes to taunting, boastful language and showing up another player, but obviously that is dependent on the "Situation."

We noticed that Mr. DeRozan was very upset, but don't take it too hard. He was mad because you'd broken one of his unwritten rules of basketball: Don't beat the crap out of DeMar DeRozan's team. It's just plain disrespectful (to beat a team by double digits on the road).

Freakishly yours, NBA Referee Hotline

MORE FROM YARDBARKER:
MORE FROM YARDBARKER
NBA News

Delivered to your inbox

You'll also receive Yardbarker's daily Top 10, featuring the best sports stories from around the web. Customize your newsletter to get articles on your favorite sports and teams. And the best part? It's free!