Found March 17, 2012 on Fox Sports Ohio:
PLAYERS:
Luke Walton
,
Ramon Sessions
,
Mike Brown
,
Bill Walton
,
Kobe Bryant
,
Byron Scott
,
Alonzo Gee
,
Omri Casspi
,
Mitch Kupchak
,
Tristan Thompson
,
Ryan Hollins
,
Manny Harris
,
Jason Kapono
,
Derek Fisher
TEAMS:
Cleveland Cavaliers
,
Los Angeles Lakers
,
Houston Rockets
INDEPENDENCE, Ohio -- Luke Walton leaned against a wall, holding a basketball and wearing a wide smile. He looked ready to play. Walton is a 31-year old small forward and Laker for life -- until Thursday, when the Lakers shipped him to the Cavaliers as part of the Ramon Sessions trade. But Walton seemed OK with that, as former Cavs coach Mike Brown really found no use for him in LA. With the Lakers, Walton played in just nine games, averaging 7.2 minutes. At one time, he was a key part of Phil Jacksons rotation and a major player in the Triangle offense. But for the Lakers, those days are long gone. We werent on the same page, Walton said from the Cavs practice facility Saturday. I felt great and was playing well. Mike said he was going with a certain rotation. With the shortened season and not that many practices, there werent many opportunities to earn time. Walton, of course, is the son of legendary NBA center Bill Walton. Like his father, he gained a reputation as a proficient passer. During many of those Lakers title runs, Walton was credited with keeping the ball moving and getting it in the hands of some of his more illustrious teammates, such as Kobe Bryant. Hes pretty smart, Cavs coach Byron Scott said of Walton. He knows how to play the game. He understands basketball. Being in that family all his life, its pretty obvious that he has a (high) basketball IQ. The Cavaliers already had two small forwards on the roster in Alonzo Gee and Omri Casspi. Both have started. So just like in LA, Walton may be the victim of a numbers (and minutes) crunch. But maybe not, too. I dont know yet, Scott said of how much hell use Walton. I want to see how quickly he grasps everything. As far as playing him and things like that, Im not ruling it out, put it that way. Walton is a California guy. He played college basketball at Arizona, then returned to his home state as a pro. He said the trade East took him by surprise. I was sick and missed the whole road trip the week before, he said. I was in bed all week. I finally felt good on Thursday morning, then got the call from (Lakers general manager Mitch Kupchak) saying, 'Sorry, but it's been done.' I had 48 hours to get on a plane and get to Cleveland. This is Waltons ninth NBA season. His best year came in 2006-07, when he averaged career-highs in points (11.4), rebounds (5.1) and assists (4.3). Numbers-wise, its been all downhill since. But he feels like he can still contribute. And now that hes a member of the Cavs, hes like everyone else. He wants to play -- and he wants to win. Im definitely excited about it, he said. I had a great run in LA. I was there 8 years. Its a chance to do something new. We have a great young team here. The first thing I did was get on the laptop and see if we have a chance to make the playoffs. Were only two games out. Its exciting to be out here and work with some of these young guys and try to make a run. Thompson to start Scott said rookie big man Tristan Thompson will start for the first time in Sundays home game vs. Atlanta (3 p.m., FOX Sports Ohio). Thompson will replace Ryan Hollins at center, Scott said. That makes us small but I figured what the heck, Scott said. Hes been playing at that position as a reserve, so lets start him and see how he plays. Thompson is averaging 6.7 points and 5.7 rebounds. He scored 16 in the Cavs only other game against the Hawks this season. He took the promotion in stride. Your name just gets called earlier and Ill just come out there and play hard, Thompson said. Im going to do what Ive done all year, run the floor, rebound and be aggressive. Dribbles Guard Manny Harris has returned to the Cavs and been signed for the rest of the season. The Cavs waived Jason Kapono, who came with Walton in the Lakers trade, to clear the roster spot. Scott said and GM Chris Grant will keep an eye on the waiver wire. When have guys that are going to get waived, you have to take a list at that list, Scott said. There might be somebody on that list that we like. Walton said the back issues that have plagued him recently barely exist today. I have a lower back vertebra issuepinched nerve thing going on, he said. Its slowly getting better. It stopped hurting this year. Im crossing my fingers. Ramon Sessions scored 7 points and passed for 4 assists in his unexpected Lakers debut Friday, a win over Minnesota. The Lakers traded longtime favorite Derek Fisher (to Houston) to make room for Sessions. I'm not here to replace Fisher," Sessions told LA reporters. "I'm just here to do whatever they need me to do and try to win games. The Lakers are an NBA-best 19-2 at home. Follow Sam Amico on Twitter @SamAmicoFSO
Original Story:
http://www.foxsportsohio.com/03/17/12...
THE BACKYARD
BEST OF MAXIM
RELATED ARTICLES
Adrian Wojnarowski of Yahoo! reports via his twitter that the Cavaliers won't have to worry about what number Jason Kapono might wear. Now that that's solved, all that remains is to figure out what the Cavs will be able to get out of Luke Walton. It seemed like the Cavs weren't treating Walton like just a body in a trade. Then again, I might have thought the Cavs could use...
Celebrate good times L.A. because Luke Walton is finally off your hands. Watch this cleverly edited video showing Los Angeles Lakers fans taking to the streets to celebrate the fact that their teams has finally freed themselves of the dreaded Luke Walton. The Lakes look to be big winners in this deal as they packaged the insanely over-paid Walton, Jason Kapono, and 2012 1st round...
The Cleveland Cavaliers have officially signed guard Manny Harris for the remainder of the 2011-12 season, Cavaliers General Manager Chris Grant announced today. Per league and team policy, terms of the contract were not announced. Additionally, the Cavaliers have waived forward Jason Kapono. Harris most recently completed a second 10-day contract with the Cavaliers on March 11th...
In the coming and going of players in the past few days for the Cavaliers, a familiar face is coming back. Jason Lloyd of the Akron Beacon Journal reports that the corresponding roster move with buying out three-point specialist Jason Kapono, acquired in the Sessions trade on Thursday, would be to sign Harris for the rest of the season. Manny signed two 10-day contracts with the...
The Cleveland Cavaliers waived forward Jason Kopono Saturday.Kopono was acquired two days ago from the Los Angeles Lakers as part of the deal that sent Ramon Sessions and Christian Eyenga to the Lakers for Luke Walton and a first-round draft pick.The two-time NBA Three-Point Shootout champion averaged two points per game in limited minutes for the Lakers this season.
As another trade deadline came and went, Cleveland Cavaliers general manager Chris Grant sat before the media collective and discussed his most recent bout with franchise yoga. After weeks of unrolling the team's proverbial mat, discussions of potential poses and the deflection of all desctrations during the methodical inhales and exhales, the team left its second consecutive...
The Cavaliers have signed PG Donald Sloan to the team for the rest of the season the team announced today. Sloan was playing for the Erie Bayhawks of the developmental league, and was generally considered the best point guard available in the D league. His stats- In eight games (all starts), Sloan has averaged 22.8 points on .496 shooting, 5.1 rebounds, 7.4 assists and 1.4 steals...
CLEVELAND (AP) -- Joe Johnson scored 28 points and the short-handed Atlanta Hawks rolled to a 103-87 win over the Cleveland Cavaliers on Sunday. Atlanta had only 10 players available, but took an early lead that it never relinquished. The Hawks built a 19-point lead midway through the third quarter and answered Cleveland's only run late in the period to win going away. Alonzo...
On Sunday I used my credentialed access to the Cavs / Hawks game in order to ask a couple players a few of the questions that I received from the Cleveland Cavaliers Twittersphere leading up to the game, and I appreciate everybody who tweeted questions at me for that. I ended up asking Tristan Thompson two of the questions that I received before the game, and Luke Walton a third...
Kyrie Irving is returning to the state where he starred in high school. Deron Williams will be waiting for him. A former New Jersey high school standout, Irving will try to help his Cleveland Cavaliers end a three-game slide Monday night against Williams and the New Jersey Nets. Irving leads all rookies with 18.6 points per game as he plays his first professional game in the Garden...
For Laker fans everywhere, today was supposed to feel like Christmas. They were supposed to finally land Dwight Howard, a young PG and a Red Ryder BB Gun. At first, everything seemed to be going well. The Lakers traded away Luke Walton and the contract from Hell to the Cavs along with a first pick for Ramon Sessions and Christian Eyenga. A great move, given that this...
NBA News

Delivered to your inbox

You'll also receive Yardbarker's daily Top 10, featuring the best sports stories from around the web. Customize your newsletter to get articles on your favorite sports and teams. And the best part? It's free!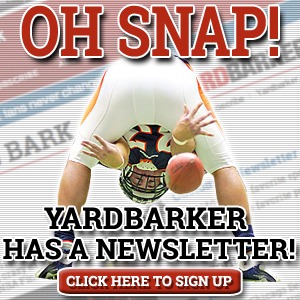 Latest Rumors
The Backyard

Today's Best Stuff

For Bloggers

Join the Yardbarker Network for more promotion, traffic, and money.

Company Info

Help

What is Yardbarker?

Yardbarker is the largest network of sports blogs and pro athlete blogs on the web. This site is the hub of the Yardbarker Network, where our editors and algorithms curate the best sports content from our network and beyond.