Found March 15, 2013 on Waiting For Next Year:
PLAYERS:
Anthony Davis
,
David Stern
,
Monty Williams
,
Marc Gasol
,
Ryan Anderson
,
Dion Waiters
,
Harrison Barnes
,
Klay Thompson
TEAMS:
New Orleans Pelicans
,
Memphis Grizzlies
,
Cleveland Cavaliers
,
Golden State Warriors
With the Cavaliers having two rookies playing prominent minutes, WFNY thought it would beneficial to see how the fresh meat around the league is faring in comparison with the Cavalier rookies. Each week, we'll have NBA rookie power rankings where we'll rack and stack the freshman class of the NBA. The rankings will be weighted with the most recent games carrying the most importance, but the whole body of work will be taken into account. Great nicknames, beards, and great celebrations may also play a large factor. 1. Damian Lillard (Previously: 1) If I were Damian Lillard, I'd be sending text after text to that evil elf, David Stern, asking where my trophy is? The ROY race is locked up, it's over. After capturing the Rookie of the Month award for the 4th time this February, DL has hit March, full steam ahead. Game after game, the Blazers guard continues to put up 20 plus points, including a monster 35 point, 9 assist effort as the Blazers embarassed Western Conference leaders San Antonio last weekend. Lillard led the Blazers to a whopping 79 points in the second half, including 46 in the 4th, to slam the door shut on the Spurs and hand them their worst loss of the Timmy Duncan era.Being the first player in NBA history to score 900 points and make 100 3-pointers in your first 50 games is starting to come with some perks. This week Adidas unveiled a teaser for a new national commercial featuring the Blazers' young star. It's no Uncle Drew, but an opportunity nonetheless to make Lillard a household name outside of the Pacific Northwest. 2. Anthony Davis (Previously: 4) Maybe it has to do with him playing 30 plus minutes a night, maybe he got wind that he dropped in these rankings, or maybe the Monstars decided to give him his talent back, but whatever it is Anthony Davis is balling. Since returning from his shoulder injury The Brow is logging big boy minutes, and rewarding coach Monty Williams with big boy play. Davis is finally starting to look like the transcendent player he was drafted to be. His minutes have gone up as have his shot attempts, nearing 14 per game. He has four double-doubles in his last five games, highlighted by a Herculean 20 and 18 against Marc Gasol and the Grizzlies and outplaying Damian Lillard in a win over Portland. The last few moments of the Davis/Lillard battle was a treat for anyone looking towards the future of the NBA. Davis corralled a huge offensive rebound that set up Ryan Anderson's go ahead 3-pointer with 15 seconds left to give the Hornets a two point lead. Then with Glacier Freeze running through his veins Lillard answered with a 3 of his own to put Portland back on top. Anderson would convert again for New Orleans to give them back a one point lead, and on the final chance for the Blazers, it was Anthony Davis who secured the win for the Hornets, forcing Blazers' guard Wesley Mathews to miss a desperation shot at the buzzer. 3. Dion Waiters (Previously: 2) The day has come where you can pencil in Dion Waiters for 20 points night in and night out. What Cavs fan wouldn't have signed up last June for the fourth overall pick to be playing like Waiters has these past few months. Dion has shown the ability to stroke jumpers, viciously attacking the hole, and get to the line. That's about everything you want in a scorer. He's not a shooter by any means, but Dion Waiters can score in the NBA. With Kyrie most likely out for the rest of the year, the spotlight is even more so on Mr. Waiters. All be it that spotlight being shined by the Cavs' fans and media is much dimmer than it was when the season still meant something and when Irving was healthy, but nonetheless Dion Waiters is front and center. Kyrie earned the nickname "Mr. Fourth Quarter" for his ability to shine when things get tight, but with Kyrie out, Dion has borrowed the "Mr. Fourth Quarter" moniker. Against Toronto and Washington it was Waiters, not Irving who had to put the team on his back in the final frame. Waiters was a combined 7 for 12 from the field and 8 for 12 from the line for a total of 25 points in the fourth quarter in the loss against Toronto and the win vs. Washington. Dion has no issue having the ball in his hands when things get tough. He has the ability to get to the rim at will, and is now getting respect from the officials that is earning him trips to the line. But to be a true "Mr. Fourth Quarter" you've got to hit those free throws and get lost a little less on the defensive side of the floor. Regardless, it's becoming crystal clear Chris Grant made the right choice taking Dion at number 4. 4. Harrison Barnes (Previously: NR) After Lillard, Davis, Beal, and Waiters the production from rookies drops off significantly, but due to Beal's injury Barnes finds himself at number 4. Barnes is by far on the best team of the five rookies, thus is required to carry the lightest load. Barnes had a strong game in a loss against Detroit where he was 6-7 from the field for 13 points, and 3 monster slams in only 18 minutes of action. One of the knocks on Barnes is that he is often out there playing not make a mistake in his limited minutes instead of aggressively trying to make plays. This is understandable from a rookie on a team fighting for their playoff lives, but Barnes brings an athleticism to the Warriors' lineup that no one else on the team can match. This is something both he and coach Mark Jackson need to realize. In crunch time Mark Jackson has been playing Steph Curry, Jarret Jack, and Klay Thompson leaving Barnes on the bench. Thompson can fill it up from outside, but is very one dimensional at times, which is why many in the Golden State blogosphere are calling for more minutes, particularly crunch time minutes, for the rookie from UNC. 5. Bradley Beal (Previously: 3) Beal has missed the past five games with an ankle injury and it appears Washington is in no rush to get their promising shooting guard back on the court…cough…tanking…cough. But because of the lack of other options and his strong start to the month before the injury, Beal hangs onto the 5th spot this week. Against New York back on March 1st, Beal was the best player on the court all game, and that includes Carmello. Beal had the best game of his career scoring 29 points to go with 11 rebounds. That marked the second time in five games Washington's shooting guard pulled in double digit rebounds. Beal is proving he's more than just a knockdown shooter, he's mixing it up with the big fellas on the boards, and showing the ability to penetrate and get to the hoop. When watching the highlights of Beal's big night, one play jumped out more than the others. Coming off a high ball screen, Beal crossed over to split the double team, shifted into a high gear, and exploded through the paint absorbed contact, and finished with his left. A move that looked eerily Dion Waiters like. Playing the same position, and being drafted consecutively, Beal and Waiters will most definitely be linked together for the years to come. Follow Ryan Jones on Twitter @Czarjonesey7
Original Story:
http://www.waitingfornextyear.com/201...
THE BACKYARD
BEST OF MAXIM
RELATED ARTICLES
Last week, I went over some winning plays on the defensive end against the Jazz in a come from behind victory. This week, I'm getting to a topic that's long overdue. Sure, I talked about Marreese Speights's energy and scoring a while back, but that's just really scratching the surface of a larger theme. Today, I'll give a round of applause to the entire Cavs' second five...
You didn't expect Dirk Nowitzki to miss all of 'em, did you? The Big German finished with just 13 points on 6-17 shooting, but his final two buckets sealed the game as Dallas came back to beat the Cavaliers 96-86. The Cavaliers led by an many as eleven points and held a 48-36 advantage at halftime, but turnovers, stagnant offense and horrendous defense doomed the Cavaliers in...
Despite his recent injury, the accolades continue to pile up for Kyrie Irving in 2013. On the heels of winning the NBA 3-point shootout in February—along with making his All-Star Game debut—Irving was named this week to the Bloomberg Power 100 List for the first time. This list is a Bloomberg Sports and Horrow Sports Ventures collaborative project published annually...
                                                      AT                                        Friday, March 15th, 2013 7:00 PM ET TV: Comcast SportsNet HD Steve Buckhantz and Phil Chenier   Radio: 106.7 FM/1500 AM Dave Johnson and Glenn Consor   Greivis Vasquez John Wall ...
Tonight's matchup will be between Tim Duncan and Tristan Thompson when the Cleveland Cavaliers visit the San Antonio Spurs on Saturday night. The Cleveland Cavaliers are coming off a disappointing loss to the Dallas Mavericks and will be looking to play spoiler to the Spurs' number one seed hopes tonight. Tristan Thompson played a starter low 30 minutes last night while...
John Wall had blogger's row in a frenzy last night as he relentlessly knocked down 12 jumpers from just about every spot on the floor against the New Orleans Hornets. 15,000-plus bulging eyes witnessed one of the more memorable night's of John's career, which began with three first half 3-pointers en route to a season-high 29 points. John discussed his surging improvement...
NBA News

Delivered to your inbox

You'll also receive Yardbarker's daily Top 10, featuring the best sports stories from around the web. Customize your newsletter to get articles on your favorite sports and teams. And the best part? It's free!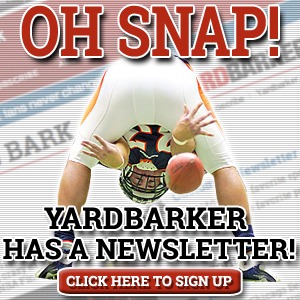 Latest Rumors
Best of Yardbarker

Today's Best Stuff

For Bloggers

Join the Yardbarker Network for more promotion, traffic, and money.

Company Info

Help

What is Yardbarker?

Yardbarker is the largest network of sports blogs and pro athlete blogs on the web. This site is the hub of the Yardbarker Network, where our editors and algorithms curate the best sports content from our network and beyond.