Found February 25, 2012 on Midwest Sports Fans:
I remarked on Twitter last night that the definition of the word "celebrity" clearly has been devalued if the event that kicked off last night's NBA All Star Weekend was truly a "Celebrity" All Star Game. Josh touched on this as well here. Yet, when I woke up this morning, I saw a few tweets suggesting that it was the highest (or at least one of the highest) rated NBA All Star Weekend Celebrity All Star Game ever. Granted, it's not like the event has a storied history of high ratings; but still, when Doug Gottlieb is one of your headlining "stars" I don't really consider it a lineup full of celebs worth tuning into. Apparently many others disagreed with me. So, despite my own personal feelings that tonight's Slam Dunk Contest leaves a lot to be desired in terms of the field, maybe the draw and stature of the event itself will be enough to convince folks to tune in. For those planning to do so, this post is for you. The 2012 Slam Dunk Contest participants: Derrick Williams, Paul George, Jeremy Evans, and Chase Buddinger (Screenshot from NBA.com/dunk) First, a couple of essential links that I encourage you to click on. As you'll see below, this year's list of Slam Dunk Contest participants is a little underwhelming. Our own Chris Callaway doesn't think it needs to be that way and he outlined his simple (if impossible) way to improve the Slam Dunk Contest moving forward. Also, you may have missed Josh Tinley's post from earlier this week in which he counted down the top 10 dunks in the history of the Slam Dunk Contest. Josh's choices were certainly controversial, as commenters have let Josh know about some notable dunks he omitted. But hey, with a contest that has created as many memorable moments as this one has, tough choices must be made in any top 10 list. And now, let's get to this year's Slam Dunk Contest. First, all the basic info you need to know: 2012 Slam Dunk Contest Info
Start Time: 8:00 ET
TV: TNT
Location: Orlando, Florida
Title Sponsor: Sprite
Official Website: http://www.nba.com/dunk/
Event history and list of winners: http://www.nba.com/allstar/2012/dunk-contest/index.html
And there is something new this year called "Slam Net Force." Learn about it here. 2012 Slam Dunk Contest Participants Now let's quickly preview the much-maligned field for the 2012 Slam Dunk Contest. No LeBron (of course). No Dwight. No Vince, JRich, or Nate Robinson. Really, there is no name value at all. But hey, who the hell was Dee Brown or Cedric Ceballos before the Dunk Contest right? Maybe one of these guys will be the next unheralded dunker to do something special in the Dunk Contest. Paul George
Indiana Pacers
6'8, 215
21 years old
Fresno State
—– Chase Buddinger
Houston Rockets
6'7, 218
23 years old
Arizona Wildcats
—– Derrick Williams
Minnesota Timberwolves
6'8, 241
20 years old
Arizona Wildcats
—– Jeremy Evans
Utah Jazz
6'9, 194
24 years old
Western Kentucky
Evans is replacing injured Iman Shumpert
********** After watching the videos, who ya got? Note: There is a poll embedded within this post, please visit the site to participate in this post's poll.
Original Story:
http://www.midwestsportsfans.com/2012...
THE BACKYARD
BEST OF MAXIM
RELATED ARTICLES
It is OK if you do not know who Jeremy Evans is. He is the least known of an unheralded group of four that will compete in the Sprite Rising Stars Slam Dunk competition Saturday night at Amway Center. Paul George is becoming a household name for his strong play for the surprising Pacers. And Chase Budinger and Derrick Williams were household names for strong Arizona team. Evans...
Utah Jazz forward Jeremy Evans was not even on the original invitation list to take part in the 2012 NBA Slam Dunk Contest, however his showmanship on Saturday night at Orlando's Amway Center, wowed the crowd in the stadium and at home as the second year bench player went on to win the competition. The second round draft pick in the 2010 NBA Draft dunked with a camera on his head...
Utah Jazz forward Jeremy Evans won the NBA Slam Dunk Contest on Saturday during the 2012 All-Star Weekend.Evans received 29 percent of the fan vote to be named champion of the event. It was the first year of total fan voting to decide the winner.Evans dunked with a camera on his head, with two basketballs while jumping over a seated teammate and then donned a Karl Malone jersey while...
PBT: Jeremy Evans of the Utah Jazz is your 2012 Sprite Slam Dunk champion, and this dunk is likely the reason why.
All-Star Notes: Jazz's Jeremy Evans dreams of capturing dunk crown By Brian T. Smith The Salt Lake Tribune Published Feb 24, 2012 08:38PM MDT Orlando, Fla. • The experimentation began late Thursday. Jazz forward Jeremy Evans and teammate Gordon Hayward walked into a near-empty Amway Center, threw ideas into open space and searched for inspiration. The only way to make...
I watch an awful lot of NBA basketball. I am the commish in an NBA fantasy league. Have been for 10 years.I watch, on average, over a dozen games a week.I listen to NBA podcasts, read NBA feeds on Twitter, and in short, love the Association.The NBA's new Slam Dunk champion is Jeremy Evans. Evans plays for the Utah Jazz. For less than six minutes a game. The Jazz are a .500...
PBT: Jeremy Evans of the Utah Jazz was a late addition to the Slam Dunk contest, getting in after the Knicks' Iman Shumpert bowed out because of injury, but he made the most of it.
Jeremy Evans was a late entrant into the dunk contest, but he made the most of the opportunity. The Jazz reserve channeled Karl Malone on his way to capping All-Star Saturday night.
In the Foot Locker Three Point Shootout, the scores were a bit low, but the forwards put on a good show as Minnesota Timberwolves forward Kevin Love outlasted the Oklahoma City Thunder's Kevin Durant 17-14 in the final round tiebreaker. James Jones posted the best round of the night in the first round with 22, but he fell off in the second round with a score of just 12 as Love...
If you are like me and missed the dunk contest last night because you had a feeling it was going to be craptacular and had other commitments, the above video contains all the dunks if you'd like to catch up on what you missed. (The video quality isn't great, but it's the only one I could find with all the dunks). For the most part, the dunks were gimmick-laden and lacked...
NBA News

Delivered to your inbox

You'll also receive Yardbarker's daily Top 10, featuring the best sports stories from around the web. Customize your newsletter to get articles on your favorite sports and teams. And the best part? It's free!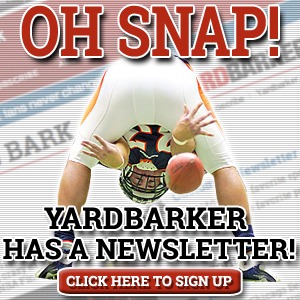 Latest Rumors
Best of Yardbarker

Today's Best Stuff

For Bloggers

Join the Yardbarker Network for more promotion, traffic, and money.

Company Info

Help

What is Yardbarker?

Yardbarker is the largest network of sports blogs and pro athlete blogs on the web. This site is the hub of the Yardbarker Network, where our editors and algorithms curate the best sports content from our network and beyond.