Found November 27, 2012 on Fox Sports:
PLAYERS:
Brook Lopez
,
Carmelo Anthony
,
Deron Williams
,
Tyson Chandler
,
Gerald Wallace
,
J.R. Smith
,
Joe Johnson
,
Ronnie Brewer
,
Keith Bogans
,
Jerry Stackhouse
,
Andray Blatche
,
Reggie Evans
TEAMS:
Brooklyn Nets
,
New York Knicks
There are some who will contend that a rivalry isn't a rivalry just because one person declares it so, but in the case of the Brooklyn Nets and the New York Knicks, it only took one meeting to get a sense of how grand the battle for New York basketball supremacy already is. In front of a packed and contentious Barclays Center house that fluctuated all night between pro-Knicks and pro-Nets leanings, Brooklyn struck first blood with a 96-89 overtime win in a game that had previously been scheduled for Nov. 1 but was postponed by Hurricane Sandy. As the game played out, one couldn't help but wonder how spectacular it might have been had the two crosstown foes gotten the chance to open the season against one another. But the most highly anticipated game in recent New York hoops history was also most definitely worth the wait. "I think the fans have really billed it (a rivalry) already, and they do a lot of talking themselves, given the proximity," said Nets center Brook Lopez, who had a team-high 22 points to go with 11 rebounds and five blocks in the win. "So being there with two very good teams, it's going to be a good, heated game whenever we're on the floor." For most of Monday night, it felt like a home game for whichever team was playing well at a given moment, and the advantage seemed to change hands on every possession. Monday's game featured 13 ties and 14 lead changes, and neither team led by more than seven points all night. Nets' supporters made up a little more than half of the crowd, and, on the whole, were more vocal than those pulling for the Knicks, but that didn't stop a number of "MVP" chants from drumming up as Carmelo Anthony worked his magic on the Nets. However, every time the Knicks fans put 'Melo on a pedestal, Nets fans were quick to scramble to their team's defense, drowning out the New York fans with boos or starting a long, drawn-out "Brooklyn" chant of their own. "Every time some sort of Knick contingency started to cheer, our fans got louder, and this is what we've been dreaming about since I've been here," Nets coach Avery Johnson said. "It's a nice feeling and I'm glad we rewarded our fans with a victory. They deserve it." Nets point guard Deron Williams had 16 points, six rebounds and 14 assists in the game, and afterward said the scene Monday was part of the reason he decided Brooklyn was where he wanted to play. "This is what they visualized, games like this," Williams said. "It was a playoff-type atmosphere, and you could feel it on the court. It was a great game to be a part of." The 17,732 fans at Barclays Center Monday night definitely got their money's worth from a contest that was marked by a number of highlight-reel plays from both teams, starting with Anthony's alley-oop pass to Tyson Chandler to give New York an 8-5 lead early in the first quarter. Later in the quarter, Chandler soared over Lopez and Gerald Wallace for an offensive board, slamming home two of his career-high 28 points on the way down. Near the end of the first, Knicks swingman J.R. Smith offered up a valiant, but ill-conceived effort to posterize Lopez with a one-handed baseline jam of his own, but instead found himself on his back after an encounter with the business end of a Lopez block. It was that kind of night for Smith, who finished with just five points on 2-of-7 shooting in the game. Anthony finished with a game-high 35 points and earned three of them in the second quarter on one of the crazier shots he'll ever make. With the shot clock winding down, Anthony hoisted up a 3 from the corner, only to have it bounce straight up off the back iron, off the top of the backboard and back through the hoop. The Knicks fans loved the lucky bounce, but the elation didn't last long, as Gerald Wallace (16 points) handed the lead back to the Nets with a soaring dunk on the next possession, and Joe Johnson (eight points) added his only 3-pointer of the night 30 seconds later to push the advantage to 43-39. After allowing New York to shoot 50 percent from the floor in the first half, Brooklyn turned up the defensive intensity in the third quarter, starting with Wallace's emphatic block of a Ronnie Brewer shot with 7:15 to play. Later in the third, with the Nets down by seven with 1:43 to go and the game perhaps starting to slip away, the unlikely lineup of Williams, Keith Bogans, Jerry Stackhouse, Andray Blatche and Reggie Evans keyed an 8-0 run to end the quarter. One of Stackhouse's four 3-pointers and a cutting dunk by Lopez gave Brooklyn an 81-76 lead with 3:57 left in regulation, and Lopez had the opportunity to give the Nets a one-point lead when he went to the line for two free throws with 24.1 seconds left. Lopez split the pair and the game went to an extra period as a result. But Brooklyn locked down 'Melo in the bonus frame, holding him to just one point, and Williams' two free throws with 30 seconds left iced the game -- earning the All-Star guard an "MVP" chant of his own as Knicks fans flooded for the exits. The win was huge for the Nets from a practical standpoint. Though it's early in the season, Brooklyn (9-4) is now tied with New York for first place in the Atlantic Division and now has some momentum as it hits the road for a three-game swing through Boston, Orlando and Miami. "It's a great benchmark for us," Lopez said. "We knew coming in they were one of the best teams in the league, no question, and we wanted to really come out and show something tonight. I keep saying, we continue to improve every game, and I think it's scary how good we can be." More importantly, however, the win served a greater purpose for a re-branded franchise trying to win over a city steeped in so much basketball tradition. With a loss, Brooklyn would have found itself out of the New York City spotlight at least until the teams' next meeting, in Brooklyn on Dec. 11. Instead, the Nets reclaimed some of the attention from the Knicks, whose resurgence has overshadowed the excitement of Brooklyn's debut over the first month of the season. That said, it was just one win, and the entire Nets locker room was quick to point that out. With three more regular-season meetings and the potential for a playoff matchup, there will be plenty more opportunities for the ballooning sense of Nets-Knicks enmity to take on a whole new life -- and that's good news for the fans, who have already made it one of the league's best rivalries. Said Lopez: "Having two great teams in New York, the fans are in the best position of all." You can follow Sam Gardner on Twitter or e-mail him at samgardnerfox@gmail.com .
Original Story:
http://msn.foxsports.com/nba/story/br...
THE BACKYARD
BEST OF MAXIM
RELATED ARTICLES
November 26th, 2012. A night that, even for its status as a technically unimportant midseason game, will live forever in Brooklyn Nets history. It was the night that the chant of "Brook-lyn" actually meant something. It was the night that a real rivalry started. It was a new start for a franchise that so desperately needed one. The New Jersey Nets were a punch line. Of all the...
Deron Williams has a sprained right wrist, but the Brooklyn Nets' All-Star point guard has been playing through the pain.  Williams injured his wrist last Friday while bracing himself after a fall.  He says he has been playing with the injury ever since. According to Mike Mazzeo of ESPN New York, Williams suffered a minor sprain of the joint in his right wrist.  Williams...
NY STATE OF MIND
The Knicks lost a heart breaker to the Nets in overtime on Monday, but Tyson Chandler had a great night. Chandler went off for a career high 28 points while shooting 92% from the field. He capped it off with some seriously impressive dunks, including this monster put back that was the highlight of the night. Check it out:   The post Tyson Chandler has monster put back dunk...
The Nets relocated to the New York Knicks' backyard, and were looking to start the season by showing off their new home to the neighbors. Superstorm Sandy put those plans on hold. After waiting for over three weeks, the Nets finally get to host the Knicks on Monday night in what is now an early season matchup between the two top teams in the Atlantic Division. The Nets'...
Meyers Leonard: On behalf of the league and its players, Kris Humphries would like to formally welcome you to the NBA… Meyers will have to learn to make this sort of rotation a split second sooner in order to sufficiently protect the rim at the NBA level.  He did the right thing here, he was simply a tad bit slow… and if the rookie had been on time then we could've had a...
It's never a good sign that a player you paid Millions to get rid of is making fun of your team.Feels good to be part of a winning organization— andray blatche (@drayblatche) November 27, 2012Idc wat a wiz fan say yes I was outta shape Ill give yal that but no body n that organization tried to help me with— andray blatche (@drayblatche) November 27, 2012The Washington Wizards...
Remember those Lakers bros from last week's game against Houston? Well we have the East Coast's douchier response to those guys…the Knicks Bros. Somehow these morons landed prime seats for last nights match-up between the Knicks and Nets at the Barclays Center. You have your typical New York bro on the left rocking the jersey with nothing underneath, showing the ladies what...
Carmelo Anthony scored 29 points in just 32 minutes, and the New York Knicks ended a two-game losing streak with a 121-100 victory over the Detroit Pistons on Sunday. Steve Novak added a season-high 18 and JR Smith had 15 points and 10 rebounds for the Knicks, who started 8-1 and had the Eastern Conference's best record before a couple of defenseless performances in Texas spanning...
Excuse me miss, Big Jay-Z Pimpin bwo the NY Daily News' coverage of the Brooklyn Nets as compiled by Reddit and posted by No Guts No Glory. Feelin' it? I know. **Follow us on Twitter. Subscribe,... Full story at Bob's Blitz ~ http://www.bobsblitz.com
Andray Blatche was amnestied by the Wizards in July.
If Carmelo Anthony were to describe his game, he might sound a lot like Liam Neeson in Taken: "I have a very particular set of skills." Anthony has been consistently great at one thing since he entered the league. He scores. Anthony has averaged at least 20 points per game in all 10 of his NBA seasons, and in his last three games, he has averaged 29.7 points. That could be very...
Following last night's 96-89 win over the Knicks, Andray Blatche took to twitter to write, "Feels good to be part of a winning organization" – a subtle shot at his former team, the 0-12 Washington Wizards. But it didn't stop there. The Nets forward proceeded to do a radio interview with Holden Kushner and Danny Rouhier on 106.7 The Fan where he called out the Wizards for...
NBA News

Delivered to your inbox

You'll also receive Yardbarker's daily Top 10, featuring the best sports stories from around the web. Customize your newsletter to get articles on your favorite sports and teams. And the best part? It's free!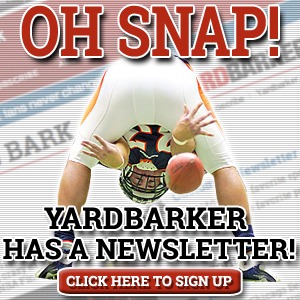 Latest Rumors
The Backyard

Today's Best Stuff

For Bloggers

Join the Yardbarker Network for more promotion, traffic, and money.

Company Info

Help

What is Yardbarker?

Yardbarker is the largest network of sports blogs and pro athlete blogs on the web. This site is the hub of the Yardbarker Network, where our editors and algorithms curate the best sports content from our network and beyond.