Found April 23, 2013 on Fox Sports:
The Brooklyn Nets' 90-82 loss to the Chicago Bulls on Monday night was more than the final score of Game 2 of their first-round playoff series. It was a look at the future. This, you see, is what mediocrity looks like: Following an impressive Game 1 win over the Bulls, the Nets delivered a Game 2 dud that should relieve any remaining Brooklyn believers of any illusions they had that their team might make any kind of deep run during these, or any subsequent, playoffs. This is not to trash the Nets, or to disparage what they have done, or to insist they are any kind of failure. They are not. It's to point out the obvious. This is probably as good as it gets. This is a Nets team mired in mediocrity, a high-profile and higher-priced team held captive by their own silly spending and aging so-called stars. The Nets are a team fronted by Deron Williams, a player who since the All-Star break has reemerged as the top-tier point guard so many of us expected him to be when he was tr...
Original Story:
http://msn.foxsports.com/nba/story/br...
THE BACKYARD
BEST OF MAXIM
RELATED ARTICLES
If the haters were talking yesterday, D-Will shut them right up If Deron Williams has not directly addressed the many criticisms he has heard since heading to the Nets from the Jazz a few years ago, then he is probably lying. Countless writers, beat reporters, and fans alike have been incessant in ripping the franchise point guard for a perceived "letting-up...
There were two versions of Deron Williams this season, and the Chicago Bulls know they need to be playing the first one. Slumping before the All-Star break and surging after, Williams turned the Brooklyn Nets into a powerful offense down the stretch with precision play that continued right through Game 1 of the playoffs. The Bulls probably can't beat the Nets four times if...
The Brooklyn Nets C.J. Watson accounted for 10 of the teams 82 points in their Game 2 loss to the Chicago Bulls on Monday. Three of them happened to be prettier than the rest as Watson nailed a three point buzzer beater to end the first half. The story of the evening was Joakim Noah's courageous performance despite his foot injury. Noah chipped in nine fourth quarter points...
Veteran Jerry Stackhouse  kicks off the first playoff game in Brooklyn by singing the National Anthem. At least I can say one thing….he was way better than Carl Lewis lol.
The third quarter was about halfway over when Deron Williams knocked down a jumper, his only basket of the game. It was also the Nets' first basket of the period. They would make only one more. Twelve minutes, two field goals, 11 points. Williams struggled all game and Brooklyn was brutal in the third quarter, losing 90-82 to the Chicago Bulls on Monday night in Game 2 of...
Apparently, Brooklyn Nets fans are taking this whole "black-out" thing pretty literally as one fan sitting near the Chicago Bulls bench decided to wear sunglasses during a game. Twitter maven @CJFogler tracked down the photo of the man and clearly, he likes to wear his sunglasses at the Barclays Center….at night
Bulls backup point guard, Nate Robinson, who was signed to replace former backup, C.J. Watson who was waived last summer, says their is mutual animosity between the two guards who are matched up with one another in the first round Bulls-Nets series. According to ESPN Chicago: "We're just competitors," Robinson said Monday after helping the Bulls even their Eastern Conference...
The Hump could have ended this marriage a long time ago, but he dragged it out trying to squeeze some money out of Kim Kardashian, when he really didn't have a leg to stand on. In the end, The Hump got no cash and bunch of legal fees for his troubles, but he is trying to pass off that the real reason he gave Kimmy the divorce was because he felt bad for her. According to reports...
If it wasn't for my wife there is no way in he** I would care about this story, but since any and all Kardashian shows are on in our house more than I care to admit I am probably one of the few non-Nets/Kardashian fans that finds this interesting. The news broke a few days ago that the divorce proceeding from he** was finally over. What was puzzling about it though was...
Chicago Bulls/Brooklyn Nets: Game 2 - The line for this game was Brooklyn -5. The line for Game 1 was Brooklyn -4.5. The beat down the Nets gave the Bulls in the first game was only enough to move the line a half a point. I guess that shows you that Vegas thinks the Bulls will have a much better showing. I have $10 that disagrees. - If Brook Lopez can make his outside...
The Brooklyn Nets saw to it that the Chicago Bulls had a rough night on Saturday. Game 1 of their Eastern Conference playoff series was not a game as much as it was a beating. The 106-89 score does not even do much justice to how poorly Chicago played on Saturday. The sloppy, uneven mess was uninspired as they allowed Deron Williams and Brook Lopez to score a combined  43...
NBA News

Delivered to your inbox

You'll also receive Yardbarker's daily Top 10, featuring the best sports stories from around the web. Customize your newsletter to get articles on your favorite sports and teams. And the best part? It's free!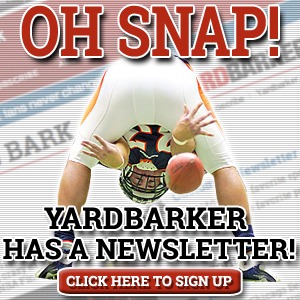 Latest Rumors
Best of Yardbarker

Today's Best Stuff

For Bloggers

Join the Yardbarker Network for more promotion, traffic, and money.

Company Info

Help

What is Yardbarker?

Yardbarker is the largest network of sports blogs and pro athlete blogs on the web. This site is the hub of the Yardbarker Network, where our editors and algorithms curate the best sports content from our network and beyond.