Found December 05, 2012 on Fox Sports:
On paper, it all looks so easy. First, you start with one of the league's elite point guards, then trade for an All-Star shooting guard to round out the backcourt and sign an athletic former All-Star at small forward to divert some attention away from your two most dangerous weapons. After that, you nurse your offensively-inclined 7-footer in the middle back to health, add a couple sharpshooters to spread the floor and a couple bruisers to crash the boards, then tack on a few veterans to fill out the bench -- and, voila, you have an NBA championship contender. That's how it was supposed to go down in Brooklyn during the Nets' inaugural season at the Barclays Center. And when the long-time laughingstock of the Atlantic Division kicked off the inaugural campaign in its new home, it appeared to be headed for the type of early success that teams like the Miami Heat once struggled to maintain and the Los Angeles Lakers are still trying to find. But after back-to-back losses to last year's champs and runners-up, it has become clear that there's still a sizeable chasm separating the Nets from the NBA's upper echelon. And as Brooklyn's blistering start is starting to look more like a mirage, it's the centerpiece of the operation who, some might argue, is doing the most to hold the team back. There was a time when Deron Williams was considered by many to be one of the best -- if not the best -- point guards in the NBA, but after carrying a pitiful Nets team on his back for most of last season, his first full year with the team, Williams fell off the national radar, despite averaging a career high in scoring. Once lumped in with the Chris Pauls, Russell Westbrooks and Tony Parkers of the league, a frustrated Williams, despite still being an All-Star, became known as the best player on a bad, bad team -- a backhanded compliment if ever there was one -- and little else. It's difficult to stand out when your team doesn't, and Williams' reputation fell victim to his circumstances. As such, it was a shock to some that Williams chose to stay with the Nets for their jaunt into Brooklyn this summer over an offer to play for his hometown Dallas Mavericks, but he bought what Mikhail Prokhorov and Billy King were selling -- namely, an awesome arena and a guard tandem of him and Joe Johnson -- and showed faith that this game plan would restore both the Nets and his own personal standing to prominence. Unfortunately, things haven't gone completely according to plan so far. After a humbling pair of losses to the Heat and Thunder, Brooklyn has dropped to 11-6 on the season, good for second in the division and third in the underwhelming Eastern Conference, and even with Tuesday night's season-high 33 points against Oklahoma City considered, Williams is still only averaging 16.4 per game, his fewest since his rookie season in Utah. As for efficiency, Williams is shooting a career-worst 39.2 percent shooting from the floor, and even after hitting five of his nine 3-point attempts against the Thunder, Williams' only boasts a 29.7 percent mark from beyond the arc -- another career low. Much of Williams' relative ineffectiveness isn't likely tied to nerves or confidence, however -- not that anyone would blame him for being unsure of himself after shooting 6-of-23 against Boston and Miami last week. There's also a case to be made that Williams, like other stars before him, is simply struggling to pinpoint his precise role on this newly minted roster. After becoming acclimated to being the Nets' No. 1 option last year, Williams is now on a team with multiple players used to playing that role. It can be challenging to be sure of where to set your own goals when no one else is sure who they're supposed to be anymore, either, and that's part of what we're seeing in Brooklyn. "It's been a little bit of an adjustment, and he's still trying to figure out when to try to take the game over," Nets coach Avery Johnson said of Williams. "I think there's been a fine line in him trying to figure that out." There's no question that Williams is still the go-to guy in for the Nets, but as he continues to feel out his new teammates, the lack of familiarity is apparent -- especially when he goes through stretches of games where he's overly passive -- and is part of what's wreaking so much havoc on his individual success. "I think that's been a little bit of the problem," Williams said. "I have not been as aggressive as I should be. At points of the game, I get aggressive, but then I'm out there kind of just passing the ball around and making sure guys are in the right position, and I kind of forget about my offense and become a little too unselfish." There are other factors that play into Williams' statistical decline this season, as well. In addition to having to share the ball with more weapons than he ever has before -- not necessarily a bad problem to have -- Williams also seems to have changed the way he approaches offense over the last two seasons. Williams is taking 34 percent of his shots from the 3-point line above the break, more than anywhere else on the court, and is taking mid-range jumpers on 29 percent of his shots. Since being traded from Utah, the percentage of shots Williams takes at the rim has dwindled from almost 30 percent to less than 18 percent. At 28 years old, it's not as though Williams' body is failing him yet, and it probably wouldn't hurt him to make a more concerted effort to get to the rim, where he made the only two shots he took against Oklahoma City, including a ridiculous scoop shot off a tight spin move in the paint during a Nets run midway through the third quarter. Not only will forcing his way to the bucket help get Williams' season back on track while raising that sagging field goal percentage, it'll also help his new teammates, who are facing the same issues with cohesiveness without Williams' first-class talent to lean on during their respective tough starts. After missing all but five games last year, Brook Lopez, who has missed the last three games with a sprained foot, is leading Brooklyn in scoring, but the players who rely most on Williams to create for them are struggling much like Williams is. Johnson, thus far, has just been a shell of the "Iso Joe" people came to know in Atlanta, and is in the midst of his worst offensive season in a decade. Gerald Wallace, a star in Charlotte before coming to the Nets by way of Portland, has seen his scoring dip to levels not seen since his days in Sacramento. Both players need Williams to help get them on track, but before any of that can happen, Williams has to get himself situated. This is a team that needs Williams to be great -- like he used to be, and like he was on Tuesday -- while the rest of the roster sorts out how to best play around him. "It makes everything a lot easier for us when he comes out and he's aggressive and he's looking to attack and put himself in a situation where he's scoring," Wallace said. "When he's in that scoring mentality, he puts so much pressure on the defense." "When we're clicking on all cylinders, and everything's running smooth, it's fun to play like that," added Johnson. "But we have yet to kind of have the game that we've been looking for or get that cohesiveness together." Fortunately, there's still plenty of time for the Nets to play like they're capable of playing, and if and when that happens, they'll be the threat they thought they'd be -- and they'll probably have Williams to thank. "With us, every regular season game matters," Avery Johnson said. "Every game that Joe and Deron play together and Gerald plays together, and once we get Brook back, those guys just need time and experience on the floor. Once we get there, then we're going to start to take that next step." You can follow Sam Gardner on Twitter or e-mail him at samgardnerfox@gmail.com .
Original Story:
http://msn.foxsports.com/nba/story/br...
THE BACKYARD
BEST OF MAXIM
RELATED ARTICLES
It will be interesting to see what Deron Williams does when he claims he was misquoted. Williams, the starting point guard for the Brooklyn Nets, has broken ground as an athlete by employing his own beat reporters to cover him for his website, deronwilliams.com, and create "a larger brand portfolio" for himself, according to a report by The Wall Street Journal. So far, Williams...
Deron Williams and Avery Johnson are sitting on an 11-6 record this year.credit: sbnation.com There was a lot of hype surrounding the new-look Brooklyn Nets coming into this season. So far, so good, as they stand at 11-6, and look to be one of the better teams in the Eastern Conference. A big part of this started when Deron Williams decided to stay with the Nets, even though he has...
The NBA has issued a $5,000 fine to Brooklyn Nets forward Gerald Wallace for flopping. The fine was issued for Wallace's second violation of the NBA's new rules against the practice which encourages referees to issue fouls after a player over-exaggerates the impact of contact from another player.  Please Click Here To Read This Story & Watch A Video Of The Flop That Got Wallace Fined. 
Brook Lopez and Reggie Evans will miss Brooklyn's game against Oklahoma City on Tuesday night, leaving the Nets without their leading scorer and top rebounder. Lopez will miss a third straight game with a sprained right foot. The Nets have said the injury to their starting center is unrelated to the broken foot that helped limit him to just five games last season. Lopez, who...
Brook Lopez underwent an MRI on his foot as expected.  The results came back negative which was a relief for the Brooklyn Nets, but he will still be listed as day to day.  The injury occurred last Wednesday, and Lopez has missed the last two games. According to Mike Mazzeo of ESPN New York, Lopez is expected to miss Tuesday night's game.  The sprained foot is not expected...
Were a month into the NBA season and already 2 players have got fined for Flopping. The Latest is Brooklyn Nets forward Gerald Wallace. The 1st player to receive a fined by the NBA was Wallace's teammate Reggie Evans. Like the Los Angeles Clippers are nicknamed Lob City maybe the Nets should be nicknamed Flop City. He received the fine for launching himself back when LeBron James...
Brooklyn Nets guard Gerald Wallace became the second NBA player fined for flopping Wednesday when he was docked $5,000 by the league. Wallace was fined for trying to draw a foul from LeBron James during a game last Saturday against the Miami Heat. Wallace acted like was severely hit after he was bumped by James' right arm. Wallace previously was warned for flopping on a play...
Kevin Durant scored 32 points, Russell Westbrook had 25 points and nine assists, and the Oklahoma City Thunder held off the Brooklyn Nets 117-111 on Tuesday night for their sixth straight victory. Serge Ibaka added 18 points and Thabo Sefolosha 14 for the Thunder, who revved up the NBA's No. 1 offense to surpass 100 points in a 10th straight game for the first time in 15 years...
The Brooklyn Nets managed to rebound nicely the two previous times they suffered back-to-back losses this season. Again looking to avoid their first three-game skid, the Nets try to avenge an earlier defeat to the visiting Golden State Warriors on Friday night. Brooklyn (11-6) ran off five straight victories each time following their first two sets of consecutive defeats. The second...
On his weekly interview with WEEI, Doc got into the chat that he and Rajon had last week after his beef with Kris Humphries. Chris Forsberg writes: "Rondo understands that we need him," said Rivers. "And Rondo almost said the same thing. He said, 'Coach, I didn't go in there to have a fight. I went in there to push [Humphries] off Kevin [Garnett] and, the next thing you...
During Tuesday's thriller between the Oklahoma City Thunder and the Brooklyn Nets, OKC big man Serge Ibaka served up two facials on Brooklyn's Andray Blatche and then on Jerry Stackhouse. The commentating on the dunks is pretty fantastic too: Click here to view the embedded video. Article found on: Cosby Sweaters
NBA News

Delivered to your inbox

You'll also receive Yardbarker's daily Top 10, featuring the best sports stories from around the web. Customize your newsletter to get articles on your favorite sports and teams. And the best part? It's free!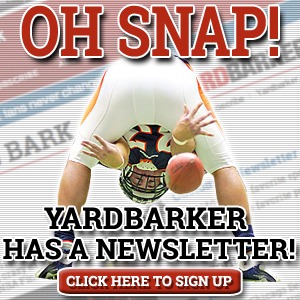 Latest Rumors
The Backyard

Today's Best Stuff

For Bloggers

Join the Yardbarker Network for more promotion, traffic, and money.

Company Info

Help

What is Yardbarker?

Yardbarker is the largest network of sports blogs and pro athlete blogs on the web. This site is the hub of the Yardbarker Network, where our editors and algorithms curate the best sports content from our network and beyond.