Found January 27, 2012 on Waiting For Next Year:
With an extremely dangerous section of the schedule coming up for the Cleveland Cavaliers, it's important they try to not go into that stretch on a losing note. Friday night the New Jersey Nets (6-13) visit The Q to take on the Cavaliers (7-10). After tonight's game, the Cavaliers' next 10 games are all against opponents who should be in the playoffs this spring. The Cavaliers, fresh off two nights sleep in their own beds and a game off, can't afford a let down game against the Nets.
The Nets are limping into this game, in one sense, and red hot in another. Having won 4 of their last 8 and coming off a great win against the 76ers Wednesday night, the Nets are playing their best basketball of the year. However, injuries and illness are taking their toll on the Nets right now.
Brook Lopez is still a couple weeks away from returning, Marshon Brooks is doubtful with an achilles injury, Kris Humphries is questionable with an illness, Mehmet Okur sat out shootaround with back spasms, and Damion James is out for the rest of the season. I don't expect to see any of them play tonight other than maybe Okur and possibly Humphries if his illness goes away quickly.
Injuries haven't been slowing down the Nets at all, though. Deron Williams has had an epiphany in which he realized two things. One, he needed to improve his body language and stop sucking the energy out of his team, and two, he needs to be the focal point of the offense's scoring schemes. Williams likes to be a distributor, but the Nets are at their best when Williams is looking for his own shot and scoring a lot of points.
In the 6 games the Nets won, Williams averaged 26.5 points, 6 rebounds, and 10.5 assists. In their losses, Williams averages 15.2 points, 2.6 rebounds, and 7.6 assists. The Nets are 4-0 in games which Williams scores at least 24 points.  So guess where the Nets are going to look to attack the Cavaliers tonight? You guess it. They are going to have Williams be relentless in going right at Kyrie Irving.
It's been a little bit of a disappointment seeing how badly Irving has struggled on the defensive end. He has shown a lot of improvement in defending against the pick, showing better judgment in when to go over vs under the screen. His communication and defensive spacing with Varejao on the picks has improved as well. But he still is extremely slow in reacting to his opponent's first step (often a sure sign of a lack of defensive focus, attention, and desire) and he still takes bad angles to recover and cut off opponents' driving lanes (something a little bit more tricky for guys to pick up it often seems). Deron Williams isn't going to forget their last matchup with the Cavaliers in which he was too passive and watched the Cavaliers run away with a 98-82 win in New Jersey. I expect him to be more focused this game and come at Irving with intensity.
For the Cavaliers, the goal is simple. Run the offense and crash the offensive glass. The Nets are last in the NBA in defensive efficiency, they are a poor defensive rebounding team, and they are dead last in fastbreak points per game. This means the fear of them running on the Cavs shouldn't be an issue as the Cavaliers are one of the best teams in the NBA at defending against fastbreak points. So the Cavaliers shouldn't be afraid to commit an extra body to crashing the offensive glass in an attempt to exploit one of the Nets' weaknesses.
In the half court set, I expect to see Kyrie Irving be a lot more assertive than he was against the Knicks. The Nets are terrible at defending the paint and he will have a lot of opportunities to find Varejao and Jamison slashing inside the paint for easy assists. This will give Irving the ability to pull up for his mid range jumpers if/when the defenders sag into the paint to defend those easy passes.
Last time the Cavaliers played the Nets, they had to rely on insane 3 point shooting to win. Hopefully that won't be the case this time. When playing a team with as many defensive holes as the Nets have (as well as all the injuries they have), it's important to take care of business and just run your offense. The defensive weaknesses should take care of themselves. We saw teams do this to Cleveland all last season. It's time for Cleveland to put the shoe on the other foot.
_____
Image credit: David Liam Kyle/NBAE/Getty Images
Original Story:
http://www.waitingfornextyear.com/201...
THE BACKYARD
BEST OF MAXIM
RELATED ARTICLES
[Kyrie Irving] is a nice, young player. I obviously didn't get to see a lot of him in college, but he's a nice, young player. He's shooting the ball really well; in our first game [against the Cavs], we went under his screens and he made us pay by hitting a few threes. He'll turn the ball over, but point guards – young or veterans – all turn the ball over. He gets in...
Deron Williams scored 27 points and the New Jersey Nets won consecutive games for the first time this season with a 99-96 victory over the Cleveland Cavaliers on Friday night.
Deron Williams scored 27 points and the New Jersey Nets won consecutive games for the first time this season with a 99-96 victory over the Cleveland Cavaliers on Friday night.
Looking disorganized on offense and disinterested on defense, the Cavaliers lost to the New Jersey Nets on Friday night at The Q, 99-96, despite a career high 32 points from rookie Kyrie Irving.
After a sluggish start, things are starting to look up for Deron Williams and the New Jersey Nets. There isn't nearly as much optimism surrounding the Toronto Raptors, who - if their most recent effort is any indication - look headed for what could be another challenging stretch with Andrea Bargnani out indefinitely. Seeking a third consecutive win, New Jersey tries for a fourth...
Deron Williams scored 34 points, including a go-ahead 3-pointer with 26.8 seconds left in overtime, to help lift the New Jersey Nets to a 97-90 victory over the Philadelphia 76ers on Wednesday night.
The Sixers started slow and never really could take control of the contest. The Nets came into to the Wells Fargo Center and delivering just the second lost at to the Sixers winning in overtime 97-90. Deron Williams was not going to be denied as he hit big shot after big shot to elevate his team to victory. Williams was spectacular finishing with 34...
[Anderson Varejao] brings a toughness here and it's contagious. It was contagious throughout the entire game, even through our bench. The bench is just as important as the starters, so it feels good to win. [...] I wasn't really focused on my offense. I just wanted to help out my teammates. I only attempted six shots tonight and I have no problem doing that. I get my teammates...
The Cavaliers came to play last night as they shot 50% from the floor, but it wasn't enough to beat the Heat in Miami.  Kyrie Irving (17 points, 4 rebounds and 4 assists) and Samardo Samuels (15 points, 5 rebounds, 2 assists, 1 steal and 1 blocked shot in 22 minutes) led the way for the Heat in this game.  Anderson Varejao (11 points, 11 rebounds, 1 assist and 1 blocked shot...
NBA News

Delivered to your inbox

You'll also receive Yardbarker's daily Top 10, featuring the best sports stories from around the web. Customize your newsletter to get articles on your favorite sports and teams. And the best part? It's free!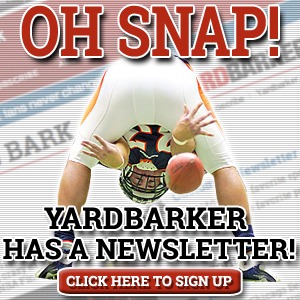 Latest Rumors
The Backyard

Today's Best Stuff

For Bloggers

Join the Yardbarker Network for more promotion, traffic, and money.

Company Info

Help

What is Yardbarker?

Yardbarker is the largest network of sports blogs and pro athlete blogs on the web. This site is the hub of the Yardbarker Network, where our editors and algorithms curate the best sports content from our network and beyond.