Found September 30, 2013 on Fox Sports Southwest:
DALLAS -- The Mavericks believe they are creating a unique offensive partnership with Dirk Nowitzki and Monta Ellis. They will share the load. Batman and Robin, but some nights, maybe the other way around. Shoulder-to-shoulder. But when Dirk's shoulder meets Monta's shoulder, he will encounter another presence: As Ellis demonstrated at Monday's Media Day, he arrives in Dallas accompanied by a massive chip. "I'm going to get criticized for what I do," said Ellis, fielding questions about his reputation as a "volume shooter" and an "inefficient scorer." "The only thing I can do is laugh it off. There are a lot of guys that take a lot of bad shots in this league. But nobody wants to talk about that. Everybody wants to talk about the shots Monta takes. All I'm going to do is take the punches and prove everybody wrong. "What I'm saying is I'm going to play Monta Basketball' and if y'all want to criticize, criticize." The criticism of other bad-shot takers isn't the concern of the Mavs, of course. Coach Rick Carlisle and staff want to maximize the lightning-quick 2-guard's skills in a way that supplements the all-world gifts of Nowitzki, who at 35 has been working overtime to put himself in peak condition. Dirk on Dirk, absent for 29 games due to knee surgery in last season's rare Mavs non-playoff campaign: "I feel good now. Going into camp, I did a lot of work. I started working out in May, probably the earliest for a long, long time. Hopefully I'll feel good going into the season and I can stay injury-free... I feel now better than I have at any point last year, so I think that's very encouraging. It's very important also from a mental standpoint and hopefully I can show it." Dirk on Monta: "It's amazing what he does at his size, geting in the paint at will and finish with the big boys. He's a special, explosive player and I really think we can play well together. His strength is putting it on the floor and my strength is stretching the floor, so we should play well together." At his best, Ellis' shooting percentage skyrockets because he not only scores from the perimeter but also finishes at the rim. Last year in Milwaukee, he was at just 41.6 percent far off the 45.6-percent shooting that makes him a perennial 20-points-per-game scorer. Nowitzki has never quite had a partner capable of what Ellis can do. Ellis has usually been his team's clear-cut No. 1 scorer, so in that and more senses, he's never had a partner quite like Nowitzki. Little wonder Carlisle said, "I like this team offensively." But, there's a "but." This is going to come down to defense," Carlisle said. :I've got to fit these guys in a defensive system that helps us do better than last year... We have to do it collectively. We have to establish a convenant to make it important." How to design a way for Nowitzki along with Ellis and fellow backcourt newcomer Jose Calderon to survive on defense is a challenge for another day. For now, there is a potential strength that must be played to if Dallas is to "prove a lot of people wrong," as Ellis pledged. "We're going to get the Mavericks back to making some noise in the playoffs." Part of how that happens is effectiveness in the DirkMonta teaming. Shoulder-to-shoulder with a chip in between. "Monta Basketball," sure. But "Dirk Basketball" even more.
Original Story:
http://www.foxsportssouthwest.com/09/...
THE BACKYARD
BEST OF MAXIM
RELATED ARTICLES
Monta Ellis should have just screamed YOLO to  the media when asked about his penchant for taking a terrible shot. While former backcourt mate Brandon Jennings promised to change his awful display of shooting at time, Ellis chose the I'm going to do me approach when asked by media members if he planned to change anything about his game.   Ellis doesn't have a clue, and that's...
Seven women and three men were picked Monday to decide the government's lawsuit charging billionaire and Dallas Mavericks owner Mark Cuban with insider trading. The jury includes one man who said he was ''leaning'' toward Cuban's side based on what he'd already heard about the case. One woman said she was ''impressed'' with Cuban as a...
A government lawyer says the drive to win that helps Mark Cuban succeed in business led the billionaire basketball owner to cheat by using insider information to sell stock in an Internet company. "Mark Cuban violated the law, and he knew better," Securities and Exchange Commission lawyer Jan Folena said Tuesday during opening statements to jurors at Cuban's insider...
Mark Cuban told jurors in federal court that he became angry in 2004 when he learned of a pending development that would reduce the value of his investment in an Internet search company. The CEO of Mamma.com told the billionaire and Dallas Mavericks owner that the company planned to sell more shares to the public. That would dilute the value of Cuban's stake. "I was upset...
Dallas Mavericks: Mavericks' Offseason Grade By Josh Morgan: Hoopstuff Senior Writer… Moves Made Signed Wayne Ellington: 2 years, $5,423,340 Signed Jose Calderon: 4 years, $29 million Signed Gal Mekel: 3 years, minimum Signed Samuel Dalembert: 2 years, $7,568,030 Signed Monta Ellis: 3 years, $25,080,000 Signed Devin Harris: 1 year, vet minimum Signed DeJuan Blair: 1 year, vet...
Seven women and three men were picked Monday to decide the government's lawsuit charging billionaire and Dallas Mavericks owner Mark Cuban with insider trading. The jury includes one man who said he was ''leaning'' toward Cuban's side based on what he'd already heard about the case. One woman said she was ''impressed'' with Cuban as a...
Mark Cuban is expected to testify Thursday in the government's insider trading lawsuit against him, which could come down to whether jurors believe the billionaire and Dallas Mavericks owner's account of a 2004 phone call. Cuban is likely to say that he never promised to refrain from selling his shares in an Internet company after learning news that would cause their value...
During the summer, Mark Cuban challenged Mavericks fans to design the newest Mavericks jerseys to be worn for the 2015-16 season. We were able to get a sneak peek at several of the designs submitted through the crowdsourcing site crowdSPRING during the summer and everyone seemed impressed with some of the designs. Now, Mark Cuban and the Mavericks have pared the list down to...
Mark Cuban is one of the most notorious owners in sports, let alone in the NBA. Over the years, he hasn't gotten along with NBA officials too well. From running on the court, to taunting them, to complaining about them at press conferences – he's done it all. And because of that, he's donated quite a bit of money to the league. It has been reported that since he's been...
NBA teams held their media days over the weekend and this gem of the Mavericks presumed starting five was taken.  Yes, that's Samuel Dalembert performing a split for some reason. Dirk doesn't look too thrilled.
According to Reuters, the jury selection process has begun for the Mark Cuban trial. The United States Securities and Exchange Commission accuses the owner of the Dallas Mavericks of some [...]
Mavericks News

Delivered to your inbox

You'll also receive Yardbarker's daily Top 10, featuring the best sports stories from around the web. Customize your newsletter to get articles on your favorite sports and teams. And the best part? It's free!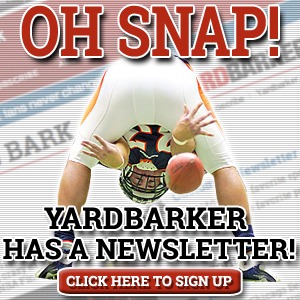 Latest Rumors
The Backyard

Today's Best Stuff

For Bloggers

Join the Yardbarker Network for more promotion, traffic, and money.

Company Info

Help

What is Yardbarker?

Yardbarker is the largest network of sports blogs and pro athlete blogs on the web. This site is the hub of the Yardbarker Network, where our editors and algorithms curate the best sports content from our network and beyond.