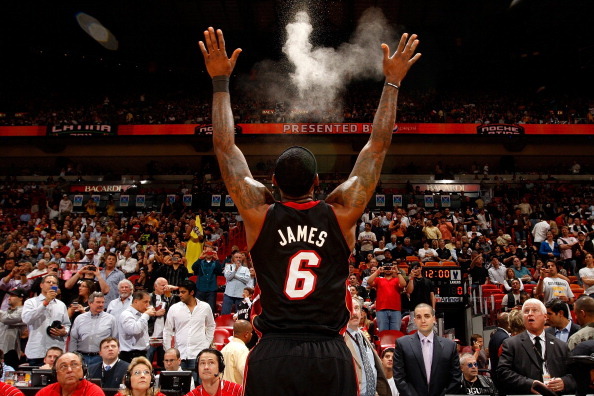 According to NewsOK, one new NBA rule will now limit pregame rituals. The NBA has cited that the extra minute or two that players use to do handshakes with teammates to LeBron's powder toss, slows down the game. Here comes NBA commissioner David J. Stern at his best once again!
This rule comes down to the time limit after the pregame introductions occur. Teams only have 90 seconds to do what they have to do to fist bump and give their own teammates their own special handshakes and whatnot. This rule really hurts one NBA team the most and that team is the Oklahoma City Thunder. A prime example of that happening was when the Thunder played the Bobcats for a preseason game.
NewsOK notes that the Thunder were really rushing through their rituals. They were rushing so much that their star player in Kevin Durant was in the midst of his on-the-court greetings when the ball was officially put into play. Durant would later say,
I personally don't like it. Every player in this league has routines they do with their teammates, rituals they do before the game and before they walk on the floor. The fans like it. The fans enjoy it. You see the fans mimicking the guys who do their stuff before the game. To cut that down really don't make no sense. Why would you do it? I really don't agree with it, but I don't make the rules.
Kevin Durant makes a great point. These pregame rituals are actually fun to watch from a fan's perspective. Maybe the most annoying one is LeBron James and his powder toss or Dwyane Wade's pull-ups using the basketball hoop. Other than that, seeing the players do these rituals actually pumps up the fans a little bit too.
NBA commisioner David Stern really does not like the fact that players want to have a little fun. He is trying his best to implement these lame rules before he steps down. Expect the National Basketball Players Association to have a little word with Stern soon about this pregame ritual crackdown.
Read the rest of this story...
MORE FROM YARDBARKER
NBA News

Delivered to your inbox

You'll also receive Yardbarker's daily Top 10, featuring the best sports stories from around the web. Customize your newsletter to get articles on your favorite sports and teams. And the best part? It's free!
Best of Yardbarker
NFL News
MLB News

Today's Best Stuff

For Bloggers

Join the Yardbarker Network for more promotion, traffic, and money.

Company Info

Help

What is Yardbarker?

Yardbarker is the largest network of sports blogs and pro athlete blogs on the web. This site is the hub of the Yardbarker Network, where our editors and algorithms curate the best sports content from our network and beyond.