Found July 31, 2013 on isportsweb.com:
The Detroit Tigers made two trades in two days right before the trade deadline, in hopes to bring a much-awaited World Series title to Motown. Over the past few weeks the Pistons have made noise as well, bringing back Detroit favorite Chauncey Billups and acquiring two all-star caliber players in Josh Smith and Brandon Jennings. The Lions placed one more boulder on the already huge defensive line with Israel Idonije. The Red Wings were unhappy with their playoff collapse against the Blackhawks, so they added a few veteran free agents to go along with their up and coming roster as they transition to the Eastern Conference. There is a revival happening in Detroit sports while the city is in absolute shambles. The city of Detroit filed for bankruptcy on July 18, capping off years of political corruption and economic turmoil. A Michigan state board recently approved plans for a new Red Wings arena downtown, bridging the gap between downtown and midtown. While many people are puzzled by the decision economically, it will be funded mostly by non-Detroit sources, including the independent Downtown Development Authority and Olympia Development (Mike Illitch's private company). Not only will this project give life to the hockey team, it will be an attractive destination for tourists. The project will bring entertainment outside of hockey to the entire area, including shops, restaurants and concerts, stretching to Comerica Park. But when it boils down, this project will help revitalize the city of Detroit, and it can be traced back to the heart of the city: its sports teams. And as this project gets underway, the previously mentioned "projects" will help that revitalization process get here sooner. The most immediate one will come on the diamond. The Tigers just acquired reliever Jose Veras from Houston and SS Jose Iglesias from Boston. These two players join the club as it is getting hot. They've won six in a row and nine out of ten. But it's not just these players that are fueling the Tigers. Despite fans griping, they've been a solid team all season, sitting only three games behind the best record in baseball. This team is on the precipice of winning its first World Series title since 1984, and the fans would be nothing short of devastated if they didn't finish their business this season. A title would certainly give the city something to feel good about, and something to rally around. The process could be well underway by the time October rolls around. On deck will be the Lions. As the preseason begins on Aug. 9, the team is coming off a miserable 4-12 season, but fans had a glimpse of the revival in 2011 when they finished 10-6 as a Wild Card team. This year fans are buzzing. Calvin Johnson is coming off a record-breaking season, Matthew Stafford finally has an improved offensive line with the departure of Jeff Backus, and the aforementioned defensive line. The line will feature bad boy Ndamukong Suh, sophomore Nick Fairley, rookie Ziggy Ansah and former Bears monster Idonije. With Schwartz on the hot seat, look for a team more like 2011 than 2012, which will carry the city into basketball season. The glory of 2004 faded with the acquisition of Allen Iverson, but it might be slowly returning with Billups coming back and a few experienced players being added around a solid young core. Josh Smith was one of the biggest free agent targets in the NBA this summer, and Joe Dumars and company were able to land him. And they made a big move to get Brandon Jennings, not losing much other than Brandon Knight. They had a solid draft, even though they didn't select Michigan G Trey Burke, a player many fans wanted to see come in. G Kentavious Caldwell-Pope, G Peyton Siva and big man Tony Mitchell will help build around the quickly rising young core. Don't expect a championship within the next couple years, but certainly get ready for a playoff appearance next spring. Speaking of next spring, we return to the topic of the Red Wings. They've been in the playoffs 22 straight seasons. With a new arena in the near future (projected to be 2017), they will be looking to send the Joe out with a bang. That bang would be a Stanley Cup. They were on the doorstep of returning to the conference finals with a 3-1 series lead on the rival Chicago Blackhawks, but watched it slip away with three straight losses. As they move east in 2013-2014, the Red Wings acquired the face of the Senators' franchise in Daniel Alfredsson and former Panthers' center Stephen Weiss. With Datsyuk, Zetterberg and company, these guys will continue to mold the youngsters like Justin Abdelkader, Damien Brunner, Joakim Andersson and Danny DeKeyser into a winning team. That playoff streak will not be ending any time soon. Who knows, this team could be getting revenge on the Chicago Blackhawks next June in the Cup Finals, as they are now in opposite conferences. So there you have it. There is a revival happening in Detroit. On the diamond, on the gridiron, on the court, and on the ice. And in the streets. A thriving sports market will bring more money, and more jobs to the city to help it be come more of an entertainment hub than just an industrial powerhouse. While it is embarrassing to see a city that was once so strong in the state it is now, Detroiters, and all Michiganders for that matter, will rally around the bright future in their sports teams and this city will soon be on the mend. This could be the most exciting year in Detroit sports history; all four teams could be in the playoffs. Daniel Alfredsson, former Ottawa Senators captain, is one of the new faces in Detroit sports Get ready, Michigan. Get ready Detroit. As we've all heard blaring from the Joe before: "Don't Stop Believin'."
Original Story:
http://feedproxy.google.com/~r/isport...
THE BACKYARD
BEST OF MAXIM
RELATED ARTICLES
LEAKED NEWS
The Pistons acquired Brandon Jennings from the Bucks in a sign-and-trade deal. Did the point guard tip news of the trade with a shirt?
Point guard Brandon Jennings was traded to the Detroit Pistons earlier this week, and this picture of Jennings wearing a Pistons jersey as a kid has just surfaced on the Internet. It's quite the coincidence considering Jennings grew up in Compton, California, but then again Grant Hill was just awfully awesome in the '90s and sold a ton of jerseys. I'm pretty sure I wore this...
The situation in Milwaukee between the Bucks and Brandon Jennings has been well-documented, and it seems their relationship may be coming to an end. Adrian Wojnarowski of Yahoo! Sports has learned that the Bucks are nearing a deal to ship Jennings to the Detroit Pistons: Detroit and Milwaukee are nearing a sign-and-trade agreement to send Brandon Jennings to the Pistons, league sources...
One Brandon in, one Brandon out. According to multiple media sources, the Pistons have agreed to trade Brandon Knight, Khris Middleton and Slava Kravtsov to the Milwaukee Bucks in exchange for point guard Brandon Jennings. As part of the move, Jennings, a free agent, has signed a three-year contract worth 24 million. The move immediately clarifies Detroit's point-guard position...
The Detroit Pistons apparently aren't done dealing. Reports say the Pistons are nearing a sign-and-trade agreement that would send point guard Brandon Jennings to Detroit. The deal would be 3 years at approximately $24 million or possibly more. ESPN's Marc Stein and Yahoo! Sports' Adrian Wojnarowski are reporting the negotiations. Jennings 23 averaged 17.5 points 6.5 assists...
Brandon Jennings found out that he's not yet worth $12 million per season, and he also got the change of scenery he was seeking. Jennings will now try to fit in with the long lineage of great point guards in Detroit, and even though he didn't get the money he was seeking, he is happy. While playing in a pickup game with friend and Raptors forward Amir Johnson, Jennings told the Toronto...
A person familiar with the deal tells The Associated Press that the Detroit Pistons have acquired point guard Brandon Jennings from the Milwaukee Bucks for point guard Brandon Knight and two prospects. The person, who spoke Tuesday on condition of anonymity because the trade hasn't been announced, says Jennings has agreed to a $24 million, three-year contract with the Pistons...
According to Adrian Wojnarowski of Yahoo! Sports, the Bucks and Pistons are closing in on a sign-and-trade that would send Brandon Jennings to Detroit on a 3-year, $24 million deal. The Pistons will send Brandon Knight to Milwaukee as part of the package. The 23-year-old point guard averaged 17 points, 5.7 assists and 3.4 rebounds in four seasons in Milwaukee. The Detroit Pistons are...
Brandon Jennings brings another young player with star potential to the Pistons, who have had their busiest, most exciting offseason in recent memory. The pundits are already lining up to crush Joe Dumars in the press. Why would he trade anything to get streaky, moody Brandon Jennings on the Detroit Pistons? Why, you ask? Because Dumars literally had no other choice. If he had sat...
Yesterday, the Pistons signed "point guard" Brandon Jennings to a 3 year, $25 million deal. I put it in quotes because Jennings is a point guard simply by default. In reality he's a ball dominating combo guard that shoots a lot (15.5 FGA per game in his career), but is terribly inefficient (39.4% career FG). Still, at only 23 years old the Pistons clearly thought...
Every morning, we compile the links of the day and dump them here… highlighting the big storyline. Because there's nothing quite as satisfying as a good morning dump.   The Pistons' offseason hasn't stopped since it began, as they are reportedly agreed to a sign-and-trade deal Tuesday, acquiring restricted free agent Brandon Jennings from the Milwaukee Bucks for Brandon...
It's been a few years since we've been able to say it, but the Detroit Pistons seems to be make strategic moves to become relevant again.  On the eve of the Major League Baseball trade deadline, two NBA teams got together today and made some noise.  The Detroit Pistons completed a sign-and-trade deal with the Milwaukee Bucks for Brandon Jennings, giving the high-motor, undersized...
Pistons News

Delivered to your inbox

You'll also receive Yardbarker's daily Top 10, featuring the best sports stories from around the web. Customize your newsletter to get articles on your favorite sports and teams. And the best part? It's free!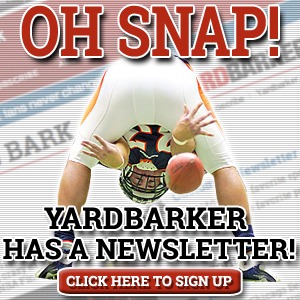 Latest Rumors
Best of Yardbarker

Today's Best Stuff

For Bloggers

Join the Yardbarker Network for more promotion, traffic, and money.

Company Info

Help

What is Yardbarker?

Yardbarker is the largest network of sports blogs and pro athlete blogs on the web. This site is the hub of the Yardbarker Network, where our editors and algorithms curate the best sports content from our network and beyond.