Found June 05, 2012 on NorthWest Sports Beat:
PLAYERS:
Nicolas Batum
,
Kevin Pritchard
,
David Stern
,
Chris Paul
,
Blake Griffin
,
Chauncey Billups
,
Caron Butler
,
Al-Farouq Aminu
,
DeAndre Jordan
,
Paul Allen
,
Eric Bledsoe
,
Maurice Williams
TEAMS:
Portland Trail Blazers
,
Los Angeles Clippers
,
New Orleans Pelicans
,
Golden State Warriors
,
San Antonio Spurs
,
Los Angeles Lakers
Blazermaniac hope NBA gets "Olshey-ed"
The Trail Blazers did what nobody thought the team would ever do:  They hired a general manager. Former Los Angeles Clippers general manager Neil Olshey was named to the same role on Monday, just three weeks after his team was eliminated in the second round of the NBA playoffs by the San Antonio Spurs and a regular season record of 40-26.
Here are a few reasons to love it and hate it in Rip City.
Love 'Em
1). Position Filled
It would not have mattered if they hired former Sonics and Blazers executives Bob Whitsitt again, the team needed to do this 11 months ago to appease the fan base more than anything else.
Then: I'm happy he had a 3rd-place finish in the NBA's Executive of the Year award
13 months without an official general manger is atrocious, and the hire was long overdue.
It is a thrill for Blazers fans to have someone to talk about and a man that can create a vision that Portland can get on board with. There is finally some structure in the front office and should set the course to fill the Blazers next need: A head coach.
2). Olshey's Varying Perspectives
Olshey has a view of the game from a variety of perspectives with job titles such as director of player development, assistant coach, director of player personnel and assistant GM appearing on his resume, and I think that it provides him a huge advantage in his relationships with players and likely will serve him well when the team heads into free agency next month.
He will need to use all of those perspectives to determine whether forward Nicolas Batum is worth $8-$10 million, what front court pieces the team needs to pursue and if the NBA draft is fruitful given Portland's positions. (6th and 11th picks)
3). Up-and-Coming General Manager
By virtue of his peer-voted third-place finish in the NBA's Executive of the Year award for the 2011-2012 season, it is safe to assume that Olshey has a degree of respect from other NBA executives.
His track record is bland, but given the fact that he has not served as general manager for a considerable amount of time, the Blazers could be getting a man that is on his way up.
Olshey, 47, is young and engaging and given how fans took to former general manager Kevin Pritchard, Portland could be telling other teams in the future that they have been "Olshey-ed."
Hate 'Em
1). The Clippers
I am surprised that the Blazers went ransacking the Los Angeles Clippers for management improvements.
That franchise has been one of the worst in all of professional sports for the past 25 years and Olshey has been part of nine of those years. It seems counter-intuitive to raid one of the worst organizations in the field just because they caught lightning in a bottle and had success in one season.
If it was not for David Stern voiding a three-team trade that would have sent point guard Chris Paul to the Los Angeles Lakers, the Clippers would have found themselves sending a representative to the NBA Draft Lottery for yet another year and Olshey would still be largely unknown.
2). Outside of Acquiring Chris Paul… What Else?
While I like that Olshey has experience serving in a litany of roles during his NBA career, I don't know exactly what makes his resume shine  brighter when compared to his counterparts.
Olshey was part of the group that drafted power forward Blake Griffin, but it was in a draft where Griffin was the consensus number one pick and any team with the top pick would have drafted him.
He did acquire point guard Chauncey Billups and small forward Caron Butler,  but they are players that are on the backside of their careers and were only coveted by teams that were "one move away" from an NBA championship.
Now: In 2010, Olshey picked forward Al-Farouq Aminu (No. 8)
The moves were only relevant when coupled with the Chris Paul deal, which came as a gift after Stern's void. Other moves such as re-signing DeAndre Jordan (after he signed an offer sheet from Golden State) are a good start, but there just is not enough to convince the skeptical, especially since the Clippers were willing to part ways with him.
3). Unproven Draft Record
In the last 15 years, Portland has been one of the league's worst teams when in comes to drafting players and the Clippers could be thrown into that mix as well despite having higher picks than Portland.
With a draft that is so vital to the team's future success, I do not know why Portland owner Paul Allen would choose someone that does not have a sustained  history of making good picks when his team has two high ones this year.
In 2010, Olshey picked forward Al-Farouq Aminu No. 8 and guard Eric Bledsoe No. 18, and the jury is still out on both with Aminu traded to New Orleans and Bledsoe in development behind Mo Williams, Chris Paul, and company.
The team did not have a first-round pick to examine in 2011, so fans have no way of truly knowing how good he is in the draft.
In his new position, Olshey and Portland enters an off-season in rebuilding mode after a 28-38 record in 2011-12.
The newly-minted general manager will have $24 million to burn in the off-season and has four picks, two of them in the top dozen, No. 6 and No. 11, in the June draft.
CLICK HERE TO CHECK OUT THE BLAZERS BLOG IN OUR CLUBHOUSE TODAY AT NWSB!
© Blair Thomas for North West Sports Beat, 2012. | Permalink | No comment |
Follow NWSB on Twitter or join US on Facebook for real-time updates OR... | Share This on Twitter | Share NWSportsBeat.com on Facebook
Post tags:
Blake Griffin
,
Bob Whitsitt
,
Chris Paul
,
DeAndre Jordan
,
Kevin Pritchard
,
Los Angeles Clippers
,
Los Angeles Lakers
,
NBA Lottery
,
NBA News
,
Neil Olshey
,
Nicolas Batum
,
Paul Allen
,
Portland NBA Websites
,
Portland Trail Blazers Blog
,
Portland Trail Blazers GM
,
RIP City
,
Rip City blogs
,
Trail Blazers News
,
Trailblazers blog
Original Story:
http://www.nwsportsbeat.com/trailblaz...
THE BACKYARD
BEST OF MAXIM
RELATED ARTICLES
Olshey's summer should prove to be quite busy So now that Neil Olshey has been general manager for all of 48 hours or so, let's get down to the brass tacks of what he needs to do in Portland. His general manager prowess will be determined on the moves he makes in the coming months, to get the Trail Blazers back to the level of play Rip City has come to expect. While his first...
What might Portland do? Greg Oden or Kevin Durant? This question lingered for months leading up to the 2007 NBA Draft where the TrailBlazers overcame a 5% chance at the #1 overall pick in that year's Draft lottery. The pick, used on Ohio State center Greg Oden, would later come back to haunt the Trail Blazers franchise, and plagued a management team that had been so highly regarded...
This summer has already proven to bring plenty of drama for the Blazers. One of the most talked about topics has been the GM search. There have been candidates appearing and disappearing. Along with many things the Blazers do, there have been plenty of speculation by commentators and fans alike. A few of the major candidates dropped out of contention, but I believe that there could...
Yesterday the Portland TrailBlazers hired Neil Olshey as their newest GM. He twice interviewed for the position one of the times was last month, so there was mutual interest. The hiring came on the heels of him reportedly signing an agreement with the LA Clippers. We then heard via OregonLive that negotiations with the Clippers broke down and Paul Allen and Larry Miller swept...
Three days after Neil Olshey reportedly reached an agreement to remain with the Los Angeles Clippers, Olshey was hired by the Portland Trail Blazers on Monday to be their general manager. Portland got into the picture when contract negotiations with the Clippers broke down, and Olshey will be introduced as Portland's GM on Tuesday. "I am very grateful for the opportunity...
The Portland Trail Blazers have hired former Los Angeles Clippers GM Neil Olshey as the team's new general manager. The announcement by the Blazers Monday came less than an hour after the Clippers announced that they had decided to part ways with Olshey. Last season, Olshey oversaw a major retooling of the Clippers' roster that included signing All-Star Chris Paul in December...
The Portland Trail Blazers have named Neil Olshey as the team's general manager.
NBA News

Delivered to your inbox

You'll also receive Yardbarker's daily Top 10, featuring the best sports stories from around the web. Customize your newsletter to get articles on your favorite sports and teams. And the best part? It's free!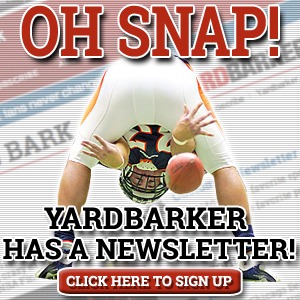 Latest Rumors
The Backyard

Today's Best Stuff

For Bloggers

Join the Yardbarker Network for more promotion, traffic, and money.

Company Info

Help

What is Yardbarker?

Yardbarker is the largest network of sports blogs and pro athlete blogs on the web. This site is the hub of the Yardbarker Network, where our editors and algorithms curate the best sports content from our network and beyond.