Found October 22, 2012 on CJ Sports NASCAR Talk:
PLAYERS:
Ronnie Brewer
,
Carmelo Anthony
,
Mike Woodson
,
Kurt Thomas
,
Jason Kidd
,
Pablo Prigioni
,
J.R. Smith
,
Steve Novak
,
Chris Copeland
,
Andrew Bynum
,
Thaddeus Young
,
Nick Young
,
Spencer Hawes
,
Lavoy Allen
,
Kwame Brown
,
Evan Turner
,
Jason Richardson
TEAMS:
New York Knicks
,
Philadelphia 76ers
,
Syracuse Orange
Knicks vs 76ers Pre Game: The Knicks are once again shorthanded.  Yes, we get to see the debut of Ronnie Brewer at the shooting guard position and yes, this will be Carmelo Anthony's return to the Carrier Dome on the campus of Syracuse University. I, for one, do not want the major excuse for this season to become the fact that Carmelo and Amar'e have not had a full training camp together.  Now is the time to put excuses aside, and there is only one person who can make sure no more excuses are made and that man is Mike Woodson.  The Knicks are talented enough to still gel and win a majority of games over the next 2-3 weeks while Stoudemire is out recovering from his ruptured knee cyst. The solution to the Knicks troubles, in my view, is moving Carmelo Anthony to the power forward position.  For tonight's match-up, Woodson is playing it conservatively by starting Kurt Thomas at the 4, but I have a feeling this is simply to keep the media at bay. The Knicks still have depth and once again on Friday against Toronto, Jason Kidd proved to be effective at the shooting guard spot.  I would actually go with a back-court of Felton and Kidd, with Brewer at the small forward and Anthony and Chandler rounding out the front-court.  Maybe that becomes an experiment for next Wednesday against the Nets; the Knicks can try this because Pablo Prigioni has proven to be a serviceable (at worst) backup point guard.  A second unit with Pablo running the show alongside JR Smith (if he returns), Steve Novak, pick and roll buddy Chris Copeland and Kurt Thomas could do some damage.  Copeland is now a lock to make the squad after Saturday's 34 point outburst. The Knicks are facing the Sixers, 5-1 thus far this preseason, playing without Andrew Bynum . Thus far, the Sixers have split games with the Nets and have beaten the Celtics twice, including a 32 point spanking.  Despite Igulodala moving to Denver and not having Bynum in the early going, they have continued to win by playing team basketball.  They will have a different leading scorer on almost every night.  In the preseason their leading scorers have been Dorrell Wright, Thaddeus Young and Nick Young.  They have a strong core of big men playing around Bynum including Spencer Hawes, Lavoy Allen, Young and Kwame Brown.  I believe the key players for Philly will be Evan Turner and Jrue Holliday.  Can Holliday become a legit point guard and will Evan Turner become the consistent scorer the 76ers need in the back-court. I expect the Knicks to come out refocused after losing STAT.  They must improve their rebounding against Philly and they should protect the three point line on rotations against Nick Young and Jason Richardson.  Luckily for the Knicks, three point shooting is not the 76ers strong suit but youth, hustle and quickness is.  The Knicks must put out a solid effort to avoid an embarrassment.  The key match-up here will be Evan Turner vs. Ronnie Brewer and keeping Philadelphia off the glass.  Let's go Knicks!   Read More Here!
Original Story:
http://110sportztalk.com/new-yor-knic...
THE BACKYARD
BEST OF MAXIM
RELATED ARTICLES
The  New York Knicks need Stoudemire to be healthy for them to be a serious contender this year, but where is the best place for him in the lineup?  Not to only get the best out of him as a player, but also to help the Knicks other key pieces. I love statistics and numbers don't lie, they don't capture everything but they definitely paint a picture based on facts. I was...
New York Knicks forward Amar'e Stoudemire will be out for the next two to three weeks with a ruptured cyst in his left knee. This will mean that he will miss the opener against the Brooklyn Nets. Jeff Zillgitt of USA Today reports that the injury was found through an MRI.The issue was discovered after an MRI in New York on Sunday morning. Knicks coach Mike Woodson told news reporters...
Preseason game 5… Melo's return to Cuse   3 Thoughts immediately after watching this game:   1.  I was disappointed with the Knicks in the first half of this game tonight. They started off with a good open to the game, but after that the Knicks offense was stagnate. Guys were taking bad shots and poor ball movement mixed with absent transition defense lead to what...
Amar'e Stoudemire, New York Knicks Center-Forward, may actually be fortunate to have suffered a ruptured popliteal cyst this week, though it will keep him out of action for at least two to three weeks. What is more worrisome than this new wrinkle is whether any of the knee diagnoses Stoudemire has dealt with in the past are more of an issue than the Knicks are aware of or are letting...
Amare just can't seem to stay healthy.
Andrew Bynum has cultivated a new look since being traded from the Los Angeles Lakers to the Philadelphia 76ers over the offseason. The 24-year-old center has grown out his hair and is now sporting a healthy Afro. Unfortunately, the frilly nature and occasional off-color in his hair has led to some unfavorable comparisons. While some think he has the Don King going on, others have...
NBA News

Delivered to your inbox

You'll also receive Yardbarker's daily Top 10, featuring the best sports stories from around the web. Customize your newsletter to get articles on your favorite sports and teams. And the best part? It's free!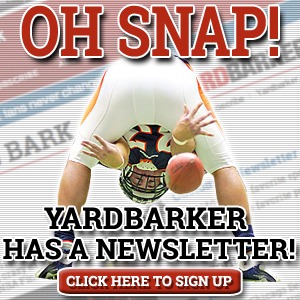 Latest Rumors
The Backyard

Today's Best Stuff

For Bloggers

Join the Yardbarker Network for more promotion, traffic, and money.

Company Info

Help

What is Yardbarker?

Yardbarker is the largest network of sports blogs and pro athlete blogs on the web. This site is the hub of the Yardbarker Network, where our editors and algorithms curate the best sports content from our network and beyond.