Found January 20, 2013 on Fox Sports North:
MINNEAPOLIS Chris Johnson packed a bag. One bag. Just 24 hours before his career night Saturday in Minneapolis, Johnson was arriving from California, two days removed from his most recent game with the Santa Cruz Warriors. Just 48 hours before Mickael Gelabale's 11-point night at the Target Center, he was fresh off a plane from Spain, too tired even to schlep over to the arena and chat with his friend from the French Olympic team, the Clippers' Ronny Turiaf. Both Minnesota Timberwolves knew what they were getting into upon arrival: 10-day contracts on a battered, flailing team with just eight healthy players at the time. Maybe a chance at something more, but it wasn't likely. Neither, though, could have had any concept of what awaited them. No one could have possibly predicted the Timberwolves' 92-79 win over Houston on Saturday, even with the Rockets on a six-game slide and at the tail end of a back-to-back. The Timberwolves had lost five in a row, after all, and were hemorrhaging players at a faster clip than they were games. But as unlikely as the victory was, the way Minnesota got there was even less probable. The Timberwolves went into the fourth quarter up, 63-59. Johnson had two points, Gelabale one. Neither had made a glaring error, but neither looked like anything more than a passable 10-day contract addition, either. And then it happened. Johnson exploded for 13 more points, finishing the night with a career-high 15. Then Gelabale was in the corner, and in the corner again, and then all of the sudden he had 11. Then there were alley-oops and dunks and a lot of free throws, too, but points are points and gradually there were chants of MVP spreading around the arena every time Johnson stepped to the line. They didn't get to Johnson, but he heard them. He couldn't have not. "I heard it," Johnson said. "I don't agree at all." Needless to say, the cheers didn't go to his head. He's been around before, in Portland and Boston and New Orleans. He knows what to expect from these things, how to pack, how to approach them. But nothing could have prepared him for Saturday night, for a team so exhausted that his mere presence, along with Gelabale's, was the spark that lifted it. "I don't think I drew it up that way," he laughed after the game, in which he and Gelabale combined for 23 of 29 Timberwolves points in the final quarter. And as nonsensical as it all sounds, these two players via California and Spain who joined the team just hours before Saturday's game and then dominated it, there are some shreds of sanity, at least when you step back for a moment. The Timberwolves' healthy players aren't bad; they're tired. They have plenty of weapons, from Andrei Kirilenko to Ricky Rubio, enough to round out a starting lineup but not to bolster it. But with Johnson and Gelabale, they got a spark, and at least for a night it was enough to slow things down, or speed them up, or wrestle the team into some kind of workable fashion. "With them on the floor, they've got the energy," Kirilenko said. "They didn't stop. They keep playing, and they kind of force everybody. Oh, look at you guys running. I have to run." "I think they've been active, and after like two, three scores, we started looking for them because they started getting hot. That's the normal in the game, when you feel like your teammates start making points, you're like, aha, I found the right guy, I'm going to pass it to him." There was an element of chemistry there that was somewhat surprising, though. Johnson lauded the guards for getting him to where he needed to be, and both he and Gelabale not only had their fair share of good shots, but they also hit them. The offense was simplified, and between Rubio, Luke Ridnour and J.J. Barea, there was enough guidance to toss the new players in and direct them piecemeal. In the moment, Saturday's game was a statement. It was a sense of relief for the seven players in the locker room who'd been there before and a license for another chance for the two who hadn't. The win lifted the sense of impending doom that had lingered over the team for a week because all it can take is one win to dispel that kind of fog. It made Rubio smile and Kirilenko giddy and the air in the locker room a thousand pounds lighter. The effect was instant, but it won't be permanent. Saturday was not quite a fluke but definitely a taste of the best-case scenario. It highlighted that the talent on hand, just in too few bodies, and that relief from even halfway-decent players can have the most staggering of consequences. The challenge will be to keep it up, even when the fruits of EuroCup and the D-League aren't going off for career nights. For now, though, the chances remain alive. For the Timberwolves to win. For the 10-day contracts to parlay into something better. For there to be some notion of fun among this injured team. When acting coach Terry Porter wrapped up his postgame comments, team owner Glen Taylor was waiting in the back of the room. He isn't normally there, but nothing about Saturday was normal. As Porter exited, he stopped for the requisite handshake. "I just came back to see how you did it," Taylor said. Follow Joan Niesen on Twitter.
Original Story:
http://www.foxsportsnorth.com/01/20/1...
THE BACKYARD
BEST OF MAXIM
RELATED ARTICLES
MINNEAPOLIS After several days anticipating the move, the Minnesota Timberwolves on Saturday signed small forward Mickael Gelabale to a 10-day contract. Gelabale, 29, last played in the NBA with the Seattle SuperSonics from 2006-08 and averaged 4.9 points and 2.1 rebounds in 109 games. The 6-foot-7 veteran's strength is his long-range shooting, and he will take Lazar Hayward...
When I learned that Chris Johnson and Mickael Gelabale had been signed to 10-day contracts by the Minnesota Timberwolves on Saturday morning, I suspected that they'd likely see action that same evening against the Houston Rockets.  After all, each player was acquired purely out of necessity — with only seven healthy bodies available, the Wolves needed at least one additional...
Minnesota signed two players to 10-day contracts in advance of Saturday's game against Houston: French forward Mickael Gelabale and center Chris Johnson. Gelabale, 29, was last in the NBA with the Seattle SuperSonics from 2006-08, playing alongside current Timberwolves guard Luke Ridnour. Johnson, a 6-foot-11 center whose biggest drawback is his skinny frame, averaged 10.9 points...
MINNEAPOLIS Timberwolves forward Kevin Love, who underwent surgery on the broken third and fourth metacarpals in his right hand on Tuesday, will remain in New York for the near term to begin his rehab. Timberwolves president of basketball operations David Kahn was in New York with Love on Tuesday and visited with him after the surgery. He said the power forward began his rehab program...
MINNEAPOLIS Don't expect to see Rick Adelman stalking the sideline of a Minnesota Timberwolves game in the near future. The coach, who has missed the team's past six games, has been on a leave while his wife, Mary Kay, is hospitalized. On Friday, the 12th day of Adelman's absence, Timberwolves president of basketball operations David Kahn said he does not expect the...
Chris Johnson and Mickael Gelabale signed 10-day contracts with Minnesota on Saturday morning, then scored the first 23 points of the fourth quarter to lift the Timberwolves to a 92-79 victory over the slumping Houston Rockets on Saturday night. Johnson, signed from Santa Cruz of the NBA Development League, scored 13 of his 15 points in the fourth. Gelabale, a forward who arrived...
MINNEAPOLIS The Timberwolves may have just nine players Saturday night against Houston, even after signing Mickael Gelabale and Chris Johnson to 10-day contracts. The latest casualty is Dante Cunningham, who missed shootaround with an illness and is listed as questionable for the game. Alexey Shved, who's status is day-to-day with a sprained ankle, is out, as is Nikola Pekovic...
MINNEAPOLIS En route to their 90-77 loss against the Clippers on Thursday, the Timberwolves were outscored 21-20 in the third quarter and entered the game's final frame down by five points. That hardly sounds ideal, but for the Timberwolves, it was a step in the right direction. Ever since returning from its four-game, four-loss southern road trip, the team has had an acute...
MINNEAPOLIS Bill Bayno has ice taped to his back. Shawn Respert, sweating, jogging, in his warmups, is looking more like a player than anything else. And Terry Porter, in his suit, in front of the cameras, is running the show. This is the state of the Timberwolves these days. There are too few players to practice and the coaches are too young not to jump in, even if their 40- and...
David Kahn recognizes the need to balance the Timberwolves' present and future.
Nikola Pekovic will miss the next seven to 10 days.
Gelabale will get a legitimate opportunity to be a contributor in the Timberwolves' rotation.
NBA News

Delivered to your inbox

You'll also receive Yardbarker's daily Top 10, featuring the best sports stories from around the web. Customize your newsletter to get articles on your favorite sports and teams. And the best part? It's free!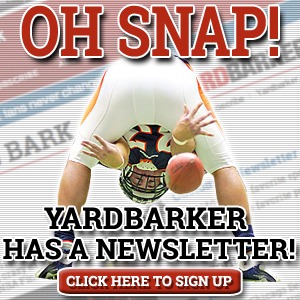 Latest Rumors
The Backyard

Today's Best Stuff

For Bloggers

Join the Yardbarker Network for more promotion, traffic, and money.

Company Info

Help

What is Yardbarker?

Yardbarker is the largest network of sports blogs and pro athlete blogs on the web. This site is the hub of the Yardbarker Network, where our editors and algorithms curate the best sports content from our network and beyond.