Found June 29, 2012 on Fox Sports North:
MINNEAPOLIS Strip away the pomp and circumstance, the boos directed at David Stern. Forget the interviews that ran the gamut of emotional to senseless and the nascent dreams of relevance, and the NBA draft becomes something else altogether. Get rid of it all, gut it to its core, and the draft can be a burden. It's an economics professor's dream, a laboratory of risk aversion and cost-benefit analysis. It's a gambler's paradise, this year starting with pick No. 2 through the rest of the draft. As much as it's a general manager's heyday, it's also his nightmare, the threat of failure and mockery looming in the back of everyone's minds from the minute Stern opens that little envelope. Unlike most other teams, whose anxieties and uncertainties hinged on the first round, the Timberwolves had to wait (and wait, and wait) to make their gamble on Thursday. They had to watch and hope and attempt to deal. They had to make do, and in the early aftermath of the Robbie Hummel pick, it seems like a decision that, though risky, might actually work. By the 58th pick, name recognition has gone out the window, and late-round picks can be frittered away on players who might never come to America. Because no one is paying attention by then. They've all rushed out to buy "Fear the Brow" T-shirts in the French Quarter or a new Bobcats season ticket package. Lakers fans have popped in the DVDs of their team's most recent championships. Mavericks supporters have gone outside to burn their remaining Lamar Odom gear. But on Thursday night, Timberwolves fans were still waiting as 10:30 became 10:45. They wanted someone, anyone, to attach a shred of hope to. They wanted to mock (likely) or cheer (can you cheer at 58?) or at least struggle to pronounce a name with a tongue-twisting surplus of vowels. But what they ended up getting was a pretty good deal. Here's a snapshot of the Target Center media room moments leading up to Minnesota's selection of Hummel: Chips crunching. Diet Coke slurping. Clock ticking. Yawn. Yawn. Kostas Papanikolaou zzet Trkylmaz Ognjen Kuzmi Furkan Aldemir Tornike Shengelia Tomislav Zubi lkan Karaman. There was really no way to speculate, not with the players remaining so late in the night. Not after wondering if the Timberwolves had hammered out a trade between every pick that went on the big board in New York. It was hard to even know what the team was looking for at that point. No 58th pick is going to be able to step in and start at shooting guard. Maybe a big man would have been able to eventually back up Pekovic at center. Regardless, it seemed like the last thing the Timberwolves needed was some young, untested player to add to their squad of players who were born after Ronald Reagan's presidency ended. And then David Kahn made a very un-58th selection. In Hummel, he got a player who was a consensus first-round pick before his ACL tears. He got a guy who looks to be solidly on the road to recovery, who posted his best collegiate season after the injuries that doomed his draft stock. Kahn gambled that he was getting a bargain, prayed that he hadn't been duped into a flop. Even with the third-to-last pick in Thursday's draft, Kahn was still receiving calls from people interested in it. Regardless of whether any of those offers interested him, Kahn said that it would have felt strange to pull his team out of the draft completely, and as silly as that might sound, he was right. He would have been criticized for making fans wait for close to five hours to end up with nothing. He would have been accused of stockpiling money. His decision that trading up wasn't worth it would have been seen as a failure to make a deal, even if no workable deal made sense. So instead, Kahn gave people bait. Think what you want about the Hummel pick, but at least there's a discussion to be had. People in Big Ten country are familiar with him, and he seems to fit some of the team's needs. At least the Timberwolves didn't add yet another international mystery to their cadre of overseas prospects. That might have been worse than trading or selling the pick, even after Nikola Pekovic actually panned out last season. At the 58th spot, a team can worry a bit about perceptions. At the 58th spot, selections can be less about guaranteed impact than about hoping to look brilliant in a few months or even years. If Hummel shows up at summer league with a knee brace, if he suddenly can't jump or dunk anymore, Kahn will hear it. But it was encouraging to learn that the Timberwolves president of basketball operations was more impressed with Hummel's season than his workouts, that the pick was based on a larger body of knowledge than just a few adrenaline-charged hours. This looks like an informed decision, if a surprising one. If Hummel succeeds, Kahn will look like a genius. The forward can be the shooter the Timberwolves need, even as a player coming off the bench. Hummel doesn't have Kevin Love's size, but he can learn from his new teammate. He's not a kid, either, just six months younger than Love. He's mature, and he comes from a solid program. Of course the criticism will be there if Hummel fails. It has to be. But it should be tempered. Just as no one should let expectations run wild, it would also be wise to remember that if Hummel doesn't stick, the Timberwolves lose very little. In his place, they could have an international player still under contract overseas or college senior whose name was never once mentioned as a first-round pick. "It's 58, folks," Kahn said, shrugging. It's 58, one spot before where the Timberwolves picked Blake Stepp in 2004. (Remember him? Unlikely.) It's 58, so don't get your hopes up. It's 58, so even if Kahn thinks he found a gem, he's not going to act like it. Another shrug, and a sly smile. "It's 58." Follow Joan Niesen on Twitter.
Original Story:
http://www.foxsportsnorth.com/06/29/1...
THE BACKYARD
BEST OF MAXIM
RELATED ARTICLES
BOOS CRUISE
NBA commissioner David Stern seemed to have a grand time Thursday night at the NBA Draft even though he was booed loudly and often throughout the night.Stern had a smile on his face the whole time and seemed rather amused by all the boos.
David Stern, last night, was booed unmercifully from the minute he walked onto the stage all the way through the first round. The Jersey/NYC bros treated Stern like a corrupt, third-world dictator. After about two hours of harassment, we thought Stern was done bathing in the hate, but we were oh-so-wrong. Twitter came through once again and all the idiots came out of the woodwork...
Arguably the biggest roar of the night at Thursday's NBA draft came when David Stern announced the 15th overall pick to the anxious Prudential Center crowd: Moe Harkless to the Philadelphia 76ers. The ultimate local boy done good -- and maybe the best player to come out of New York City since Ron Artest -- Harkless was a prep star in Queens, then played one year of college ball...
Ah NBA Draft night, when league commissioner David Stern introduces men tall enough to set drinks on his head to a nation of college basketball and Association fans. It's also the night that the formal dress code gets thrown out the window. Fashion week, it is not. Get ready for more futuristic, throw backs to the past, 70s pimp stylin, and just plain old UGLY threads to grace...
David Stern is in all likelihood going to think a lot more carefully before he speaks the next time an interviewer's question annoys him. When Jim Rome asked Stern about the NBA draft lottery being rigged a couple of weeks ago, Stern responded by asking Rome if he has stopped beating his wife yet. Stern didn't actually mean Rome beats his wife, he was simply trying to make a...
Football conference, huh? The Southeastern Conference enjoyed watching a flurry of action early on in the first round of the NBA Draft in Newark, N.J., with the first three players selected all hailing from league members. Kentucky freshmen Anthony Davis and Michael Kidd-Gilchrist were joined by Florida guard Bradley Beal, respectively, as the first three names announced by NBA...
(Ed Note: This article appears courtesy Bloguin's national NBA blog, Crossover Chronicles.  CC has quickly become one of the most respected NBA sites on the web and will be intently covering tonight's NBA Draft.  Before David Stern gets booed off the stage tonight, he wisely backed off some of the statements in his controversial interview with Jim Rome.) David Stern...
MINNEAPOLIS Minnesota Timberwolves president of basketball operations David Kahn confirmed Wednesday that the team is interested in signing free-agent shooting guard Brandon Roy.Roy, whom the Timberwolves selected sixth overall in 2006 and then immediately traded to Portland for the draft rights to Randy Foye, announced his retirement on Dec. 10, 2011. He has suffered from a condition...
The NBA says Major Gen. Ronald Johnson will resign as senior vice president of referee operations at the end of July. Johnson joined the league in 2008 to head a newly formed department following the betting scandal involving former referee Tim Donaghy. Johnson had spent 32 years as an Army combat engineer, and says Thursday in a statement that he feels he has accomplished his mission...
David Kahn says the Minnesota Timberwolves are interested in signing Brandon Roy, who is seeking a comeback after knee injuries caused him to miss all of last season. The three-time All-Star announced his retirement and was amnestied by Portland before last season began because of knee problems. After sitting out the lockout-shortened season, Roy wants to give it another try. Kahn...
MINNEAPOLIS Earlier this month in Chicago, Timberwolves president of basketball operations David Kahn pulled Rockets general manager Daryl Morey aside.Kahn had already been receiving calls about his team's 18th pick in the upcoming NBA draft, but this conversation wasn't about that not then, at least. Instead, Kahn told Morey that he was interested in Houston small forward...
Chase Budinger arrived in Minnesota on Wednesday as the first of what Timberwolves president David Kahn expects to be several moves this summer to balance the team's roster. Budinger was acquired from the Rockets on Tuesday for the 18th draft pick. Kahn says he has had several conversations with other teams about possible trades and ''you should assume there will be...
NBA News

Delivered to your inbox

You'll also receive Yardbarker's daily Top 10, featuring the best sports stories from around the web. Customize your newsletter to get articles on your favorite sports and teams. And the best part? It's free!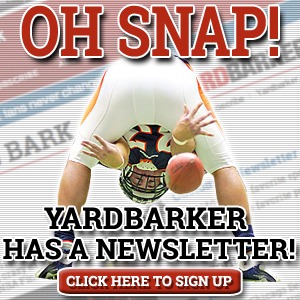 Latest Rumors
The Backyard

Today's Best Stuff

For Bloggers

Join the Yardbarker Network for more promotion, traffic, and money.

Company Info

Help

What is Yardbarker?

Yardbarker is the largest network of sports blogs and pro athlete blogs on the web. This site is the hub of the Yardbarker Network, where our editors and algorithms curate the best sports content from our network and beyond.