Found December 11, 2012 on Fox Sports Ohio:
CLEVELAND -- Mike D'Antoni stood outside the visiting locker room and stared at the ground. His eyes were bloodshot, his hair a mess, his tie out of sorts. It was as if he had spent the previous 48 minutes tumbling in a clothes dryer. "The state that we're in, that's inexcusable, and we've got to figure it out," he said. D'Antoni was speaking after Tuesday's 100-94 loss to the Cavaliers. It's the Lakers fifth straight flameout, their seventh overall to teams with .500 or worse records. That makes them 9-13. That makes the wheels officially coming off. That doesn't make them entirely desperate -- but they're getting close. Dangerously close. It's true that they still don't have Steve Nash, out with a leg injury. It's true that Pau Gasol missed another game with tendinitis in his knees. But if Kobe Bryant and Dwight Howard can't get it done, well, you have to wonder how big of a difference a healthy Gasol and Nash will really make. Or if they can make nearly enough. Remember, the Lakers were supposedly built to win a title this season. Right now, just making the playoffs might be considered a bang-up job. That may be a bit harsh, and there's still plenty of time. But at what point do the Lakers pick it up? At what point do they act like the champions they figured they would become -- if not in actual results, at least in mentality? The answers aren't easy, and even one former champion admits he has yet to figure it out. "This is the most challenging stretch I've had during my 17 years," Bryant said. "It's baffling." Bryant was as fantastic as ever. He scored 42 points. He set the example on defense. He played with energy, confidence and determination. For Bryant, that's nothing new. But for the Lakers, trailing by 15 points at half to a team that won four of its first 21 games -- well, that's not exactly what anyone had in mind when the NBA's latest superpower was put together. People talk about Miami's 9-8 start a couple seasons ago, about how the Heat later reached the Finals, how they won it all last year. This is different, though. This is much worse than that. The Lakers lose when Kobe scores more than 30. They lose when Dwight Howard grabs 20 rebounds (as he did Tuesday). They lose with Gasol. They just lose, way too much. "It's extremely frustrating," Bryant said. "We can be two completely different teams in both halves. It's like Jeckyll and Hyde. I don't know if we're too old, and it takes us too long to get started or what." Then Bryant paused, searching for a solution. He came up with nothing. "I don't know, I don't know," he said, slowly. "It's hard for me to put my finger on it." No one can. D'Antoni cited the lack of pace on offense, the overall focus on defense, and just about every other area that enables a team to be successful at this game. The Lakers, he implied, are doing none of them, at least not on a consistent basis. "Maybe it's me, I don't know," D'Antoni said. Actually, it's probably not just the coach. It's probably more like a combination of the players adjusting to the coach, the coach to the players, and the players to each other. And, yes, it may have something to do with the injuries to Nash and Gasol. Whatever it is, it isn't good, and well short of what the Lakers and everyone else around the league had planned. "We play at a very slow pace and we struggle and I'm just guessing," D'Antoni said, still looking at the ground. "I don't know because it's a mindset. You've got to search hard for some heart and " D'Antoni stopped, perhaps knowing that these Lakers' cannot be put into words. Follow Sam Amico on Twitter @SamAmicoFSO
Original Story:
http://www.foxsportsohio.com/12/11/12...
THE BACKYARD
BEST OF MAXIM
RELATED ARTICLES
The mounting frustration over the Lakers' poor start to the season culminated with new head coach Mike D'Antoni snapping at a media member following the team's 100-94 loss to the Cleveland Cavaliers on Tuesday. Los Angeles Times columnist T.J. Simers, who has been an irritant to most LA sports figures for the past two decades, was grilling D'Antoni over the team's lack...
The Los Angeles Lakers are crumbling. The primary response to their recent addiction to losing is that they are waiting on point guard Steve Nash to return from injury to get the party started. New coach Mike D'Antoni's system has flourished in the past with Nash at the helm. Cutting to the chase, it's going to be some time before Nash returns according to his recent comments...
Pau Gasol will remain a starter when the tendinitis in his knees subsides to the point that he can play again. For the time being. Subject to change. Lakers Coach Mike D'Antoni said he wanted to see how the power forward and injured point guard Steve Nash play together before making any adjustments to his lineup. "I'm not going to mess with Pau," D'Antoni...
Y! Sports reports that Los Angeles Lakers point guard Steve Nash is battling a nerve irritation in his left leg.  That seems to be the main reason why his return to the lineup has been delayed.  Apparently, Nash's leg fracture has been healed for the past month.  The whole nerve irritation is what has been holding him back.  Nash has been keeping up with his handles and his...
How can we talk about the Los Angeles Lakers without continuing to question Pau Gasol and whether or not he's going to stick around or be shipped off?
Los Angeles Lakers point guard Steve Nash told USA Today Sports that he's unlikely to play for at least another two weeks, as he continues his rehabilitation from a broken leg. Nash has been out since fracturing his left fibula in a collision with Portland Trail Blazers rookie Damian Lillard on Oct. 31. "I think it will be at least another two weeks," Nash told...
J.R. Smith responded to some Laker fans on Twitter Wednesday night.  During the spree, Smith bashed Kobe Bryant insinuating he takes too many shots. This, coming from one of the most ridiculed players at shot selection. Does having a better record 21 games into the season justify Smith talking trash about one of the greatest players of all time? You be the judge: Yea shots! RT ...
We're almost a quarter ways through the NBA season, and the Lakers, who were supposed to go undefeated, still haven't found their rhythm, despite the coaching change made just over a month ago. Since Mike D'Antoni took over, the Lakers are only 4-8. Their offense is mediocre and still 99% Kobe Bryant, 1% whoever Kobe … Continue reading »
CLEVELAND -- The Cavaliers ran into one of the all-time greats. But not even Los Angeles Lakers guard Kobe Bryant's season-high 42 points could ruin the return of Cavs guard Kyrie Irving on Tuesday at Quicken Loans Arena. Irving had 28 points, six rebounds and a season-high 11 assists in the Cavs' exciting 100-94 victory over the struggling Lakers. He had missed the previous...
CLEVELAND -- The Cleveland Cavaliers ran into one of the all-time greats. But not even Los Angeles Lakers guard Kobe Bryant's season-high 42 points could ruin the return of Cavs guard Kyrie Irving on Tuesday at Quicken Loans Arena. Playing for the first time since Nov. 18, Irving had 28 points, six rebounds and a season-high 11 assists in the Cavs' exciting 100-94 victory...
Mike D'Antoni never built the team he wanted in New York. Now he looks at the Knicks and sees what he would like his Lakers to become. D'Antoni returns to Madison Square Garden on Thursday for the first time since resigning as Knicks coach last March, hoping to see the type of performance his new team hasn't demonstrated nearly enough. The Knicks were a disappointment...
There truly has not been a lot to cheer about so far this season for fans of the Cleveland Cavaliers. That was until Tuesday night, when reigning NBA Rookie Of The Year, point guard Kyrie Irving returned from a stint on the injured list with a double-double; helping the Cavaliers top the Los Angeles Lakers at Quicken Loans Arena, by a final margin of 100-94. After missing the last...
Lakers News

Delivered to your inbox

You'll also receive Yardbarker's daily Top 10, featuring the best sports stories from around the web. Customize your newsletter to get articles on your favorite sports and teams. And the best part? It's free!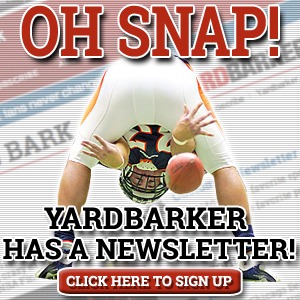 Latest Rumors
The Backyard

Today's Best Stuff

For Bloggers

Join the Yardbarker Network for more promotion, traffic, and money.

Company Info

Help

What is Yardbarker?

Yardbarker is the largest network of sports blogs and pro athlete blogs on the web. This site is the hub of the Yardbarker Network, where our editors and algorithms curate the best sports content from our network and beyond.