Found March 22, 2012 on Bacon Sports:
It is not uncommon for me to watch Sportscenter twice in a row (I'm looking for suggestions on what to call this, if you've got one let me here it) but since Peyton Manning decided to sign with the Denver Broncos and then Tim Tebow was promptly traded to the New York Jets I knew that we were in for media overkill. ESPN has a way of taking a story and then talking about it to the point that you'd rather drink Zima for a month then hear one more second about the story. Tim Tebow + Jeremy Lin in New York together + Peyton Manning = me no longer watching ESPN for the next few days except to catch March Madness analysis (which will be very minimal). Because of this I'll refrain from any Tebow/Lin/Manning insight and instead give you some stuff that I find awesome and I'm sure you will too.
Here's a video of Stephen Curry putting a sick move on Chris "Birdman" Andersen. I enjoyed this because Stephen Curry is injured so often that you rarely get to see him on the court (which is a shame because he's a good player). Plus, I live by the rule ABATT: All Birdman All The Time. I can't get enough of him (good or bad).
Pop Quiz: Which school did Robert Parish go to? I'll give you the answer after this video of Parish tomahawk punching Bill Laimbeer in the face. I was a Bulls fan in the MJ era and because of this hated the Detroit Pistons and especially Bill Laimbeer. That made watching this video that much more enjoyable. One last thing to add, a friend of mine is from Detroit and claims that it is known that Bill Laimbeer has never cheated on his wife. I tend to believe this statement because it's the opposite of what you'd expect to hear about an NBA player. It also makes me laugh every time I hear it.
The Chief went to Centenary College of Louisiana. (Special shout out to Kenny Schulman for dropping this knowledge).
Keeping with the Boston Celtics theme, take a look at this incredible behind the backboard shot by Larry Bird in a preseason game against the Houston Rockets. It's things like this that got me loving the NBA (I'm talking about the mustaches that the players had as well as the fantastic attire). By the way, great outlet pass by The Chief and horrible fast break pass by Sam Vincent.
Original Story:
http://www.baconsports.com/no-peyton-...
THE BACKYARD
BEST OF MAXIM
RELATED ARTICLES
SAY IT AIN'T SO
Is this Larry Bird's last season as president of the Pacers? That's what one report is saying, even though the Pacers are doing well.
Larry Bird may be nearing the end of his time as an NBA executive, and it would be his decision to walk away. The New York Post reports that Bird is set to retire from his position as the Indiana Pacers' president of basketball operations at the end of this season. Bird has served as the president of basketball ops for the Pacers since the 2003 season. He shared decision-making...
Earlier this week, Indiana Pacers president and NBA legend, Larry Bird, joined 'Basketball & Beyond With Coach K', where he talked about being in the zone. Listen In…
West Philadelphia born and raised. On a playground is where he spent most of his days. It isn't just the basis of the theme song to The Fresh Prince of Bel-Air; it actually sums up Will Smith's childhood, which is why the actor couldn't be any more ecstatic that he's co-owner of his hometown 76ers, who sit atop the Atlantic Division standings. The Sixers pulled off...
A source close to the situation asserts that Larry Bird will not return as president of the Pacers.
Interesting tidbit about Don – Chaney was the only team mate of both Bill Russell AND Larry Bird. Pretty cool, right? Check out Rich Cerasale's Facebook page for more. Win his autograph TODAY! Read below! Today is former Celtics point guard, Don Chaney's 66 birthday. To celebrate this day in Boston Celtics history, CLNS Radio [...]
NBA News

Delivered to your inbox

You'll also receive Yardbarker's daily Top 10, featuring the best sports stories from around the web. Customize your newsletter to get articles on your favorite sports and teams. And the best part? It's free!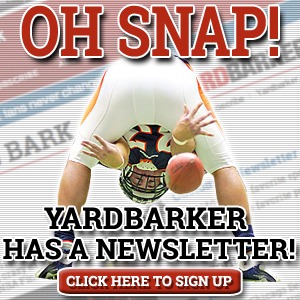 Latest Rumors
The Backyard

Today's Best Stuff

For Bloggers

Join the Yardbarker Network for more promotion, traffic, and money.

Company Info

Help

What is Yardbarker?

Yardbarker is the largest network of sports blogs and pro athlete blogs on the web. This site is the hub of the Yardbarker Network, where our editors and algorithms curate the best sports content from our network and beyond.