Found March 05, 2013 on Fox Sports:
PLAYERS:
Ty Lawson
,
Wilson Chandler
,
Corey Brewer
,
JaVale McGee
,
Andre Miller
,
Kenneth Faried
,
Andre Iguodala
,
Danilo Gallinari
,
Kosta Koufos
,
Josh Smith
,
Kobe Bryant
TEAMS:
Denver Nuggets
,
Miami Heat
,
Atlanta Hawks
,
Los Angeles Lakers
(Eds: Adds background, quotes. With AP Photos.) By ARNIE STAPLETON AP Sports Writer Before every game at the Pepsi Center, the public address announcer admonishes the crowd to drink plenty of water because at 5,280 feet one can get dehydrated pretty quickly. It's more showmanship than a public health service, really, designed to remind opponents that they're about to play a mile above sea level. The Denver Nuggets have long tried to use altitude to their advantage, and this season they finally have the type of team to capitalize on the thin air. With a starting five led by speedy point guard Ty Lawson and an energetic bench that only ramps up the pace on chest-heaving opponents, the Nuggets are 26-3 at home this season. That's tied with the Miami Heat for the best home record in the NBA. The Nuggets have won 11 straight at the Pepsi Center in their quest to catch Memphis for the fourth seed in the Western Conference playoffs, which would give them the home-court advantage in the first round of the playoffs. Lawson's fastbreak buckets are accompanied by the ''beep-beep'' of the Looney Tunes' Road Runner as he leaves hapless defenders in his wake a la Wile E. Coyote. The real show starts when the starters take a break, though. Night after night, it's Denver's reserves that provide the energy and enthusiasm that riles up the crowd as they run opponents to their bench for a breather. Wilson Chandler and Corey Brewer provide the scoring punch, JaVale McGee the dunks and rejections and Andre Miller the alley-oop passes while Lawson, high-flying Kenneth Faried, Andre Iguodala, Danilo Gallinari and Kosta Koufos grab a breather and a front-row seat to one of the best shows in basketball. ''It's been great,'' Chandler said. ''We've got a chemistry going. We're pretty much going in at the same time, we just go out there and play hard. Andre and JaVale hook up for a few lobs and JaVale's on the boards blocking. Andre's orchestrating the whole deal and Corey's running around on defense, fast breaks.'' On some nights, the reserves are better than the starters, logging just as many minutes and most of the memorable moments. In a 105-103 win over Oklahoma City last week, the Nuggets' bench outscored the Thunder's reserves 71-11, led by Chandler's 35, which tied a career high, in a thriller that Lawson won with a sweet jumper with 0.2 seconds left. Brewer led the Nuggets with 22 points Monday night when they won their 11th straight home game by running the short-handed and short-of-breath Atlanta Hawks until they were doubled-over grabbing their shorts and gasping for air in a 104-88 rout. ''They're a fast-breaking team and as soon as a shot's missed it seems like there are already two guys already back for a layup,'' Hawks star Josh Smith said. In a 119-108 win over the Lakers last week that was their best overall game of the year, the Nuggets outscored L.A. 33-3 on the fast break. ''That's a killer,'' Kobe Bryant said, shaking his head. ''That team is like a track team over there.'' And the Lakers were like a bunch of shuffle-boarders, trailing on the scoreboard and the hardwood all night long as they trudged through the second game of a difficult back-to-back. ''Once they miss a shot, it seemed like a jailbreak,'' Lawson said. ''Everybody was trying to run downcourt and get the layup.'' Or the arena-shaking slam dunk. Or the rim-rattling alley-oop jam. ''We play fast so by the time our bench guys get in, they're a little tired,'' Brewer said. ''We pick the pace up and get a lot of easy baskets.'' Because of that bountiful bench, the Nuggets think they can keep this up in the playoffs, too, when the games tend to slow down and turn into more of a half-court matchup. With his reserves playing so well, especially Wilson, Karl uses a quick hook as a motivator for his starters to play a little harder and smarter on defense. ''I think Wilson coming off the bench gives me a luxury. I'm not sure the starters like it but the hammer is pretty clear. If you're not going to give me what I want or what we're focused on, I'm going to go someplace else pretty quick,'' Karl said. ''I've never seen the depth of the quality of the backup'' unit like this one, he added. Chandler said the key is that the non-starters see themselves as second to no one. They've all started before and it's almost like a shift in hockey: a new group comes in with fresh legs and an aggressive approach, so there's no slowing down. Indeed, Karl basically has two starting lineups. ''JaVale/Kosta, some people take JaVale, some take Koufos. Kenneth/Wilson, some people will take Kenneth, some people take Wilson,'' Karl said. ''Corey's having such a great year that you've got to get him in the game because he gives you so much energy. Andre/Ty, I mean, I think most people would take Ty, but Andre still could win games as a starter in this league. There's no question in my mind if you gave him a team and gave him a starting lineup, he'd win. ''And Iguodala is the wild card'' which gives Karl the flexibility to go with a big or small lineup depending on the matchup. ''What I love about it is injuries aren't going to have a major factor in our personality,'' Karl said. ''If we get a guy out for two weeks, it sometimes actually lifts a team because a guy gets to play, he knows he's going to play, there's more energy coming into the game and it's fun. It's a fun team.'' At .896, the Nuggets are in position to post their best home winning percentage in franchise history. They went 36-5 for an .878 home winning percentage in 1976-77, their first season in the NBA and have never been able to reach such lofty heights since then. ''Well, that's reachable,'' Karl said. They've love to get an extra home game in the first round of the playoffs, which might just be the ingredient they'd need to advance. ''We enjoy playing here,'' Karl said. ''There's a connection with the fans. And when we get it going, there's an energy to the building I think everybody can feel. Hopefully, the opposing team feels it some, too.'' Along with the lung-searing altitude. --- Follow Arnie Melendrez Stapleton on Twitter: http://twitter.com/arniestapleton
Original Story:
http://msn.foxsports.com/nba/story/Nu...
THE BACKYARD
BEST OF MAXIM
RELATED ARTICLES
The Denver Nuggets faced the Sacramento Kings on the second night of a back-to-back for the young, athletic crew; even though they dealt with fatigue, they handled the Kings Tuesday night.  Kenneth Faried helped with that, easily, with his 12 boards and 19 points; and one of his buckets came from an Andre Miller pass [...]The post Kenneth Faried's One-Handed Smash Vs Sacramento...
Ok, the Harlem Shake jumped the shark about 3 months ago, but that's not stopping each and every sports team, group of friends, co-workers and grandmothers from putting together a video and dumping it on Youtube. Here's the Denver Nuggets video… yawn.  
Ty Lawson had 24 points and Danilo Gallinari added 23 for the Denver Nuggets as they won their sixth straight game, defeating the Sacramento Kings 120-113 on Tuesday night. The deep and talented Nuggets used a 36-point third quarter to build a lead against the Kings that they never relinquished in winning their season-best third straight road game. They scored 70 second-half points...
The Denver Nuggets defeated the Atlanta Hawks Monday night, 104-88, and tallied 29 fast-break points; during one of those fast-break executions, Corey Brewer ignited a fast-break with a steal and ended up with Andre Iguodala finishing a fantastic alley-oop.  The Denver Nuggets have been on a tear as of late and Atlanta just became their latest [...]The post Corey Brewer-Andre Iguodala...
Remember my post about a hypothetical trade scenario that included Kyle Korver coming to the Denver Nuggets? Well, it may just come to fruition this off-season via the Denver Post. Korver, an unrestricted free agent in his 10th year in the NBA, is expected to be one of the Nuggets top targets in the offseason [...]The post Denver Nuggets May Target Kyle Korver In Off-Season appeared...
The Nuggets have won 11 in a row
DENVER (AP) -- Corey Brewer scored 22 points and Ty Lawson had 18 in the Denver Nuggets' 104-88 win over the depleted Atlanta Hawks on Monday night. The Nuggets won their 11th straight game at the Pepsi Center and matched Miami's NBA-best 26-3 home record, but for most of three quarters it wasn't the cakewalk many expected against a banged-up, tired team playing the...
I could almost--and maybe should credit this to the Denver Nuggets rather than just Andre Iguodala. The play was a pretty tremendous team effort. Iggy just happened to be the one finishing it off. But oh what a finish!
The Denver Nuggets will reportedly be one of the top suitors after free-agent-to-be Kyle Korver this coming off-season. According to the Denver Post: Korver, an unrestricted free agent in his 10th year in the NBA, is expected to be one of the Nuggets top targets in the offseason as the team actively courts players who can fill that shooting void. Denver won't be the only team looking...
The Denver Nuggets are one of the highest scoring teams in the NBA, and their bench is a big reason they seem headed for a 10th straight trip to the playoffs. Playing at home is also a big help. The Nuggets look for another strong effort from the bench Monday night, when they go for their longest single-season home winning streak in eight years against the Atlanta Hawks. Denver...
NBA News

Delivered to your inbox

You'll also receive Yardbarker's daily Top 10, featuring the best sports stories from around the web. Customize your newsletter to get articles on your favorite sports and teams. And the best part? It's free!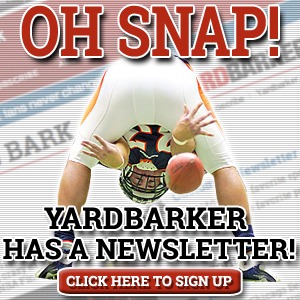 Latest Rumors
The Backyard

Today's Best Stuff

For Bloggers

Join the Yardbarker Network for more promotion, traffic, and money.

Company Info

Help

What is Yardbarker?

Yardbarker is the largest network of sports blogs and pro athlete blogs on the web. This site is the hub of the Yardbarker Network, where our editors and algorithms curate the best sports content from our network and beyond.